Walking to Joy: Using Our Values as Our Map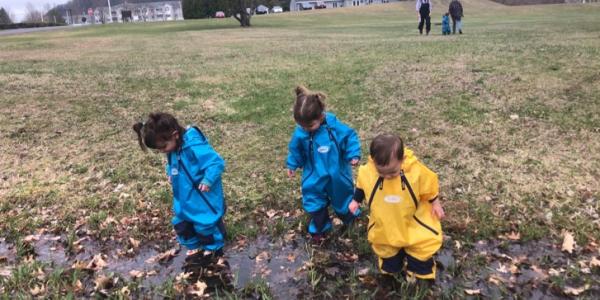 You are here
Home
/
Walking to Joy: Using Our Values as Our Map
Introduction to the Article | Ben Mardell
For the past four decades, along with taking part in research and teacher education, I have taught 3-, 4-, 5-, and 6-year-olds. And for one year, I was an infant room teacher. It was the hardest job that I ever had.
One result of having worked with babies is that I have a deep appreciation for Kim Lee Ripley's infant room at the Hampshire College Early Learning Center. I remember that the first time I visited, having found a place of joy, wonder, and learning, I didn't want to leave. Over the years I have had the pleasure of visiting Kim and her coteacher, Michelle Sullivan's, room many times. While the view from the classroom window differs depending on the season, the general vibe is the same. Everyone, children and teachers, are happy to be together.
And that is why I take such stock in Kim's reflections on the past year and a half. There are many ways one can describe these past months: tragic, stressful, agonizing, and certainly disorienting. Our daily routines, the ways we interact with family and friends, and assumptions about the world have been upended.
Kim's article offers two lessons on how to navigate this disorientation:
lean into one's values
listen to the children
The story of their class's walk to the stream is a lovely example of how you and your colleagues' values (which in Kim's case includes listening to children) can drive decision making.
As the third academic year impacted by the pandemic unfolds, it is clear we will continue to have to navigate disorienting questions. Kim's lessons continue to be relevant as we push forward. 
About the Author
Ben Mardell is a principle investigator at Project Zero at the Harvard Graduate School of Education. He has worked as a preschool and kindergarten teacher and currently works on the Pedagogy of Play and Children are Citizens projects. [email protected]
My name is Kim Lee Ripley, and I am the co-lead infant teacher at the Hampshire College Early Learning Center (HCELC). I have held this position at HCELC since 1999—over 21 years with infants. I love my work.
Over the course of this past year, there have been many inspiring lessons and joys. In this piece, I want to share my two main takeaways:
Connecting and reconnecting with our teaching mission statement was the best source for answers to the challenges of mid-pandemic child care. Your core values as a teacher don't have to change to do this job in these times.
It is imperative to allow the children to be your teachers as much as you are their teacher. They are amazing at normalizing what does not feel normal to adults.
HCELC and the Pandemic: Contexts for Inspiring Lessons

Our school is located on the campus of Hampshire College, a small liberal arts college nestled in the rolling hills and farms of western Massachusetts. The HCELC serves children 6 weeks to 5 years old in three distinct classroom groups: infants, toddlers, and preschoolers. In non-COVID times, we generally have 45 families in our community.
On March 13th, 2020, we were packing up for what we only knew would be the annual college spring break, but we were nervously anticipated a much longer time apart from our work and our community. This turned out to be a five-and-a-half-month pause.
As we sheltered in place, we stayed in contact with our children and families with regular circle time Zooms, Facetime calls, weekly emails, and a YouTube channel of my coteacher, Michelle Sullivan, and me reading some of our favorite stories or doing daily life chores, such as walking our dogs or doing dishes, as we chatted to our loving 1-year-olds on the other side of the screen.
Over the course of the summer, the teaching staff worked with the administration to create a safe and respectful return-to-work plan using the state COVID-19 safety playbook and our school's Mission and Vision Statement as our guide.
We believe that thoughtful risk-taking is an important part of the learning process. When given opportunities to challenge their bodies and minds, children develop trust in themselves and expand their self-view of their own capabilities.
Due to the pandemic, the state of Massachusetts originally limited class ratios. As a result, when we were planning for our return, we made the decision that rather than enrolling any new children to our program, we would consider our return in mid-August to be a continuation of the school year. We saw August 24th as the day after March 13th. One very long year, but a committed, trusting cohort of the same families who had started with us had stayed with us in multiple realities since August 2019.
This choice made a lot of sense in terms of continuity of care in the face of so many scary unknowns. But in making the decision to pick up where we left off, we were stuck in the miserable position of having to call many families and explain that we would not be able to provide care for their children, as we had already secured full enrollment for the fall of 2020.
The days I spent with my colleagues calling these families was devastating and went against everything I had practiced in building a strong foundation of collaboration with families. In the end though, we were confident that the best choice for our school was the plan we had made.
Another challenge of this plan for my coteacher and myself was that this meant that we would suddenly become toddler teachers after years of working specifically with children under age 2. Although we had both taught in groups of children 15 months to 2.9 years in the earlier part of our careers, that had been decades ago. It must also be noted that our building and classroom are custom designed, which is a privilege most years but an added complication in an already unprecedented time. Toilet-learning toddlers with no easily accessible toilets in a space with wall-to-wall carpeting was one of the many daily challenges we struggled to navigate while working to implement developmentally appropriate practices.
Starting on August 24th, 2020, we had four toddlers a day. Eventually, we welcomed six families and five toddlers a day to our school. After 20 years of teaching the same age group, it was an adjustment starting with 18-month-olds and having them grow in our small, infant-designed space. 
At times I felt defeated, not up to the task of keeping these big moving bodies safe in the confines of our small and cozy space. But the challenge of older toddlers in our space was balanced by the deep bonds of trust and love that had already been established with these young children. 
While the change in age was a big adjustment for me, amazingly none of our children struggled with the reentry to school. The children quickly acclimated themselves to our routines, excited to see their peers and even more amazed to see the college students who returned to campus. "People! People!" you could hear them say as we adventured out on the library lawn or to visit the animals at the Hampshire College Farm.  
A Walk to Remember: Following Children's Interests

As an example of connecting and reconnecting with our mission and vision statement, the following is an excerpt from the daily email sent to our community of families on March 26th, 2021. The email began with a description of our journey across a field and some interactions with trees where the children were using chalk.
I then wrote: "After a long stretch of artistic focus, children began noticing other favorite markers in the field across from school. Eli remembered the sewer drain he likes to stand on, and Annie talked about the woods."
The stream is located at the bottom of the field across from our school, and a small wooden bridge stretches across it that we often traversed. Many days we stopped and pivoted stray toddlers as they tried to plunge right into the water rather than over the bridge. It was so cold, the stream and surrounding area so muddy, we could only imagine what would happen if we let them follow their curiosity. We generally fell back on saying they were not dressed for the mess.
I included more recollections from the day in the email to families: "Maria looked up to see some birds. Bee looked down and then to Kim and said, 'I have rain boots on and my muddy buddy. I can go IN the stream!'"
On that day, Bee called our bluff, and a new plan was born! This was the first time the children were able to get in because everyone had the right gear, and the snow and ice had finally melted completely. This is a seasonal stream that in the early spring has just the right amount of water for adventuring.
To close out the email, I shared: "As you can imagine, when Bee shared her idea to go into the stream, her classmates were thrilled and dropped any chalk left in hands to race to the water! Eli ran with a smile on his face, singing 'Get water! Get water!'"
| | |
| --- | --- |
| Maria, Bee, and Annie used bright chalk to decorate an old maple tree on campus. | The crew in all their waterproof gear raced to the stream. |
| Stomp, splash, stomp! | The crew liked watching their toes disappear in the water. |
| Iris immediately started stomping and splashing, four inches deep at points. She reached down and touched the muck. | Eli stood reverently in the middle of the stream saying, "Water, water," amazed that he was finally standing in the stream he had so long been desiring to explore.  |
| Eli leaning down to splash! | Annie and Iggy were less certain about plunging in but happily perched on the bridge watching until they felt confident to wade in. |
| | Annie and Iggy experienced the adventure from above before wading in. |
As I documented our day in the email to families, I noted: "At one end of the stream there were cattails for picking. The children learned how to swish them around in the air to watch the fluff float in the sky like dandelion puffs, while others in our group used sticks to splash up the mud and water."
Lessons Learned and Joys Experienced

The stream was revisited many more times as our New England spring really sprung. All the children got braver with their explorations as the days went by, sometimes pulling sticks and leaves out of the mulch and other times chasing bugs into it. Often adults on campus would wander by and stop to observe, drawn by the children's excitement and joy. Often they first looked shocked and a bit concerned seeing such small children plodding through the cold water, but after a few minutes, they realized that the risk was worth the reward.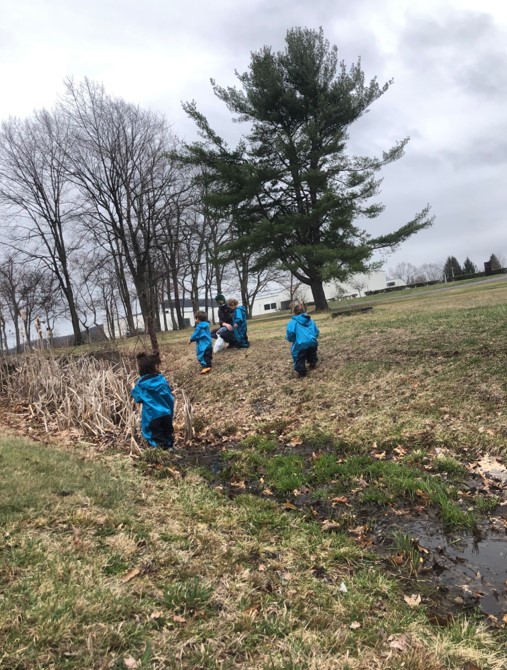 Everything about the 2020–2021 school year was a risk, and it was scary, but by leaning into the framework of our mission and vision statement, we were reminded time and again of the positive power and possibility inherent in risks. While our words are written with thoughts of the capabilities of the children, we needed the regular reminder to apply them to ourselves as well.
We recognized that connecting and reconnecting with our teaching mission statement was the best source for answers to the challenges of mid-pandemic child care—your core values as a teacher don't have to change to do this job in these times. Perhaps the most important lesson and reminder throughout this experience was that it is imperative to allow the children to be your teachers—they are amazing at normalizing what does not feel normal to adults in this crazy world.
I acknowledge that when stressed and experiencing trauma, risk taking can feel even riskier. But at the core of the work, I believe that we can learn from the children even more than they learn from us. Every day I watch these infants and young toddlers take giant risks, and I am determined to be braver too.
As we move into the third school year changed by the pandemic, I am determined to continue to remind myself who my teachers are and hold to being brave.
Kim Lee Ripley
Kim Lee Ripley has been teaching infants and toddlers for nearly 30 years. For the last 22 years, she has been the co-lead teacher at the Hampshire College Early Learning Center in Amherst, Massachusetts. Kim enjoys collaborating with and supporting the learning of people of all ages including infants, toddlers, college student teachers at the HCELC, and families in her community. Kim is endlessly fascinated by the sense of self with which each child enters our community and finds daily joy in watching the way the babies explore and uncover the wonder of our world.