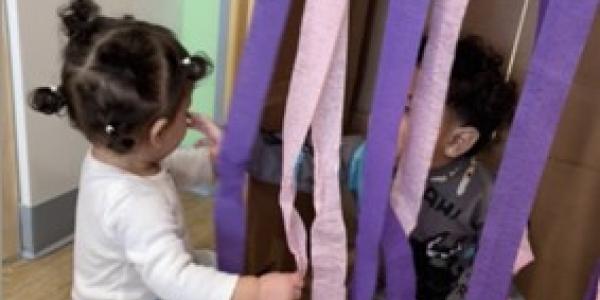 You are here
Maleka Donaldson, Barbara Henderson, Megina Baker, Ben Mardell, Andrew J. Stremmel
The year 2022 marks the 17th volume of Voices of Practitioners. Since 2004, we have held up teacher research as a cornerstone of expanding our understanding of early learning and of providing a throughline for teacher preparation and ongoing professional development for early childhood education professionals. Voices of Practitioners is based on valuing the wisdom of practicing educators and on the underlying philosophy that teachers, site administrators, and other early childhood professionals who work directly with children and their communities hold the key. They stand side by side with children, and their voices—when shared broadly—help the rest of the world to better understand the rich experiences and backgrounds of the children and families they work with daily. 
Over the past two years, we as an editorial team have launched an initiative to expand the perspectives represented in our journal. We continue to feature teacher research but are doing so alongside teacher narratives; that is, first-person accounts from practicing educators. These two formats—teacher research and teacher narratives—provide valuable and complementary insights into the workings of early childhood settings. Each approach lends new perspectives to understanding the current landscape of early learning and teaching, and each approach foregrounds the insights and wisdom of practicing educators, appreciating them for the knowledge creators and advocates they are. 
Teacher Research: Formal Explorations of Teaching Practice 

Articles that follow the guidelines of teacher research create a space for educators to make more formal explorations of questions that arise from daily practice. The expectations for teacher research are that educators undertake and describe a full inquiry cycle following an analytic process that moves through these five steps:  
Recording what teachers notice or wonder about, and gradually evolving these "noticings" into research questions that can be explored systematically.  
Reading and making sense of the existing literature to understand how others have looked at similar dilemmas, and consequently coming to understand what this new research might add to our knowledge base.
Planning procedures for data collection and analysis that will reasonably allow the inquiry to address the stated research questions.  
Analyzing collected data based on real curiosity and then reporting those findings with transparency, even when these insights are surprising or even disturbing.
Discussing these findings in relation to existing knowledge, taking ownership of new knowledge created, and drawing out implications and recommendations for reform flowing from these conclusions. 
Teacher Narratives: Posing Inquiries for Reflection and Further Exploration 

In contrast, teacher narratives focus on a story that highlights an individual's lived and felt experience. In those moments of storytelling, we as an audience value the artistic and human experience of the story over analysis, which means that stories wash over us more than entering through our rational processes. Stories are important to humans because they provide a shared and accessible structure that opens a space for the teller to be vulnerable to seek support, vent negative emotions, or express confusion or excitement; for the listener, stories offer a structure to empathize and better understand another perspective on the world.  
Stories told aloud also give a space for reflection—for the teller as they process their ideas in expressing the story, for the listener as they comprehend the story, and for all participants, as they discuss it together. When educators use stories to share fraught moments from our professional lives, we can use the opportunity to complain or vent, or we can use that narrative to pose an inquiry about how we might better accomplish our shared work with children and families. The inquiry path creates opportunities for positive connections between the storyteller and listener and has ripples of influence that can lead to action. Stories help us make sense of our world, and widely shared stories become foundational to connecting across differences, building community, and creating reform.  
In at least six ways, stories are a robust vehicle for communication. They  
draw on intuitive over analytic thinking 
provide a shared and very human structure for understanding  
allow a space for the storyteller to share their vulnerability 
provide the teller a therapeutic benefit  
allow the listener to see a new perspective 
allow all participants to reflect on a future that could be different and better  
In these ways, stories are powerful, yet that power is not neutral. We must, therefore, attend to shared stories' messages, both hidden and explicit, as the stories we choose to share will inevitably capture our values, beliefs, identities, and how we move in the world. As educators and teacher educators who seek to build a community working for inclusion, equity, and social justice, our shared narratives must communicate a worldview that aligns with these goals. 
To draw on the power of story and storytelling, last year's Voices of Practitioners annual volume presented a set of teacher narratives on living through the COVID-19 pandemic. Young children, their families, and the early childhood teachers and staff who support their growth and learning have spent the past two years striving to find a new normal in the wake of a set of tremendous challenges that centered around the global pandemic and touched many other facets of our shared and dissonant experiences of living in the twenty-first century. Those stories provided one pathway to a repaired future. The success of last year's venture with teacher narratives has led us this year to open a new and hopeful thread of conversation focused on the importance of (re)centering play in early learning. 
Preview of this Year's Compilation 

We are expressly attending to issues of equity in children's opportunity to play because there are persistent inequities in children's opportunities to engage in robust, joyful, child-initiated play experiences (Souto-Manning et al. 2022). These disparities manifest across several identities, including but not limited to race, ethnicity, dis/ability, socioeconomic status, primary language, urbanicity, immigration status, and their intersections. NAEYC's revised position statement on developmentally appropriate practice (2020) highlights the importance of learning experiences that are meaningful to each child and that provide active engagement through play, exploration, and inquiry in ways that support the whole child—socially, emotionally, physically, and cognitively. Yet such opportunities are too often denied to young children when educational practices are not responsive to their developmental, cultural, and linguistic characteristics (NAEYC 2020). The narratives in this compilation make visible the commitment of equity-minded teachers to helping every child to reach their full potential.  
Teacher research and teacher narratives provide valuable and complementary insights into the workings of early childhood settings.
This year's call for proposals posed a set of questions about how we as educators promote creativity and agency in play for young children from all backgrounds. It is our hope that the Voices community can learn from the expertise of the contributing authors. It has been our pleasure to engage with the educators who submitted manuscripts and to provide this unique venue for their narratives from the field.  
We describe these play equity narratives later in this introduction. We first want to highlight the full-length teacher research articles published this year, some of them previously published in Young Children and now collected here in our annual online issue. These teacher research studies were selected for publication because they speak mightily to our interest in understanding how to support children to learn and develop in a range of early learning contexts.  
The first of the full-length teacher research articles in this year's edition is coauthored by teacher educators Daniel Meier and Majida "Mohammad Yousef" Dajani and addresses the use of digital storybooks with young children. The article, "Digital Stories in Palestinian and US Preschools: A Cross-Cultural Inquiry Project," compares the implementation of digital storybooks with children in early childhood settings in Israel's West Bank and the San Francisco Bay Area. While there are differences between the settings and uses of digital stories, Dajani and Meier use their comparative analysis to highlight the common findings that stories and storytelling help to build literacy, autonomy, social connections, and cultural knowledge in highly relevant ways. They also show how the technological tools provide agency to the children and enrich the classrooms on both sides of the globe in ways that are eminently feasible for teachers, including those new to the profession.  
The second teacher research article, "How a Teacher's Questioning Affects the Math Concepts Discussed During Play," is by a newly certified teacher, Kayla Halls. She conducted this study on teacher questioning during children's mathematical play in the final stages of her practice teaching. It is relevant that Halls began framing this study and then collected the data during her practice teaching. This supportive role in the classroom gave her the latitude to collect data, while her enrollment in college classes offered her the accountability to conduct this study and the opportunity to connect the work to sophisticated conversations around classroom discourses and mathematical standards. These factors encouraged Halls to think deeply about how teachers' questions to children while they play with math materials can most effectively prompt children's deeper understanding of mathematical concepts. Her message to all teachers is that we need to follow children's lead as they play with math constructs, but that we also need to understand the big mathematical ideas underlying their play and be able to direct them productively to ideas that will sustain their mathematical creativity and knowledge into their K–12 years. 
The third full-length teacher research article from this year, "Friendship, Culture, and Parenting: Using Case Study Data to Reflect on Home Visiting Practices," by Jamara Knight, addresses the topic of home visits across cultural differences. The author writes with a clear focus on her perspective and extensive prior experience as a home visitor. It is notable that we as editors pause here to observe that as a journal, we have not yet addressed the home visitor within early childhood education, even though it was one of the segments Daniel Meier and Barbara Henderson had in mind back in 2004 as we germinated the idea for this journal. Indeed, it is one of the reasons this journal is called Voices of Practitioners as compared to what might be a more prosaic title, such as Voices of Teachers. One of the interesting aspects of Knight's article is that she has chosen the friendship method to conduct her study, as opposed to the design of teacher research or action research that most of our authors adopt. Her findings reflect on her own positionality as a White woman whose family has been in the United States for several generations as she thinks about the interactional patterns and child-raising norms of her Somali neighbor and friend. She reflects on the cultural humility that home visitors must bring into the context of their clients' homes and family lives, and she also thinks about how these visits should be exchanges, more than one-way educational events. As Cristina Gillanders highlights in the Parallel Voices article, such reflection is critical: a process of inquiry and reflection aligns with standards and expectations for practice and with the course assignment that guided Knight's case study.
The final full-length article is not written as teacher research but is a presentation of and reflection on a set of teacher narratives collected by Barbra Blender and Eliana Elias. This article is entitled, "Teaching Behind the Mask: What a Collection of Stories Can Teach Us About Our Role as Educators, About a Better Vision for Our Children, and About Solutions for the Crises Impacting Early Childhood Education." This piece runs directly parallel to what we did last year with COVID-19 stories, as Blender and Elias collected a set of early childhood educators' stories about teaching through the pandemic in the San Francisco Bay Area. These stories first appeared online in the publication 48 Hills. Blender and Elias bring these narratives to a larger audience while integrating and reflecting upon the set of stories as a touchstone to what COVID wrought upon all of us, most especially those in the early childhood field. Their stories are of heart, wisdom, perseverance, and cultural relevance. Along with other lessons learned, Blender and Elias reflect upon how many of these authors have left or may be leaving the field, due in part to the impacts of the COVID-19 pandemic, yet indicative of the larger challenges early childhood practitioners face: lack of resources at early learning programs, heavy responsibilities, difficult working hours and conditions, and low pay, among other challenges. 
Looking across these four full-length articles, we have a few reflections and connections. First, all these authors—and in the case of Elias and Blender, also all of the teacher authors they write about—have reflected deeply on complex dilemmas that have no easy solutions. Most of them have also focused on how conversations that occur among teachers, with families, and among teacher educators are one way to work out a path to improvement. It depends on looking at our deeply held beliefs (about children's autonomy, about what makes for mathematical thinking, about family and culture, and about how we persist through hardships) to identify biases or shortsightedness in our thinking and then find ways to rethink or refocus.  
The first two articles—the one on digital literacies by Dajani and Meier and the one on math conversations by Halls—focus on the importance of teachers bringing a solid grounding in a content area or discipline and show how that can greatly enrich teaching practices. Dajani and Meier know that literacy will become most fruitful when children are given opportunities for autonomy with culturally and linguistically relevant texts. The digital storybooks bring new resources into the classroom because they provide read alouds, greatly multiply the number of texts in the classroom library, and work best when the experience is guided by the children. In comparison, Halls knows that interrupting a child at play with teacher questions only leads to more learning when the teacher really listens to the child's ideas within their play and then builds on them with a deeper concept than the child would have reached alone. Asking a child the color of a pattern block is not mathematical and only intrudes. Even mathematical questions need to be well-tuned; for example, asking how many pigs there would be in total if they added two more from the pile does not help if the child is actually building a pig grid, as the child's underlying idea would be about a matrix, not about addition. 
In contrast, the articles by Knight and by Blender and Elias are more about the power of the voice of the child's teacher, not the expert. Knight, an experienced home visitor, reflects on how she needs to learn from the child's first teacher, the family, when she is visiting a home. Even as she will keep her goals of bringing expertise from education (as the first two articles value), she underscores how she must be attentive to the culture, language, and ways of being that the child learns from their family. Similarly, Blender and Elias, who are highly educated early childhood education coaches, defer to the powerful voices of the teachers they work with. The lived experiences of these early childhood teachers during the long first months of COVID-19 in 2020 display the insight and resilience that interests them and that they know is worth sharing with others.  
In addition to the feature articles mentioned above, this year we continue to place teacher narratives front and center. We were thrilled to receive numerous submissions reflecting ideas about play and equity that connect directly to practitioners' daily work with children. The compilation depicts joyful play experiences in several different geographic locations—predominantly in the United States—and includes stories of how playful learning can be supported for children of varied racial and ethnic heritages, economic backgrounds, countries of origin and immigrant status, and gender identities. In all cases, the narratives illustrate how the key to facilitating these joyful play experiences is having a learning community that understands and is fully committed to the importance of play in early development. 
The infant teaching team at Horizons for Homeless Children, an incredible child care center for children and families experiencing housing insecurity in the Boston, Massachusetts, area, share a powerful perspective on the importance of playful exploration for our youngest children. In "Joyful Infant Care at Horizons for Homeless Children," Herb Hickey, Meital Sandbank, and Rosis Del Jesus describe how they collaborate to provide a secure, calm environment in which the infants can investigate playfully and take initiative in their own learning. Their piece reminds us of the power of play from birth and of the incredible capability of very young infants to guide their own learning when we trust them and carefully observe their ideas.  
Katie Whorrall, Jessica Xiao Ping Lam, and Amanda Birdsong present an excellent example of cross-cultural collaborative teacher inquiry in "Embodied Land Acknowledgment: Connecting Children to Place through Indigenous Wisdom and Playful Inquiry." They ask the important question "How (or in what ways) does children's intrinsic connection to nature create a dialogue with the wisdom and practices of Indigenous peoples?" Working in three distinct geographic locations—Missoula, Montana; Johor Bahru, Malaysia; and Gunnison, Colorado—these teacher researchers seek to engage young children in joyful and playful explorations of connection to the land, scaffolded by respect for Indigenous peoples' intergenerational wisdom and relationship with the land. The authors document children's thinking, play, and exploration of ideas; by reflecting on how they changed their practice, they illustrate how all of us can enhance our understanding of authentic relationships with the land and with one another.  
"Gender Exploration in Preschool: A Director's Story," by Alexandra Dutton, addresses how early childhood professionals can create supportive, open-ended, and gender-neutral play spaces that encourage all children to freely explore. The narrative illustrates how play environments and how we talk about children in those environments provide a foundation for how children express themselves and socialize in school settings. Dutton gives us a glimpse into how her teaching and administrative staff worked closely with a family and responded with openness, understanding, warmth, and affirmation that allowed a young child in their school community to comfortably explore gender expression through play. Further, we see how reacting to the questions of children and other families with a warm matter-of-factness honored this child and family, such as following their lead in using the same language about the child "feeling like a girl" as part of the fabric of normal events.  
And finally, we include two accounts of playful learning, appearing in the online Voices annual issue before they will appear in an issue of Young Children, from educators at Briya Public Charter School in Washington, DC. Briya is a two-generation family educational program that serves immigrant families. Young children attend Reggio-inspired early childhood experiences, and their parents receive English literacy instruction and support. In the first article, "Planning to Play: Empowering Teachers to Empower Children," Kerstin Schmidt and Noelani Mussman explain the connections between the children's and adults' learning environments. They offer compelling evidence that if you want playful learning for children—where they lead, explore the unknown, and find joy in their learning—teachers need similar experiences in their professional learning.  
In the second article, "Rainy Day, Let's Play! Outdoor Learning for All," Lena Johnson and Lydia Mackie describe the school's transition from a more typical structure where children only went outside for recess or field trips to one in which—due to the COVID-19 pandemic—the children spent significant parts of every day learning and playing outside, finding frequent and meaningful connections to nature in their surrounding urban spaces.  
Both articles make clear that it is possible to meet the language and literacy needs of emergent multilingual children and to support their cognitive, social, and emotional development through rich opportunities for play. Both articles illustrate what one might call educators "saying yes to the mess," or leaning into the uncertainty that comes with play. Sorting through the mess is not always easy, but as Schmidt, Mussman, Johnson, and Mackie explain, the rewards are worth it. 
The narratives in this compilation make visible the commitment of equity-minded teachers to helping every child to reach their full potential.
Over the years, we have explored many topics in Voices. Time and again, we return to play; it serves as a steady anchor point for those in our field, as it is at the heart of learning in early childhood and, arguably, throughout our lives. The inspiring stories and thought-provoking perspectives of these Voices authors provide a means for us all to weigh whether and to what extent access to play may be constrained. If contextual factors facilitate play, how do they do so and how might we take active steps to share innovations and champion the same freedoms in other spaces? If contextual factors constrain play, how can we advocate to ensure that opportunities for creativity, autonomy, exploration, and joy abound for the children we work with?  
It is easy to debate systemic changes in the abstract but, as this Voices issue has shown us, many barriers may arise along the way that impact real-world practice. We hope that expanding a conversation and inspiring new practices can help us open the doors to play in its varied forms for more children.  
---
References

NAEYC. 2020. "Developmentally Appropriate Practice." Position statement. Washington, DC: NAEYC. naeyc.org/resources/position-statements/dap/contents. 
Souto-Manning, M., A.C. Emerson, G. Marcel, A. Rabadi-Raol, & A. Turner. 2022. "Democratizing Creative Early Educational Experiences: A Matter of Racial Justice." Review of Research in Education 46 (1): 1–31.
Maleka Donaldson
Maleka Donaldson, EdD, is an assistant professor of education and child study at Smith College in Northampton, Massachusetts. She has taught in preschool and kindergarten classrooms, is a teacher educator, and is author of the book From Oops to Aha: Portraits of Learning from Mistakes in Kindergarten. [email protected]
Barbara Henderson
Barbara Henderson, PhD, is the director of the Doctoral Program in Educational Leadership at San Francisco State University and a professor of elementary education with an early childhood specialization. Her research interests include practitioner/teacher research, self-study research, participatory research, and narrative inquiry. Barbara is one of the founding editors of Voices of Practitioners, NAEYC's journal of teacher research, established in 2004.
Megina Baker
Megina Baker, PhD, is a program developer for the Boston Public Schools Department of Early Childhood. Megina has been an early childhood educator, teacher researcher, and teacher educator with a focus on playful learning and multilingual learners. [email protected]
Ben Mardell
Ben Mardell, PhD, is a researcher at Project Zero at the Harvard Graduate School of Education. [email protected]
Andrew J. Stremmel
Andrew J. Stremmel, PhD, is professor emeritus in the School of Education, Counseling, and Human Development at South Dakota State University. He is an executive editor of Voices of Practitioners.