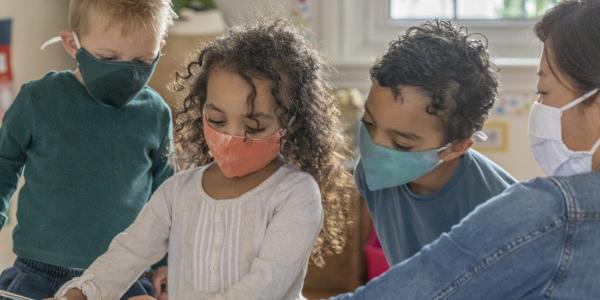 You are here
Barbra Blender, Eliana Elias
Authors' Note 
In March 2020, as COVID-19 began its rampage, San Francisco went on lockdown. As with many cities around the world, our infant, toddler, and preschool teachers scrambled to learn how to connect virtually with young children and families and how to care for the children of essential workers. A profession that had been historically disregarded and undervalued was immediately deemed "essential." 
It was during this time of fear, pain, and confusion that the two of us began to meet with teachers to exchange stories of resiliency and unfairness. We both work as early childhood professional development facilitators and coaches, and as the effects of the pandemic began to unfold, we continued to maintain close contact with early childhood educators. We took materials to their settings, gathered for coaching sessions when possible, and facilitated professional development and the exchange of much needed information regarding COVID-19 protocols and the Department of Public Health's recommendations for schools and family child care settings.  
We serve educators who work in communities that are historically impacted by poverty, a lack of resources, racism, and other challenges. They themselves experience adversity, which the pandemic worsened. Many lost relatives in the US or in their countries of origin. Their own children were home during the lockdown, often in the care of extended family and struggling to keep connected to their schools.  
Inspired by these professionals—who were masking each day, taking multiple forms of public transportation through a deserted city, and staying late to sanitize toys, clean floors, and wipe every surface—we set out to listen to their stories. We interviewed nine educators who represented a cross-section of people from all backgrounds and programs. Our one-hour interviews often extended to two, with us taking copious notes and recording our meetings so we did not run the risk of missing important ideas. The results were nine articles, published in our community's online newspaper, 48 Hills. Reaching an audience of more than 35,000 residents, this outlet was the perfect vehicle for us to bring the stories of our early childhood educators to local citizens and policymakers.  
As Brené Brown (2010) says, "Maybe stories are data with a soul." The nine published narratives offer us a way to listen deeply to those who have not had the opportunity to join the tables of power. They make clear the challenges early childhood educators face both during and outside of a pandemic: a lack of consistent support; misguided and myopic policies; the overall disempowerment of these educators. They also provide windows into realities, ideas, and solutions that we had not yet considered.  
This article highlights the major themes of their stories, which can be accessed here.  
As coaches and facilitators of teachers' learning, we take stories seriously and use them as a starting point for reflection. We know that reflection can transform teaching and learning, but we also know that it does not happen easily. As Escamilla (2016) writes, "Reflective teaching, as simple as it sounds, is not easy to engage in because it requires early childhood educators to reveal their vulnerabilities, beliefs, actions, biases, knowledge, and expertise in front of others."  
Facilitators, critical friends, and tools are necessary to help us reflect and see multiple perspectives. Studying these educators' stories required not only our empathy, but also a process in which we could go beyond reflection and make further commitments leading to action. We adapted The Thinking Lens, a tool designed by Margie Carter, Ann Pelo, and Deb Curtis, to create open-ended questions to help us understand early childhood educators' points of view and their needs and aspirations (Pelo & Carter 2018). These included questions such as  
Where do we see examples of this educator's strengths and competencies? 
How might issues of culture, racism, sexism, injustices, and/or other biases discussed in this story be influencing this educator's perspective? 
What can other educators, coaches, policy makers, and administrators do to address issues explored by this educator? 
The stories we collected strengthen our conviction that teachers, when given the opportunity, provide insights into how we can inch closer toward a more equitable society. We were also reminded that "people living in an oppressive system know what they need and what must change" (Jablon, Parks, & Ensler 2021, 92). The following sections highlight the themes that emerged as we reflected on our interviews, with educators' own words illuminating each one.   
A More Equitable and Democratic Society  

One of the clearest messages we received from the educators we interviewed is how they see their role beyond the narrow expectations assigned to them by our school systems and society. Often, early childhood education is defined in economic terms: politicians who advocate for comprehensive early care and education frequently use the argument that it will prepare our children to enter school and eventually become more productive workers. In addition, families, particularly women, will join the workforce and make economic contributions to our society.  
However, this purely economic emphasis on early learning is not the only vision reflected in the thinking of the educators we interviewed. These teachers see themselves as champions of children's rights within a more just and caring society—a society that starts being built the minute children are introduced to the community beyond their homes. We found that the standards these educators set for themselves are often much higher than what is attributed to them. They are not, as many think, merely "watching" or "minding" children. 
Early childhood educators nurture the seeds of a more democratic and equitable society. Their values and intense commitment to social justice are interwoven into all of the stories they shared with us. As Misa Okayama says: "I have come to understand our work in early childhood education and our everyday life with children as a political act. We are building democracy from the ground up."  
Misa's statement lays the foundation for us to uncover aspects of this higher calling. From each of our interviews, we came to understand how these early learning teachers lay the building blocks for a society that values equity and inclusivity. Some of these values are implicit in the ways teachers discuss their love for children and their willingness to serve. Others are explicitly stated and deserve to be strongly considered.  
A Value for Cultural Understanding 

In Aici Zhou, we find a trilingual toddler teacher who works in one of the most complex, under-resourced neighborhoods in San Francisco. Aici views her ability to use Spanish, Cantonese, and English as a tool to build trust with families and to show them a welcoming space. She sets clear goals for the toddlers in her program: "I work with toddlers to help them use their words, to learn how to live well with others, and to become open to our differences." She explains the connection between hate crimes and the skills she wants children to develop early on so they grow up free from racism's distorting and damaging stains. 
Director Brooke Giesen and teacher Solitaire Miguel's spirited dialogue about their collaboration highlights a similar idea: "At the core of social injustices, we find power imbalances and over-valuing of one group versus another. This is a central issue that starts to show up early in childhood. I love the fact that we, as teachers, use all kinds of opportunities to talk to children about fairness and about their responsibilities as part of a community."  
Likewise, Maki Matsunami and Antonia Venegas use their cultural differences as a springboard to build a welcoming environment for diverse families. Maki grew up in a middle-class family in Japan and came to the US as an international student. Antonia immigrated to the US from Mexico alongside her working-class family. Both teachers assert that, "We believe in building strong relationships with all our families. We need to give them lots of positive feedback about their children while at the same time, provide information and support, without judgment." 
A Value for Community 

The commitment to a better world comes with insights about the value of cultivating local early childhood leaders who build long-lasting relationships with families in their neighborhoods and understand their social contexts. Family child care, as we learned from educator Monique Guidry, is central to this effort. With the right support, it can play a transformational role in how families start connecting with one another. "Being a part of a community gave me many tools that I use today in my classroom," Monique says. "I learned not to judge children and their families. I strive to learn how to support them in meaningful and impactful ways."  
Angelica Guerrero, another family child care provider, discusses the importance of anchoring early learning programs in values that reflect goals beyond the narrow confines of school readiness. She started her program as a family co-op built around three foundational values: nature education, family participation, and family education. "At the heart of a good early childhood program, we must have a strong community," she says. 
A Value for Gender and Racial Justice 

We interviewed two male teachers. This is significant because less than 3 percent of the early childhood workforce is male (Cole et al. 2019). These men see their role as a rare male presence in the field as an intentional act—a choice to join their female colleagues in providing children and families with a more expansive view of what it means to be a man in our society. It is inspiring to see how both teachers associate their own upbringing and experiences with the impact they can have in early learning environments.  
Chandler Graddick, an African American male who had learning challenges throughout his school career, discusses how he overcame those challenges. He sees his presence in the classroom as an act of change: "I see my investment in children and families as a tool to change the biased narrative that is still so common against African American males, particularly those of us who follow our calling to teach young children. I celebrate my small victories, as I think of them as changes in the fabric of our society." 
Brian Crooks, a White male who has endured a history of abuse and neglect, implements trauma-informed early childhood practices. Brian's work serves not only as an example to help teachers like himself help children, but also to heal their own traumas as they pursue healthier relationships. He clearly understands the negative impact of toxic masculinity on our families and communities, and he challenges us: "Do we want to address the negative impact of toxic masculinity? Let's get more males in our classrooms." 
A Value for Service and Care 

As we see from the above examples, the teachers we interviewed do not simplistically connect their work with children to the economic value placed on their ability to prepare a future workforce or to keep the economy running. During the pandemic, workers deemed essential were eager to get back to work in order to contribute in ways that are not visible or even quantifiable. As Vernee Davis says: "Teachers who are knowledgeable, who understand social and emotional development and create warm, welcoming learning spaces, can show children how much they care about them, and that makes a difference."  
She goes on to share an example, one that touched our hearts. Vernee is under 5 feet tall and is a formidable force who moves with determination. One day before heading to school, she arrived at the grocery store at 7 a.m. to buy gluten-free bread so one of the children in her room could join others in a sandwich-making activity. The bread was placed on the highest grocery shelf and because of COVID, no one was available to help. Giggling through our Zoom screen, Vernee describes that moment: "Imagine me, a short woman pushing myself up so a child in my classroom could have what all the other children had. He has restrictions, but I told myself, 'He is going to get his bread too.' And that is truly the reason why I get up every day, pandemic or not: to make a difference in the lives of children. Where society places restrictions, I see opportunity. I reach for the top shelves." 
A Value for Helping Children Experience Nature 

The need to connect our children to the natural world became even more apparent during the pandemic and the horrific California fires of 2020. In Angelica Guerrero's poetic vision for children, she shares with us details of her outdoor bilingual program and reminds us of the many health benefits of being outdoors. Her article ends with a provocative question: "Is the future of our children impacted by their relationship with the Earth, or is it the Earth who now desperately needs this relationship?" This question forces early childhood educators to think about how the values we impart to children can impact the future of our communities, country, and planet. 
Injustices Impacting Teachers 

Early childhood educators are helping raise children who will not only succeed in school but who will also become caring and engaged members of our communities. Once we understand that, we become even more alarmed about the injustices teachers faced before, during, and after the pandemic.  
All the teachers we interviewed shared their frustration over the inadequate worth society places on their work. This translates to glaringly low pay and an image of educators of young children as unskilled, uneducated, and undeserving of our respect. Most of the teachers we interviewed hold bachelor's degrees and took many college classes specifically designed to enhance their ability to work with very young children. Yet their counterparts in the K–12 system receive significantly higher salaries and enjoy benefits such as health insurance, paid planning time, and access to specialists and pedagogical support.  
Financial burdens can increase depending on the type of care educators provide. Angelica's story underscores the unique challenges of family child care providers, who are seen as a "business" rather than a public good. When working to comply with several criteria and guidelines to receive city funding to serve low-income children, she recalls 
I found out that the scholarships do not cover the real cost of care. If you were to take the money received for one child, it would only cover about 70 percent of the cost. When asked how I should cover that 30 percent gap, well-meaning city officials told us to be creative and make up the gap by fundraising. This left me wondering . . . how does a program, meant to decrease the opportunity gap for young children, continue to put the burden of subsidizing child care on the shoulders of women . . . particularly women of color?   
Beyond financial challenges, our educators are also saddled with the weight society places on them concerning their gender, race, and other identifiers. Chandler and Brian paint a vivid picture of the sexist attitudes they face whenever they reveal that they work with young children. These prejudices and misconceptions come from society in general and manifest themselves in the opinions of coworkers, family members, and friends.  
Undeterred, Chandler explains why he chose this profession: "I see my investment in children and families as a tool to change the biased narrative that is still so common against African American males, particularly those of us who follow our calling to teach young children. I celebrate my small victories as I think of them as changes in the fabric of our society." This statement sounded particularly poignant at the time it was said, only nine months after George Floyd's death.  
Brian draws a straight line between the lack of emotionally intelligent males in caregiving roles to toxic masculinity. He poses another provocative solution: "Let's fill our early childhood classrooms with emotionally competent teachers! Addressing these issues early on is more effective than working to rewire ourselves. I say, put money into being proactive, not reactive, and challenge the status quo. I know this from experience—from having to rewire myself as a young adult." 
During our interview with Brooke and Solitaire, we witnessed a profound conversation about the connections between a teacher's commitment to serving families and the complexity of embracing one's true self. Solitaire is an Asian and Pacific Islander who self-identifies as a queer womxn. Her preferred pronouns are they/she. Brooke is a self-identified queer White woman whose preferred pronouns are she/her. Both reflect the vulnerability many teachers feel when revealing they belong to the LGBTQIA+ community. Fortunately, the support they feel within their place of work helps them feel safe in sharing who they are with the rest of their school community. "I have felt judged by people who question the reasons for us bringing our personal lives into our classrooms," Brooke says. " 'Politics don't belong in the classroom,' some might say. But in my view, there is no neutral classroom. I like who I am, and that is part of being who I am. I would be ignorant to believe my identities do not influence my practice."  
How many of our teachers still long for this confidence? How many still feel vulnerable and fear retaliation simply for being who they are? 
Solutions for Our Crises: A Hopeful Look into Our Future 

In the process of telling their stories, teachers pointed us to many solutions that could address the shaky foundation of our field, which COVID has made worse. Some of these solutions are deeply personal, subjective, and aspirational. Three examples come to mind:   
Misa invites us to reach back into our history to find the inspiration we need to fight for a better future. She asks us to honor those who came before us and to amplify their courage and resilience.  
Vernee invites us to think about our legacy: How do we want to be remembered? How will we behave during this crisis?  
Angelica envisions a future where we return to nature to form community and discover ways to better care for the earth. 
Other solutions have been more widely discussed in publications and early childhood education policy forums. They are, however, more clearly laid out within the context of these stories than when one reads them in policy papers. For instance, Brooke and Solitaire talk openly about shared governance and the importance of bringing teachers into the decision-making process. Others echo ideas that the field has long clamored for, such as higher pay, access to health insurance, public investment, and continuous professional development. These would offer a much needed respite for teachers who have given so much to our communities.  
Some solutions have been less commonly discussed but could bring impactful change if implemented. Monique offers some of those:  
pathways to home ownership for family child care providers 
the creation of high school programs that offer professional training to those who want to work with children 
opportunities for experienced teachers to coach and mentor incoming teachers 
The Road Forward  

COVID has left us with many challenges, creating a road to an uncertain future. This road was constructed years before the pandemic but continues to be built with materials that have little to do with the quality of education for children and better work environments for teachers. These include the desire for "normalcy" and a return to compliance-driven policies; a push for "school readiness" with a focus on practices that are neither age nor culturally appropriate; and a return to cookie cutter assessments. Without a doubt, the scariest post-pandemic shock wave has been the unprecedented exodus of educators from the classroom, leaving administrators stranded and children exposed to a revolving door of inexperienced substitutes and exhausted teachers.  
Since the time of our interviews, four of the exceptional educators were forced to leave the classroom. Brian has become a construction worker. Brooke is doing policy work. Solitaire works at a science museum. Maki is doing odd jobs while caring for her three children. While we are happy for them as they move into their future, we are sad for the children and families of San Francisco, who will no longer benefit from their thoughtful vision and strong commitment.  
Teachers have learned a great deal during this pandemic. They have advocated for smaller group sizes and voiced their desire for more meaningful professional development. They have joined decision making groups. In San Francisco, the collective efforts of educators, leaders, and allies led to an unprecedented victory: after years of advocacy and hard work, Proposition C was passed by voters. This local initiative provides early childhood educators with a significant pay increase and took effect in July. While this victory comes too late for Brian, Brooke, Solitaire, and Maki, we hope it will be enough to keep Misa, Vernee, Antonia, Chandler, Monique, and Angelica doing what they were meant to do: encourage children to grow, learn, and joyfully contribute to the world around them. (To read more about San Francisco's move toward a livable wage for early childhood educators, click here.) 
Concluding Thoughts 

For us, this project was about bringing teachers' voices into focus and listening deeply. It fed our eagerness to work toward long-lasting change that is driven by those closely impacted by the system. It also reminded us that there are many individuals in our midst who are committed to working with young children. These individuals cannot and should not do this work alone. They should not be expected to do work that benefits all of us, our communities, and our country without a network of support that emphasizes their work as essential.  
Our ability to study narratives and stories creates a holistic way for us to look for inspiration, learn from different perspectives, and consider different points of view. While the stories here take place in the unique stage that is San Francisco, they might remind you of yourself or the many educators who have taught your children, taken your college courses, worked under your supervision, or voted during elections. We invite you, as educators, to share your stories often; and you, as policy makers, administrators, and leaders, to listen carefully and meet with others to reflect on the stories in your own communities. As we move forward, we must not settle for patching up a system that has not worked for teachers, children, and families. It is time to build something new, something visionary. It is time for an early childhood education system that truly respects those who are laying the foundation for a better world. 
---
References

Brown, B. "The Power of Vulnerability." Ted Talk at Tedx Houston, 2010. https://www.ted.com/talks/brene_brown_the_power_of_vulnerability.  
Escamilla, I.M. 2016. "Teacher Inquiry: An Act of Self- and Collective Reflection to Improve Teaching Practice." Voices of Practitioners 11: 12–13.  
Cole, K., J.Y. Plaisir, M. Reich-Shapiro, & A. Freitas. 2019. "Building a Gender Balanced Workforce: Supporting Male Teachers." Young Children 74 (4): 39–45.  
Jablon, J., N. Parks, & L. Ensler. 2021. The Five Commitments of Optimistic Leaders for Children: A Reflective Practice Journal. South Orange, NJ: Leading for Children. 
Pelo, A., & M. Carter. 2018. From Teaching to Thinking: A Pedagogy of Reimagining our Work.  Lincoln, NE: Exchange Press. 
Barbra Blender
Barbra Blender, MA is a professional development facilitator and coach supporting infant, toddler, and preschool programs in the San Francisco Bay area. She works to elevate the voices and experiences of educators and to promote equity-based systems for children, educators, and families. [email protected]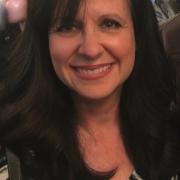 Eliana Elias
Eliana Elias, MA, is a professional development facilitator and coach supporting infant, toddler, and preschool programs in the San Francisco Bay area. She works to elevate the voices and experiences of educators and to promote equity-based systems for children, educators, and families. [email protected]