Rocking and Rolling. Being Present: Mindfulness in Infant and Toddler Settings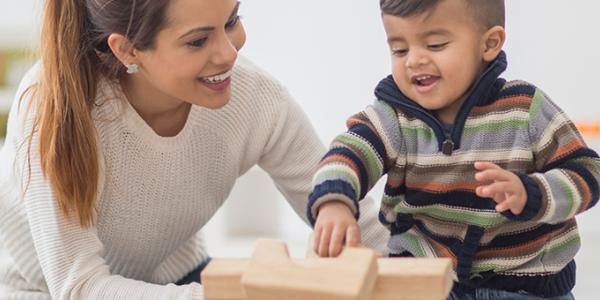 You are here
Maria Gehl, Aidan H. Bohlander
Ms. Marianna has a lot on her mind. She sits at the table with eight 2-year-old children, thinking about her director observing her later in the week, her daughter's big soccer game that night, and the many tasks she must complete over the weekend. Suddenly, Ms. Marianna is snapped back into the present moment as Emma screams in frustration. It takes Ms. Marianna a few seconds to realize what's wrong: Emma was trying to scoop food onto her spoon and, after many failed attempts, has pushed over her bowl, spilling mixed vegetables all over the table. Ms. Marianna quickly scoops up the spilled food, accidentally knocking over Austin's bowl in the process. Ms. Marianna sighs, feeling overwhelmed. She pauses, remembering a breathing exercise she learned at a recent workshop.
Ms. Marianna places a hand on her belly and inhales slowly to the count of four, feeling her belly expand into her hand. She holds her breath for two seconds, then exhales slowly through her mouth to the count of six and waits a few seconds before breathing in again. The children laugh at Ms. Marianna, and Ms. Marianna laughs too, refocusing on the children. She pulls Emma closer, looks her in the eye, and reassures her in a warm tone that it is frustrating to not be able to scoop her food with a spoon. Emma relaxes and, with Ms. Marianna's help, scoops a heap of peas into her mouth. Ms. Marianna takes another deep belly breath of relief.
How could she have spaced out during mealtime? She chides herself, but then remembers another message from the workshop: be kind to yourself in times of stress. She acknowledges that it's sometimes hard to balance all her responsibilities and stay present in the moment.
Mindfulness is "paying attention in a particular way: on purpose, in the present moment, and nonjudgmentally" (Kabat-Zinn 1994, 4). In the above vignette, Ms. Marianna practices mindfulness by becoming aware of her distracting thoughts and trying a breathing strategy to help her return to the present moment so she can focus calmly on the children. It takes practice to pay attention to the here and now, and it's important to keep an open mind and be patient with ourselves when our attention wanders or when we experience stress. Using mindfulness techniques can help us manage our uncomfortable emotions so we can be present and help children identify, express, and manage their feelings.
Children benefit from teachers who are mindfully present—consciously attending and responding to their needs (Jennings et al. 2017). There will always be stresses and distractions while caring for young children, so building skills that promote greater attention, focus, and calm offer children the benefit of a peaceful, responsive presence in their early childhood setting.
Here are some techniques and strategies that promote mindfulness:
Deep belly breathing: put your hand on your belly and inhale deeply as you count to four, feeling your belly rise. Pause at the top of your inhale, then exhale for a count of six, feeling your belly contract. Repeat five times.
Progressive relaxation: intentionally contract all of the muscles in your body. Beginning with your toes and moving up to your head, relax your muscles.
Mental body scan: beginning with your toes and moving up to your head, notice any tension in your body and intentionally relax those areas. (This technique is especially helpful to ensure that you are calm and ready before attending to a task such as a diaper change.)
Intentional refocusing: take a few moments to bring your mind into the present. For example, without moving, notice 10 items of the same color. Or, using your five senses, notice the sensations you're experiencing.
There are many opportunities to informally practice mindfulness every day. Paying close attention to simple daily activities, like brushing your teeth or washing the dishes, is a form of mindfulness. The next time you brush your teeth, for instance, notice the feel of the brush, the taste of the toothpaste, the temperature of the water, and the sound the water makes as it comes out of the faucet. There is no one mindfulness activity or technique that works for everyone; whatever helps direct your attention to the current moment is a great way to practice.
Research tells us that in the first years of life, young children's brains develop at a rapid pace in response to their environment (Shonkoff 2017). One of the most important activities that fuels this development is the back-and-forth interactions children have with caring adults. In ideal back-and-forth interactions, adults tune in to what an infant or toddler is trying to communicate, and they respond in kind. This sounds easy, but figuring out what an infant or even a toddler is attempting to convey can be challenging. Here is another area where mindfulness can help: building our capacity to be fully aware in the moment allows us to become more attuned detectives in discovering what an infant or toddler is revealing to us. We notice more of what is happening both for the child and also inside of us. These insights create a rich environment where relationships with children, families, and colleagues are nurtured (Siegel 2007).
---
Six-month-old Yamir has been crying every day as he wakes up from nap time. He has a sharp, loud cry and Ms. Sybil, his teacher, notices tension in her shoulders as she walks over to his crib. By practicing mindfulness, Ms. Sybil has found that if she picks up Yamir while she is still feeling that tension, he detects it too and cries harder and louder. Today, Ms. Sybil continuously relaxes her shoulders as she approaches Yamir's crib. When Ms. Sybil reaches him, she places her hand on his belly and takes a few deep breaths. She gently leans into the crib and whispers in Yamir's ear, "It's okay, I'm here now. I'm going to pick you up." As she lifts Yamir out of the crib, he starts to calm. She continues talking quietly to him as she takes him to the changing table.
Integrating mindfulness into our interactions with children can increase our emotional awareness and self-regulation. This in turn helps us accept children's needs and feelings without judgment, which supports their healthy social and emotional development. Research shows that practicing mindfulness has many benefits, including helping us respond intentionally to children with a deeper understanding of our own and the children's emotional states, leading to more supportive interactions (Duncan, Coatsworth, & Greenberg 2009).

Think about it

Do you realize when you've become distracted from a task? What helps bring you back to the present moment?
In what areas of your body do you carry tension? When you notice this tension, how do you respond? What helps you listen attentively to children and parents in the midst of the busyness and distractions of early childhood settings?
Try it

At home:
Experiment with being present during an everyday activity, such as washing the dishes. Notice the temperature of the water, the feel of the suds, and the sound the water makes on the dishes. Focus your attention on your physical movements.
Sit for five minutes during the day and close your eyes. Pay attention to the sensations of your breathing. Count your breaths up to 10, and repeat until the five minutes are up. If your mind wanders—which it probably will—acknowledge the thoughts and bring your focus back to your breath. Try not to judge your thoughts, feelings, or sensations.
At work:
Before entering work, take a few moments to intentionally refocus your thoughts. Notice what emotions you are feeling or thoughts you are having. Place a hand on your heart and take a deep breath while recognizing these feelings. Then enter the room.
Before picking up a baby, pause to take a few deep belly breaths, and slow down. Speak to the baby about what you are doing as you reach out and interact.
When changing or feeding a child, pause and notice your feelings and body. Then look at the child, make eye contact, smile, and talk about the present moment.
Working with children every day is busy and, at times, stressful. Being mindful can reduce stress, make our jobs more enjoyable, and make children's experiences more rewarding!
---
Mindfulness Resources

Center for Healthy Minds—University of Wisconsin–Madison
https://centerhealthyminds.org/about/overview
Center for Mindful Self-Compassion
https://centerformsc.org/learn-msc/
Greater Good Magazine: Science-Based Insights for a Meaningful Life
https://greatergood.berkeley.edu/
The Center for Mindful Awareness
http://centerformindfulawareness.org/about-the-cma/
Mindfulness Toolkit
http://www.mindfulness.tools/
---
References

Duncan, L.G., J.D. Coatsworth, & M.T. Greenberg. 2009. "A Model of Mindful Parenting: Implications for Parent–Child Relationships and Prevention Research." Clinical Child and Family Psychology Review 12 (3): 255–70.
Jennings, P.A., J.L. Brown, J.L. Frank, S. Doyle, Y. Oh, R. Davis, D. Rasheed, A. DeWeese, A.A. DeMauro, H. Cham, & M.T. Greenberg. 2017. "Impacts of the CARE for Teachers Program on Teachers' Social and Emotional Competence and Classroom Interactions." Journal of Educational Psychology 109 (7): 1010–28.
Kabat-Zinn, J. 1994. Wherever You Go, There You Are: Mindfulness Meditation in Everyday Life. New York: Hyperion.
Shonkoff, J.P. 2017. "Breakthrough Impacts: What Science Tells Us About Supporting Early Childhood Development." Young Children 72 (2): 8–16.
Siegel, D.J. 2007. The Mindful Brain: Reflection and Attunement in the Cultivation of Well-Being. New York: W.W. Norton.
---
Rocking & Rolling is written by infant and toddler specialists and contributed by ZERO TO THREE, a nonprofit organization working to promote the health and development of infants and toddlers by translating research and knowledge into a range of practical tools and resources for use by the adults who influence the lives of young children. The column can be found online at NAEYC.org/resources/pubs/yc/columns.
Maria Gehl
Maria Gehl, MSW, is a project director at ZERO TO THREE. Her current work focuses on bringing mindfulness, self-compassion, and other reflective practices to early childhood professionals and parents. Maria has previously worked extensively with home visiting and other evidence-based early childhood programs. [email protected]
Aidan H. Bohlander
Aidan H. Bohlander, PhD, MSW, LICSW, is a senior content specialist in the professional development and workforce innovations department at ZERO TO THREE and adjunct faculty at the Catholic University of America. She has previously practiced clinical social work with families and their young children in metropolitan Washington, DC.[email protected]