NAEYC Is Supporting Children's Development Around the World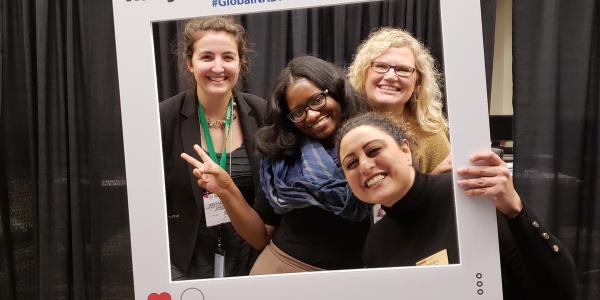 You are here
NAEYC's Global Engagement department was created in 2014 in response to growing interest from governments, organizations, and practitioners from around the world seeking to align their early learning practices with NAEYC's position statements and standards for early learning and teacher preparation. While NAEYC has long been a pioneer in developing resources for early childhood professionals and programs in the United States, global engagement offers new avenues for supporting all children's well-being and healthy development. Given NAEYC's mission to promote high-quality early learning for all children, birth through age 8, and the abundance of research showing that the early years impact the entire lifespan, it is important for NAEYC to collaborate with, learn from, and support global partners. 
There are several aspects to NAEYC's global work. The first is that we share NAEYC's vision and mission throughout the world by
ensuring our books are easily accessible in English and in other languages, including Arabic, Chinese, and Spanish
providing translations of our position statements in as many languages as possible
engaging with professionals from all over the world through our online member benefits, which include learning modules, webinars, and our community platform, Hello 
welcoming hundreds of professionals from over 60 countries at NAEYC events and offering both Spanish- and Chinese-language tracks—including simultaneous translation of the opening plenary at the NAEYC Annual Conference
seeking globally focused blog submissions highlighting innovative practices and information about critical initiatives around the world
sharing NAEYC's perspective on the early childhood profession and early childhood program quality at important global convenings
NAEYC is committed to working with country partners to adapt our resources, content, and expertise. Our goal is to provide culturally appropriate professional learning packages that support optimal early learning based on developmentally appropriate practice.
Additionally, NAEYC provides technical assistance to governments and other large-scale organizations to facilitate the development of strong early learning systems. Here are some examples of our projects with current partners:
Dominican Republic: We have reviewed higher education standards and are in the process of reviewing program quality standards to ensure they are comprehensive and reflect recommended practices. This work also includes support in communicating the role of standards in enhancing program quality. 
Kingdom of Saudi Arabia: We are facilitating the development of early learning standards and a curriculum framework for children 0 to 6, along with teacher and training guides. This work has important implications for supporting equitable access to high-quality early learning for young children as Saudi Arabia seeks to grow the participation of women in the workforce and bring early learning to scale. 
United Arab Emirates: We are supporting the creation of a comprehensive quality framework for any setting serving children 0 to 8. The UAE is committed to providing seamless, high-quality education and care for all young children. This work will guide continuous quality improvement and will offer families more information about the quality of early learning programs.
All of our technical assistance work is grounded in our core values and centered on capacity building and sustainability at the country level. With each partnership, NAEYC gains valuable opportunities to see early childhood education in varying contexts, expanding our knowledge and improving our ability to serve our members.
Photograph: © NAEYC
Stephanie Olmore
Stephanie Olmore serves as NAEYC's senior director of global engagement. Since working as a student assistant in a campus child care program 20 years ago, she has held a variety of policy and evaluation roles, including leadership positions in NAEYC's Academy for Early Childhood Program Accreditation. Her dedication to high-quality early learning has taken her to more than 30 countries.