De nuestra presidenta. Entregar el testigo . . . seguir corriendo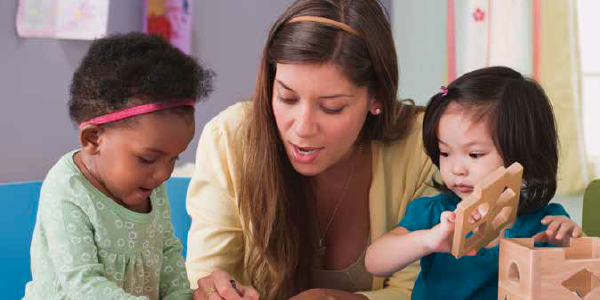 You are here
Debido a los avances rápidos en la investigación del cerebro durante las últimas dos décadas, sabemos mucho hoy sobre el desarrollo y el aprendizaje de los niños. Aun así, y como reflejan varios artículos en este número de Young Children, la conversión de este conocimiento en estrategias eficaces y prácticas que podrían achicar las brechas de oportunidad y logro entre ellos sigue siendo un desafío. Sabemos que importan las aptitudes que traen los maestros a su trabajo con niños pequeños, pero llevará tiempo el aumento de nuestra capacidad de producir educadores más eficaces en nuestro campo para que cada niño tenga un maestro bien preparado. Sabemos que las experiencias de los niños en centros y programas son solamente una parte de la historia y que la vivienda estable, la atención médica asequible, la comida nutritiva y las comunidades seguras también son importantes para posibilitar que los niños alcancen todo su potencial. Sin embargo, es muy difícil crear soluciones políticas que sirvan a todas las familias de pocos recursos y que también sean fáciles de navegar. Sabemos que no existen soluciones sencillas, pero se requiere resolución para resistir la presión para buscarlas. A veces, la reflexión sobre la situación actual puede dejarnos frustrados por no progresar lo suficientemente rápido.
Se requiere valentía para no cejar a pesar de nuestras frustraciones. En The Solace, Nourishment and Underlying Meaning of Everyday Words (El consuelo, la nutrición y el significado subyacente de palabras cotidianas), un ensayo breve pero profundo, el poeta David Whyte escribió:
La valentía es la medida de nuestra participación sincera con la vida, con otra persona, con una comunidad, un trabajo; un futuro. El ser valiente no necesariamente significa ir a cierto lugar o hacer cierta cosa salvo hacer conscientes aquellas cosas que ya sentimos profundamente y luego sobrevivir las vulnerabilidades infinitas de aquellas consecuencias.
Se me ocurre la palabra valentía cuando pienso en Power to the Profession (Revalorizar la Profesión) y el trabajo que están dirigiendo NAEYC y otras 14 organizaciones nacionales del grupo de esfuerzo conjunto, con la participación de 35 partes interesadas más. Esta iniciativa representa un esfuerzo serio por colaborar para crear, con la participación activa entre organizaciones e interesados por todo el país, una explicación coherente y convincente de quiénes somos los profesionales del campo de la primera infancia, qué hacemos, por qué importa y por qué se debería apoyar mediante inversiones públicas y privadas. El trabajo tiene la posibilidad de afectar positivamente a los niños pequeños y los profesionales del campo de la educación infantil, pero sólo si tenemos la valentía suficiente como para superar las cuestiones delicadas que surgirán durante el proceso. Mientras desarrollamos Power to the Profession, estaremos a la altura de los dos desafíos de inspirar a la siguiente generación de educadores infantiles a abrazar la profesión y de persuadir a la siguiente generación de líderes económicos y políticos que nuestra profesión ofrece un valor inmenso a nuestra sociedad.
Mi creencia en Power to the Profession—mi valentía— viene de todo lo que he visto que ha logrado NAEYC durante los últimos seis años. Hace dos años completé mi periodo de miembro general elegida de la Junta Directiva de NAEYC. Agradezco a los miembros que votaron por mí creyendo que tenía algo beneficioso que ofrecer al trabajo en curso de la asociación, y agradezco especialmente a Jerlean Daniel por su aliento activo cuando consideraba yo el servicio en la Junta. Durante aquellos cuatro años, el trabajo de la Junta focalizaba en concluir el Diálogo Nacional de NAEYC; contratar a un director ejecutivo nuevo; completar un proceso de planificación estratégica que refinó nuestra misión, visión y dirección; y alinear nuestros estatutos, políticas y procedimientos con la nueva dirección después de que la habían aceptado los miembros y afiliados por todo el país. Esta obra preparó el camino para la evolución continuada de NAEYC como la autoridad principal con respecto a los niños pequeños y los profesionales que se dedican a la educación y el cuidado de ellos.
A partir de la muerte prematura de nuestra presidenta Deborah Cassidy, se me presentó la necesidad de volver a servir y ha sido un honor y un privilegio durante los últimos dos años ser presidenta de la Junta Directiva de NAEYC. Durante este periodo, la asociación ha logrado reestructurar sus componentes afiliados para tener más éxito a los niveles nacional, estatal y local en cuanto a promover una agenda para los niños pequeños y los profesionales que los educan y apoyan. La membresía en NAEYC ha sido renovada para crear más valor para los miembros y reclutar y atraer una nueva generación de profesionales en el campo de la primera infancia. Un enfoque simplificado en la acreditación de programas de aprendizaje temprano está en las etapas finales de pruebas bajo la dirección del Consejo para Acreditación de NAEYC, con el objetivo de apoyar a más programas mientras avanzan por este proceso riguroso. La Junta Directiva ha priorizado tanto la revisión y actualización de las declaraciones de posición focalizadas en la práctica apropiada para el desarrollo como la promoción de equidad y diversidad dentro de programas para niños pequeños. Juntos hemos logrado mucho, pero queda más trabajo por hacer.
Mientras realizo la transición de dejar mi papel como presidenta de la Junta Directiva, seguiré unida a NAEYC y nuestra profesión para "sobrevivir las vulnerabilidades infinitas" que conlleva el compromiso con todos los niños pequeños. Hay demasiado en riesgo como para quedarnos sentados en la banda esperando lo mejor. Millones de niños pequeños y sus familias están contando con que nosotros proveamos las oportunidades de aprendizaje temprano de calidad superior que necesitan los niños pequeños para crecer y florecer. Juntos tenemos la capacidad de construir el futuro que deseamos profundamente para los niños y para los profesionales que trabajamos en beneficio de ellos. Anticipo con placer continuar en esta próxima etapa de nuestro viaje y les doy las gracias por haberme dado la oportunidad de servir.
Tammy L. Mann
Tammy L. Mann is president of NAEYC's Governing Board, as well as president and CEO of The Campagna Center. Previously, Dr. Mann held senior executive positions at the Frederick D. Patterson Research Institute at UNCF and ZERO TO THREE. She has worked in the nonprofit sector in agencies devoted to improving outcomes for young children and their families for over 20 years.