Cómo alimentar la capacidad de asombro: Los proyectos STEM traen alegría al salón de clases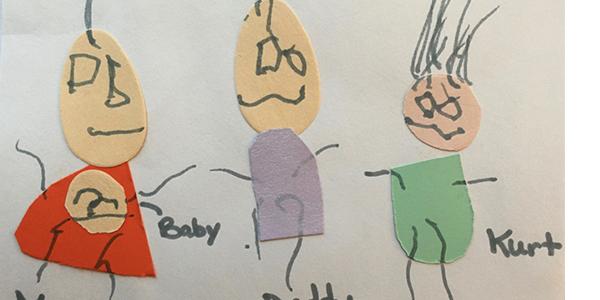 You are here
Lisa Hansel
Motivados por su curiosidad por el mundo, los niños pequeños se sumergen constantemente en las preguntas de STEM (ciencia, tecnología, ingeniería y matemáticas). Construyen y derriban torres de bloques, arrancan la hierba y voltean las piedras para ver qué hay debajo de ellas, colocan una variedad de objetos sobre el agua para ver si flotan. Cuando los maestros intencionalmente hacen preguntas para expandir el pensamiento de los niños y ayudarlos a descubrir el vocabulario y conceptos relacionados, el aprendizaje de los niños se enriquece y su curiosidad crece, lo que alimenta aún más preguntas.
Estos maestros están fomentando el sentido de asombro de los niños, y su recompensa es un salón de clases lleno de niños involucrados en un aprendizaje divertido, lúdico y acertadamente desafiante.
Desde formar brigadas de cubetas hasta la fabricación de juguetes, este grupo de niños pequeños está lleno de formas innovadoras pero prácticas de hacer de los proyectos STEM una pieza central de su plan de estudios. Comenzamos con dos artículos que describen las experiencias iniciales de los maestros al involucrar a los niños en exploraciones continuas de temas y métodos STEM.
Al relatar los desafíos y triunfos de un grupo de maestros de preescolar a medida que se les presenta y utilizan el enfoque de proyectos para enseñar STEM, Lea Ann Christenson y Jenny James ofrecen un estudio de caso sobre cómo transformar la instrucción. "Transformar nuestra comunidad con STEAM" revela detalles del difícil pero estimulante proceso en el que su antigua unidad 'Our Community' cambió de ser dirigida por unos cuantos maestros a un mes de investigación dirigida por niños sobre el combate de incendios como profesión y la ciencia y la colaboración, necesarias para que los bomberos hagan su trabajo.
En "STEAM para bebés y niños pequeños: Apoyando las experiencias interdisciplinarias con nuestros alumnos más jóvenes", Eric Bucher y Stephanie Pindra presentan los resultados de un proyecto de investigación y desarrollo profesional para maestros en el que los educadores de Early Head Start aprendieron cómo es STEAM (STEM más las artes) para bebés y preescolares. Descubrieron que "las primeras experiencias STEAM ayudan a desarrollar el asombro, la persistencia, la comunicación, la resolución de problemas y la flexibilidad mental", pero esto no sucede automáticamente. Los maestros afinaron sus habilidades de observación y documentación para poder determinar los intereses de los bebés y preescolares, y ofrecer materiales y experiencias para desarrollar su pensamiento.
Esperamos que las iniciativas de estos maestros también le motiven para mejorar su instrucción STEM. El resto del módulo se centra en enfoques probados y confiables que se pueden adaptar a una diversidad de entornos educativos.
Zachary S. Gold, James Elicker y Barbara A. Beaulieu, en "Learning Engineering Through Block Play: STEM in Preschool" ("Aprendiendo ingeniería a través del juego con bloques en STEM preescolar"), ofrecen un marco para reconocer y cultivar la ingeniería inherente del juego con bloques en los niños. El marco describe nueve comportamientos de juego de ingeniería, como "probar soluciones y evaluar diseños" , junto con ejemplos de comportamientos y estrategias para estimular el aprendizaje de los niños.
Pasando de bloques a libros, el siguiente artículo también ayuda a los educadores a detectar más oportunidades de aprendizaje STEM. En "Story Time STEM: Nurturing Children's Joy and Wonder through Shared Reading Experiences" (Nutriendo la alegría y el asombro de los niños a través de experiencias de lectura compartida), Allison Hintz, Antony T. Smith, Kristin Gray, Erin Gannon y Ashley Wishart dan ejemplos de tres tipos de libros que pueden usarse para involucrar a los niños en la construcción de conocimiento, desarrollo de vocabulario y resolución de problemas con STEM. También proporcionan estrategias para explorar ideas científicas y matemáticas como parte habitual de lecturas en voz alta y debates.
Si busca más apoyo, "STREAM Education at Work — No, at Play! A Toy-Making Unit", de Douglas H. Clements, Julie Sarama, Kimberly Brenneman, Nell K. Duke y Mary Louise Hemmeter le ayudará. Describe un plan de estudios bien documentado que centra las investigaciones STEM para apoyar todos los aspectos del desarrollo académico, social y emocional de los preescolares. Este plan de estudios, denominado Connect4Learning, también incluye la alfabetización y las artes, por lo que es verdaderamente un enfoque STREAM. El artículo se enfoca en una unidad en la que los niños deben resolver varios desafíos de diseño y construcción para hacer juguetes para otros salones de clases. También tiene consejos para que los profesores creen sus propios módulos STREAM.
Como muestran todos estos proyectos, los niños disfrutan tanto de los procesos como de los resultados del aprendizaje. Al igual que la emoción que sienten al divertirse con un juego o terminar un rompecabezas, los proyectos STEM (con la suficiente orientación del maestro) son divertidos, desafiantes y satisfactorios. Además, perseverar en la implementación de los proyectos STEM desarrolla el conocimiento, las habilidades, la motivación y la mentalidad necesarios en los grados posteriores y en la vida.
Una afectuosa despedida
Después de trabajar 3.5 maravillosos años a NAEYC, me cambiaré a otra organización educativa, pero NAEYC permanecerá en mi corazón, pensamientos y acciones. Ustedes, los miembros de NAEYC, son un grupo muy especial. Cuidan y educan a muchos de los niños más vulnerables de nuestro país. Acogen a las familias y comunidades de los niños, trayendo sus fondos de conocimiento a sus aulas y a sus vidas. A través de los eventos, las publicaciones y las plataformas digitales de NAEYC, buscan aprender de los educadores cercanos y lejanos. Y al comentar las posturas e iniciativas de NAEYC, ayudan a liderar la profesión.
Agradezco cada artículo enviado a Young Children y a cada maestro que me ha invitado y dado la bienvenida a su salón de clases. Ustedes han alimentado mi capacidad de asombro y mi curiosidad, han compartido hermosos ejemplos del goce que sienten los niños al aprender, han sido honesto acerca de la dificultad de permanecer en una carrera que no se valora adecuadamente en nuestra sociedad, han abogado por mejores salarios y estándares más altos y han demostrado lo que significa estar dedicado a todos y cada uno de los niños. ¡Muchas gracias!
Como suele decir la directora ejecutiva de NAEYC, Rhian Evans Allvin, ¡adelante!
—Lisa Hansel ¡Nos encantaría escuchar su opinión!
Envíe sus comentarios sobre este tema y sobre los contenidos que le gustaría leer en números futuros de Young Children a 
[email protected].
¿Le gustaría ver las obras de arte de sus hijos en estas páginas? Para obtener ayuda sobre cómo enviar fotografías con calidad de impresión (así como detalles sobre permisos y licencias), consulte NAEYC.org/resources/pubs/authors-photographers/photos.
Lisa Hansel
Lisa Hansel, EdD, is the editor in chief of NAEYC's peer-reviewed journal, Young Children.