Ontario's Early Learning–Kindergarten Program: A Transformative Early Childhood Education Initiative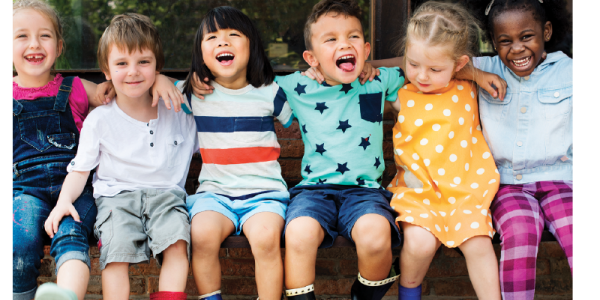 You are here
Katherine Becker Sonia Mastrangelo
The Ministry of Education of the province of Ontario, Canada, has initiated a remarkable new full-day, two-year program for 4- and 5-year-olds. The Full-Day Early Learning–Kindergarten Program (FDK) is the government's transformative response to the vast, ever-growing body of early childhood research indicating that high-quality early learning programs produce long-term benefits to children's social and academic skills (Ontario Ministry of Education 2017).
Although Ontario began providing publicly funded kindergarten over a century ago, particular hallmarks of the FDK program make it markedly innovative:
Two years of full-day schooling before first grade, beginning the year children turn 4
A play- and inquiry-based curriculum
Optional before- and after-school care
An instructional partnership, known as the Early Learning–Kindergarten team, between an early childhood educator, or ECE, registered with the College of Early Childhood Educators, and a kindergarten teacher registered through the Ontario College of Teachers
A principal who works closely with the Early Learning–Kindergarten team
Planned partnerships with families and local school communities
In FDK, 4- and 5-year-olds (i.e., first- and second-year students) are mixed in each class and typically remain with the same teaching team for their full two years before moving on to first grade.
The Ministry of Education (2017) projects that FDK will pay dividends for all children by supporting their social, emotional, and cognitive development; improving their reading, writing, and math skills; smoothing their transition to first grade; helping them achieve long-term academic success; and ultimately building a stronger future economy. The large-scale monetary investment—over $1.4 billion and growing (Grieve 2012)—and the pioneering nature of this early childhood initiative make it significant not only in Canadian education but even in the global early childhood sphere. In this article, we describe the context surrounding Ontario's transformation of kindergarten, the salient features of FDK, and some research literature documenting the importance of early childhood education. We conclude with an overview of initial research findings on the new program.
Early education for all

For decades, most of Ontario's 72 public school boards have offered part-time junior and senior kindergarten to children starting at 4 years of age. In 2009 the report With Our Best Future in Mind: Implementing Early Learning in Ontario detailed 20 recommendations for achieving a comprehensive new child and family service system for Ontarians, including all the key features of FDK (Pascal 2009).
The Ministry of Education acted swiftly, announcing that it would begin phasing in the new FDK program in 2010. It emphasized the importance of providing daily, full-day programming for children, drawing from a mounting body of evidence showing that the differences in attention, verbal, and social skills that children have when they enter the school system impact their academic trajectory (Shanker 2007). An estimated 25 percent of Canadian children are considered vulnerable when they enter first grade (Ontario Ministry of Education 2017), meaning that they have health, behavioral, and learning challenges that are likely to interfere with their academic achievement (Pascal 2009). The ministry projected that high-quality, full-day programming for all children for two years before first grade would address many of these challenges, giving all children a stronger, more equitable start to their education.
Prior to FDK, kindergarten classes were taught only by teachers certified to teach kindergarten through grade six. 
Team teaching

The Early Learning–Kindergarten team is essential to FDK's equity goal. Prior to implementation of FDK, kindergarten classes were taught only by elementary teachers—individuals with a bachelor of education who are certified through the Ontario College of Teachers to teach kindergarten through grade six. Education in settings such as nurseries, family child care providers, and preschools was provided by early childhood educators—individuals with a minimum two-year college diploma in early childhood education who are certified through the College of Early Childhood Educators. Now, for the first time, ECEs are joining the staffs of elementary schools. With FDK's instructional partnership, kindergarten teachers are primarily responsible for student learning, effective instruction, evaluation, and formal reporting to parents, while ECEs are primarily responsible for planning developmentally appropriate classroom experiences to promote each child's physical, cognitive, social, and emotional development (Ontario Ministry of Education 2017).
The Early Learning–Kindergarten team is essential to FDK's equity goal. 
The daily schedule for each class is unique due to the child-initiated, emergent nature of inquiry-based learning (Family Resource Facilitation Program 2017), as illustrated in the following vignette:
---
As Ms. Fields and her class engage in a read-aloud, 4-year-old Sarah gasps at a spider crawling up the wall. Ms. Fields stops reading and questions the children to support and extend their curiosity about the spider. Shared reading may need to be shelved until tomorrow—or perhaps quickly shifted to reading about spiders, depending on the children's level of engagement in exploring the world of spiders. Ms. Fields is eager to see how long the children's interest in spiders lasts. This could be the beginning of a weeks- or months-long entomology inquiry.
Although the daily schedule in each FDK class is emergent, flexible, and ever changing, the following essential elements guide each Early Learning–Kindergarten team:
A balance of both team- and child-initiated learning activities
A large block of uninterrupted play, when children manipulate objects, act out roles, and experiment with different materials
A large block of time for child-initiated learning activities, often at learning centers where purposeful interactions have been planned
Play, daily routines, and classroom experiences focusing on four frames of thinking and learning: belonging and contributing, self-regulation and well-being, demonstrating literacy and mathematics behaviors, and problem solving and innovating
In addition, the Early Learning–Kindergarten team plans daily outdoor learning experiences and is encouraged to provide children with daily opportunities to explore, care for, and interact with nature (Ontario Ministry of Education 2017).
Early childhood research informing FDK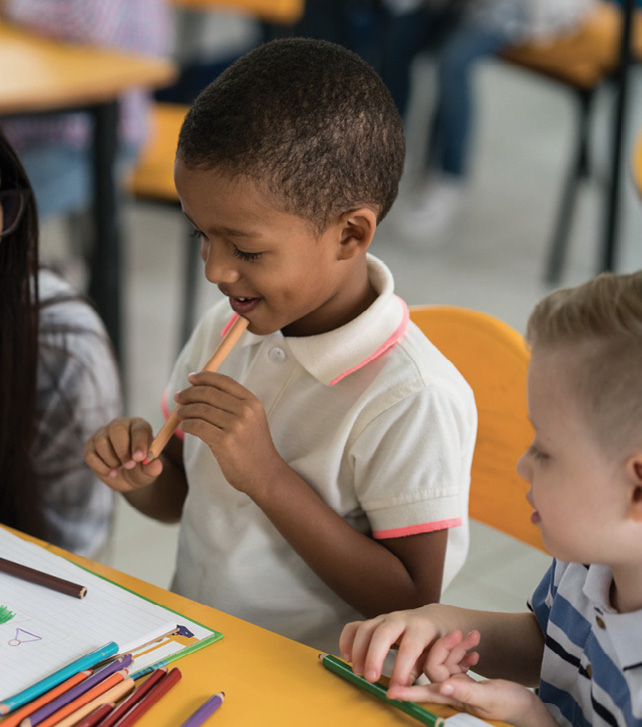 Ontario's FDK program is inspired by research demonstrating the importance of early brain development, the relationship between high-quality programs and children's readiness for school and life, and the economic returns for society on investment in high-quality early education (Economist Intelligence Unit 2012). Longitudinal studies of US children from low-income families who engaged in high-quality early childhood programs indicate a significant payback for society due to reductions in dropout rates, crime, teen pregnancy, and adverse health conditions (Heckman 2017). Economists from the HighScope Educational Foundation calculated a long-term return for society of $17 on every $1 invested in the Perry Preschool program (Clothier & Poppe 2017), which was an intensive, especially high-quality initiative with children from low-income families (Derman-Sparks & Moore 2016a; Derman-Sparks & Moore 2016b). Recent research on high-quality programs that serve large numbers of children estimate a return of $2 to $4 for every $1 invested (Karoly 2017).
Full-day versus half-day kindergarten

In early childhood, evidence abounds for the advantages of full-day educational programs over half-day programs, especially for children growing up in families with limited resources. A study that examined the standardized test scores of over 4,000 US children, for example, found that 5-year-olds from low-income homes in full-day kindergarten programs scored significantly higher in language arts and math than students who participated in half-day programs (Schroeder 2007). Another smaller study demonstrated that students in a full-day kindergarten program showed greater improvement on a child developmental scale and on multiple educational measures than children in a half-day program (Baskett et al. 2005). Peering into the classroom, one study suggested that students spend more time initiating learning activities and receive more one-on-one instruction from teachers when they are in a full-day, instead of half-day, program (Elicker & Mathur 1997).
Early brain development

Scientists have discovered that children are born with a desire to develop knowledge and skills, and their potential can be enhanced through positive relationships and interactions with parents and other adults in a variety of contexts (Cozolino 2013). One of the most important capacities to develop early in life is self-regulation. Children who have learned to self-regulate are able to control their impulses; they can stop doing something that is unnecessary (even though they do not want to) and start doing something that is needed. A number of studies have documented the role of self-regulation in school success—both academic and social (Boyd et al. 2005). Children's ability to self-regulate is correlated with vocabulary acquisition, emergent literacy, and math performance and predicts kindergarten reading achievement (Rimm-Kaufman & Wanless 2012).
In Ontario, there has been a concerted effort to focus on self-regulation in FDK settings. Many educators use Stuart Shanker's text Calm, Alert, and Learning: Classroom Strategies for Self-Regulation (2012) as a process to help children articulate their emotions and help them develop both calming and alerting strategies to use as needed.
---
Following a class outing to the park, several questions are added to the Wonder Wall, which displays children's questions for future exploration. Raj asks, "Do birds have eyelids?" Therese asks, "Where did the first bird come from?" The next day, when a small group of "bird researchers" wants to visit the library to find books on birds, the early childhood educator accompanies them while the kindergarten teacher stays with children choosing other classroom activities. To provide opportunities to share ideas and make plans with others—skills related to the development of self-regulation—children are invited to create a bird-watching center at the window. The popular center leads to bird-watching outings and a lengthy, open-ended inquiry about worms, soil, and the water cycle. It is fueled by children's wonder and sustained by their increasing self-regulation and ownership of their learning.
When behavioral issues arise, Early Learning–Kindergarten teams that use a self-regulation lens will realize the difference between a stress behavior and a misbehavior. When a child exhibits behavior due to a stressful situation, educators try to identify and reduce the stressor. Reflecting with children to help them learn self-awareness and ways to calm down is crucial so that they can be focused, alert, and ready for learning (Shanker & Barker 2016).
If a behavior issue is not stress induced but is indeed a misbehavior, educators respond uniquely, depending on the circumstances and the child. For example, a teacher may explain the logical consequences of a child's actions in a way that is not punitive but instead is appropriate, supportive, and related to the behavior. Throughout Ontario, teacher preparation programs emphasize respecting the rights of children, using developmentally appropriate practices, developing authentic relationships, modeling prosocial behaviors, and fostering intrinsic motivation.
Play- and inquiry-based learning

Another hallmark of FDK is play-based learning, which takes various forms to support the development of numerous skills. For example, constructive play (e.g., building and drawing) fosters skills in planning, using language, and developing fine motor control. Pretend play (e.g., role play) promotes communication, planning, comparing, problem solving, and self-regulation (Ontario Ministry of Education 2017).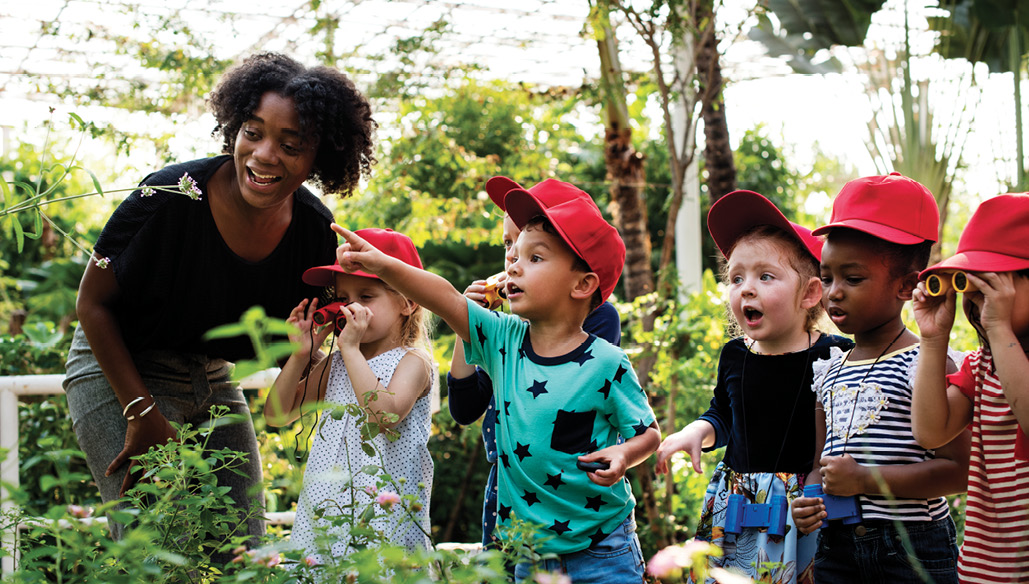 To maximize the benefits associated with play, the FDK curriculum requires educators to provide opportunities for both child-initiated free play and more structured play-based learning opportunities while encouraging children to think creatively, explore, investigate, problem solve, share their learning with others, and engage in inquiry.
---
Mr. Beatty is with Marko and Eva, who have chosen to play at the new post office center. Mr. Beatty asks Marko what will happen next with the letters he is holding. Marko wants one to go to his grandfather in Croatia. Mr. Beatty asks, "How will it get there?" Soon Marko is arranging chairs to create a plane to pilot the mail by air. Eva wants to deliver letters around the neighborhood. She grabs a purse from the grocery store center to use as her mailbag, and begins distributing envelopes to cubbies and trays around the room. Five-year-old William picks up an envelope, brings it to Mr. Beatty, and says, "This needs a stamp." Mr. Beatty prompts, "I wonder what we can use as a stamp?" William has an idea, and he skips over to the art supplies to get started.
In inquiry-based classrooms, educators provide a rich variety of materials and resources, observe children as they notice and wonder, then support the inquiry process by posing strategic, open-ended questions to encourage children to extend or expand their learning and connect new learning with prior knowledge (Ontario Ministry of Education 2017).
FDK teams and family involvement

Building relationships with families is incorporated into the roles of the Early Learning–Kindergarten team members and the principal. The goal is to build relationships with families to increase consistency between home and school environments, making the classroom an extension of home for each child (JourneyTogetherFDK 2014). A few specific ways educators involve families include:
Inviting parents and caregivers into the classroom daily as volunteers and guest speakers
Creating parent boards outside the classroom
Sending written communication logs home and back daily
Sharing good news by phone
Creating class websites and blogs, such as those by FDK teacher Joanne Babalis at http://myclassroomtransformation.blogspot.ca
Offering workshops on how children learn through play and the inquiry process
FDK preliminary research

Even though FDK is a relatively new model, program evaluations indicate that after two years of FDK, children experienced increased emotional maturity, decreased vulnerability (Janus, Duku, & Schell 2012), and greater school readiness, especially in high-needs schools (indexed by lower average third grade test scores and higher percentages of low-income families [Vanderlee et al. 2012]).
The hope is that FDK leads to long-term intellectual, cultural, and economic benefits. 
In the first large-scale study, FDK students were compared with control group children on measures of emergent literacy development. Second-year FDK students were ahead of their peers in vocabulary and reading (especially alphabet knowledge and conventions of print). In addition, first-year FDK students were ahead in early reading (especially in meaning), and both first- and second-year FDK students were ahead in phonological awareness (Pelletier 2012).
Surveys indicated that parents of FDK children reported significantly less everyday stress (Pelletier 2014) and that parents of second-year FDK students rated their children as "more ready" in several respects, including small muscle control, getting along with other children, letter–sound knowledge, number knowledge, and speaking (Pelletier 2012).
FDK classrooms are attracting researchers investigating many other program aspects, such as the use of coteaching partnership (Tozer 2012), the integration of early childhood care into elementary schools (Gananathan 2011), and the synthesis of play-based pedagogy and mandated academic standards (Pyle & Bigelow 2015). Other researchers are adding elements and interventions to FDK environments, including tablets to enhance the inquiry-learning process (Harwood et al. 2015) and mindfulness strategies to improve social and emotional functioning (Viglas 2015).
Looking ahead, the Ontario government's hope for FDK is that it will lead to long-term intellectual, cultural, and economic benefits for children, families, and society. While it will be decades before the long-term return on investment can be ascertained, such research on this unique early childhood initiative promises valuable insights that will inform early childhood education policy and practice far beyond Ontario's borders.
 
---
From Global to Local Practices: Consider Trying Some of These Ideas

Finding ways to inform and engage your principal in your own pre-K or kindergarten program
Strengthening collaborations and partnerships between staff who specialize in pre-K and those who specialize in kindergarten
Exploring (perhaps with your AEYC group) ways to advocate with your state or school district for these kinds of pre-K and kindergarten practices
Doing more to notice and support children's spontaneous interests, building them into extended inquiry-focused projects
Giving greater emphasis to some of the self-regulation strategies emphasized in Ontario's programs and professional development
What other ideas come to mind?
–Marilou Hyson, Guest Editor
---
References

Baskett, R., K. Bryant, W. White, & K. Rhoads. 2005. "Half-Day to Full-Day Kindergarten: An Analysis of Educational Change Scores and Demonstration of an Educational Research Collaboration." Early Child Development and Care 175 (5): 419–30.
Boyd, J., W.S. Barnett, E. Bodrova, D.J. Leong, & D. Gomby. 2005.Promoting Children's Social and Emotional Development through Preschool Education. Preschool policy brief. New Brunswick, NJ: NIEER. http://nieer.org/wp-content/uploads/2017/02/report7.pdf.
Clothier, S., & J. Poppe. 2017. "New Research: Early Education as Economic Investment." National Conference of State Legislatures. www.ncsl.org/issues-research/human-services/new-research-early-education....
Cozolino, L. 2013. The Social Neuroscience of Education: Optimizing Attachment and Learning in the Classroom. Norton Series on the Social Neuroscience of Education. New York: Norton.
Derman-Sparks, L., & E. Moore. 2016a. "Two Teachers Look Back: The Ypsilanti Perry Preschool, Part I." Our Proud Heritage. Young Children 71 (4): 82–87.
Derman-Sparks, L., & E. Moore. 2016b. "Lessons for Today: The Ypsilanti Perry Preschool, Part II." Our Proud Heritage. Young Children 71 (5): 85–90.
Economist Intelligence Unit. 2012. "Starting Well: Benchmarking Early Education across the World." Economist Intelligence Unit report, commissioned by the Lien Foundation. www.lienfoundation.org/sites/default/files/sw_report_2.pdf.
Elicker, J., & S. Mathur. 1997. "What Do They Do All Day? Comprehensive Evaluation of a Full-Day Kindergarten." Early Childhood Research Quarterly 12 (4): 459–80.
Family Resource Facilitation Program. 2017. "Emergent Curriculum." www.frfp.ca/professional-resources/program-planning-and-resources/Emerge....
Gananathan, R. 2011. "Implications of Full Day Kindergarten Program Policy on Early Childhood Pedagogy and Practice." International Journal of Child Care and Education Policy 5 (2): 33–45.
Grieve, J. 2012. "Transforming Early Learning Vision into Action in Ontario, Canada." International Journal of Child Care and Education Policy 6 (2): 44–54.
Harwood, D., M. Bajovic, V. Woloshyn, D.M. Di Cesare, L. Lane, & K. Scott. 2015. "Intersecting Spaces in Early Childhood Education: Inquiry-Based Pedagogy and Tablets." International Journal of Holistic Early Learning and Development 1: 53–67.
Heckman, J.J. 2017. "The Case for Investing in Disadvantaged Young Children." In Big Ideas for Children: Investing in Our Nation's Future, 49–58. Washington, DC: First Focus.
Janus, M., E. Duku, & A. Schell. 2012. The Full Day Kindergarten Early Learning Program Final Report. Hamilton, ON: Offord Centre for Child Studies, McMaster University. www.edu.gov.on.ca/kindergarten/ELP_FDKFall2012.pdf.
JourneyTogetherFDK. 2014. "Parental Involvement." www.journeytogetherfdk.com/team/team-is-key/parental-involvement/.
Karoly, L.A. 2017. "The Costs and Benefits of Scaled-Up Pre-Kindergarten Programs." Chap. 7 in The Current State of Scientific Knowledge on Pre-Kindergarten Effects, eds. Pre-Kindergarten Task Force. Washington, DC: Brookings Institution; Durham, NC: Duke University. www.brookings.edu/wp-content/uploads/2017/04/duke_prekstudy_final_4-4-17....
Ontario Ministry of Education. 2017. "Full-Day Kindergarten." www.edu.gov.on.ca/kindergarten.
Pascal, C.E. 2009. With Our Best Future in Mind: Implementing Early Learning in Ontario: Report to the Premier by the Special Advisor on Early Learning. Toronto, ON: Queen's Printer for Ontario. http://ywcacanada.ca/data/research_docs/00000001.pdf.
Pelletier, J. 2012. "Key Findings from Year 1 of Full-Day Early Learning Kindergarten in Peel." Dr. Eric Jackman Institute of Child Study, OISE, University of Toronto, Canada. www.oise.utoronto.ca/atkinson/UserFiles/File/Publications/Peel_Year_1_FD....
Pelletier, J. 2014. "Ontario's Full-Day Kindergarten: A Bold Public Policy Initiative." Public Sector Digest: 41–49. www.oise.utoronto.ca/atkinson/UserFiles/File/Publications/6-2014_-_Ontar....
Pyle, A., & A. Bigelow. 2015. "Play in Kindergarten: An Interview and Observational Study in Three Canadian Classrooms." Early Childhood Education Journal 43 (5): 385–93.
Rimm-Kaufman, S.E., & S.B. Wanless. 2012. "An Ecological Perspective for Understanding the Early Development of Self-Regulatory Skills, Social Skills, and Achievement." Chap. 15 in The Handbook of Early Childhood Education, eds. R.C.
Pianta, W.S. Barnett, L.M. Justice, & S.M. Sheridan, 299–323. New York: Guilford.
Schroeder, J. 2007. "Full-Day Kindergarten Offsets Negative Effects of Poverty on State Tests." European Early Childhood Education Research Journal 15 (3): 427–39.
Shanker, S. 2007. "Introduction." In Early Years Study 2: Putting Science into Action, eds. M.N. McCain, J.F. Mustard, & S. Shanker, 13–17. Toronto, ON: Council for Early Child Development. http://earlylearning.ubc.ca/media/publications/early_years_study_2.pdf.
Shanker, S. 2012. Calm, Alert, and Learning: Classroom Strategies for Self-Regulation. Toronto, ON: Pearson.
Shanker, S., & T. Barker. 2016. Self-Reg: How to Help Your Child (and You) Break the Stress Cycle and Successfully Engage with Life. Toronto, ON: Viking.
Tozer, C.C. 2012. "The Development of Team Relationships in Teacher and Early Childhood Educator (ECE) Integrated Staff Teaching Teams in Full-Day, Every Day Kindergarten." PhD diss., University of Toronto. ProQuest (NR97211).
Vanderlee, M.-L., S. Youmans, R. Peters, & J. Eastabrook. 2012. "Final Report: Evaluation of the Implementation of the Ontario Full-Day Early Learning–Kindergarten Program." www.ontla.on.ca/library/repository/mon/27012/325077.pdf.
Viglas, M. 2015. "Benefits of a Mindfulness-Based Program in Early Childhood Classrooms." PhD diss., University of Toronto. Ontario Institute for Studies in Education, University of Toronto. https://tspace.library.utoronto.ca/bitstream/1807/69055/3/Viglas_Melanie....
Katherine Becker
Katherine Becker, EdD, is a professor of early childhood at the Sheridan Institute of Technology and Advanced Learning, in Brampton, Ontario. katherine.becker@sheridancollege.ca
Sonia Mastrangelo
Sonia Mastrangelo, PhD, is an associate professor in the faculty of education at Lakehead University, in Orillia, Ontario. Sonia's areas of research include self-regulation, play-based learning, and early intervention for children on the autism spectrum. smastran@lakeheadu.ca