NAEYC Publishes New Edition of Best-Seller Powerful Interactions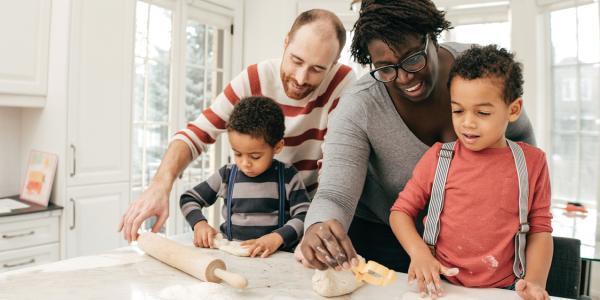 You are here
Home
/
NAEYC Publishes New Edition of Best-Seller Powerful Interactions
For Immediate Release:
October 20, 2020
Media Contact:
NAEYC helps early childhood educators make "everyday" interactions intentional, purposeful, and culturally responsive

Washington, D.C.-- The National Association for the Education of Young Children (NAEYC) announces the publication of Powerful Interactions: How to Connect with Children to Extend Their Learning, Second Edition. 
Powerful Interactions has been a go-to resource for early childhood educators as well as teacher educators. Now revised and updated, this reflective guide contains everything they need to understand what Powerful Interactions are, how to make them happen, and why they are so important in increasing children's learning and teacher effectiveness.
In early childhood settings, children and teachers interact all day long. The benefits are enormous when even some of those "everyday" interactions become intentional, purposeful, and culturally responsive—in other words, Powerful Interactions®! With these three steps, educators can embed Powerful Interactions in their daily work with children ages birth through 8:
Step One: Be Present. Pause, tune in to yourself and the moment, and consider how you might need to adjust to create a "just-right" fit with a child.
Step Two: Connect. To foster trust and confidence, let that child know that you see her; are interested in what she is doing, saying, and thinking; and want to spend time with her. 
Step Three: Extend Learning. Make use of your strong connection with the child to stretch her knowledge, skills, thinking, or language and vocabulary.
With updated content and research, new examples and insights, and questions to guide group study discussions, the new edition of this bestselling classic covers is a must-have for every early childhood professional.
Intentionality—one of the most overused and misunderstood words in early childhood education—reclaims its meaning in this clear, simple book about how each interaction with a child can build a path to the confidence and curiosity that children need to become collaborative lifelong learners.
—Joshua Sparrow, Executive Director, Brazelton Touchpoints Center, and Associate Professor, Harvard Medical School
Can you take a classic book and improve it?  That was my question in reading this new edition of Powerful Interactions, and the answer is yes. Research-based and full of compelling examples, it provides opportunity after opportunity for teachers to reflect on and promote joyful Powerful Interactions that extend children's learning.
—Ellen Galinsky, Author of Mind in the Making: The Seven Essential Skills Every Child Needs
Relationships are at the heart of everything . . . including Powerful Interactions! With a simple framework, the authors help educators be effective and intentional in their interactions with children. This book sets the stage for creating a positive learning environment and building community while laying the foundation for meaningful relationships throughout life.
—Cate Heroman, Early Childhood Consultant and Author, Cate Heroman LLC
 
About the authors:

Amy Laura Dombro
Amy Laura Dombro is an early childhood educator and documentarian who captures stories of change initiatives with the goal of supporting people who do their best work on behalf of children and families.
Judy Jablon
Judy Jablon is the founder and executive director of Leading for Children, a national nonprofit with the mission of providing the best possible early learning experiences for young children while creating environments where educators thrive.
Charlotte Stetson
Charlotte Stetson, MEd, spent the first 20 years of her career in early childhood education teaching young children in varied settings.
Email [email protected] for author interview availability.
Powerful Interactions is available for purchase in the NAEYC online store. For more information on this book and other resources, visit NAEYC.ORG/resources/pubs. 
###
NAEYC is the foremost professional membership organization committed to transforming the lives of young children and delivering on the promise of high-quality early learning. NAEYC represents 60,000 early childhood educators who care for, educate, and work on behalf of young children, birth through age 8. Learn more about NAEYC at www.NAEYC.org.