NAEYC Releases New Book, This is Play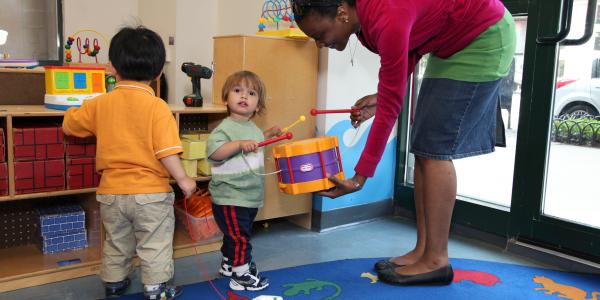 You are here
Home
/
NAEYC Releases New Book, This is Play
For Immediate Release:
September 26, 2019
Media Contact:
Gill Walker
gwalker@naeyc.org
202-350-8857

NAEYC Addresses the Importance of Stimulating Play Environments for Infants, Toddlers in New Book, This is Play 

Washington, D.C.-- The National Association for the Education of Young Children (NAEYC) announces the publication of This is Play: Environments and Interactions that Engage Infants and Toddlers , by Julia Luckenbill, program coordinator at UC Davis' Early Childhood Lab School; Dr. Aarti Subramaniam, research analyst for the University of California Agriculture and Natural Resources' 4-H program; and Janet Thompson, director of the Early Childhood Lab at UC Davis.   
Young children can experience learning in rich play environments when teachers are tuned in and committed to being great play partners. NAEYC's newest book, This is Play builds on the understanding that when teachers know individual children and early development well, they can provide safe yet stimulating play, and interact with infants and toddlers in ways that will enhance children's language, cognitive, physical, and social and emotional skills. 
The book highlights the importance of choosing interesting materials, how to provide play choices for the youngest learners, and why teachers are the most important element of play for very young children.
This is a long-awaited practical resource for infant and toddler teachers that focuses on what play is, why it is so crucially important, and how to scaffold play with our youngest learners. A must-read for infant and toddler teachers!
—Adria Bader, Curriculum and Education Manager, LeafSpring Schools, Virginia
---
This is Play is available for purchase in the NAEYC online store. For more information on this book and other resources, visit NAEYC.ORG/resources/pubs. 
Email jgamble@naeyc.org for author interview availability.
###
NAEYC is the foremost professional membership organization committed to transforming the lives of young children and delivering on the promise of high-quality early learning. NAEYC represents 60,000 early childhood educators who care for, educate, and work on behalf of young children, birth through age 8. Learn more about NAEYC at www.NAEYC.org.