Aplicaciones matemáticas, de lógica y ciencias para el aprendizaje temprano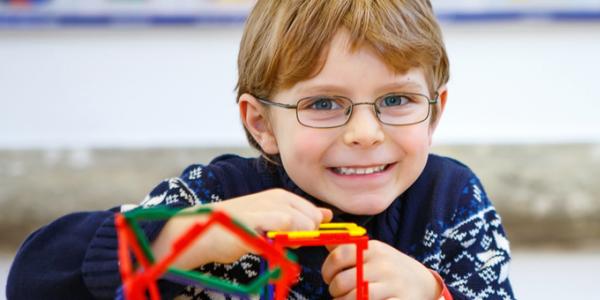 You are here
Home
/
Aplicaciones matemáticas, de lógica y ciencias para el aprendizaje temprano
By: Warren Buckleitner
Matemáticas y lógica 

Desde contar hasta comparar cantidades, hay cientos de aplicaciones que apoyan el aprendizaje matemático temprano.
10 Fingers +, ($1.99 para iPad), para edades de 3 a 6 años. Apto para la escuela. Video de demostración en http://youtu.be/yeTMEzDXIvg
Por qué nos gusta: ¿sabía que la pantalla de su tableta puede "ver" cuántos dedos están en contacto con la pantalla en cualquier momento? Esta aplicación utiliza la información para crear un contador en tiempo real. Todo lo que necesitas son tus diez dedos. En el momento en que uno de tus dedos entra en contacto con la pantalla, una ecuación matemática cambia, ayudando a los niños a establecer la conexión entre la cantidad y una simple expresión numérica, como 3 + 5 = 8.
Lo que debe saber: Si bien es emocionante desde el punto de vista pedagógico, la aplicación no les da a los niños una razón para contar. Puede acompañar muy bien una actividad para contar. Una aplicación con un diseño similar es Little Digits.
Busy Shapes, ($2.99 para iPad), para niños de 2 a 5 años. Apta para la casa y la escuela. Video: http://youtu.be/msL9y_9t_j4
Por qué nos gusta: este inteligente conjunto de rompecabezas de clasificación, que responde y se adapta automáticamente, lleva un registro del avance, por lo que los niños no pierden el tiempo con elogios azucarados. Las funciones multitáctiles favorecen el juego colaborativo y el diseño favorece la experimentación.
Lo que debe saber: el registro del avance funciona mejor con un solo niño a la vez.
Ciencias

No es tan fácil que lleve a su clase a un submarino o al interior de un corazón humano. A menos que tenga la aplicación adecuada.
El cuerpo humano ($2.99 para iPad, iPhone), para mayores de 4 años.  Apto para la casa o la escuela.
Por qué nos gusta: explora las maravillas del cuerpo humano, sin pena. El resultado es una de las mejores experiencias de anatomía humana que hemos analizado. Los gráficos animados son claros, pero no tienen nada de sangre. Destacan los modelos funcionales del ojo y el oído humanos, que incorporan las características de la cámara y el micrófono.  Lo que debe saber: puede crear perfiles individuales para cada niño, además de que cuenta con opciones para los padres que le permiten hacer un seguimiento de los niños y cuenta con múltiples opciones de idioma. Consulte la reseña completa para ver la lista. Funciona con todos los dispositivos, excepto iPad 1.
MarcoPolo Ocean, ($2.99 para iPad), para mayores de 3 años.  Apto para la casa o la escuela.
Por qué nos gusta: esta aplicación de estilo caja de arena le permite a su hijo obtener conocimiento del océano, un pez, una concha o un barco a la vez. Hemos visto cientos de rompecabezas táctiles en los que las piezas se arrastran y se sueltan, pero ninguno en el que las piezas estén interrelacionadas. Como ventaja adicional, cada pieza viene acompañada de una breve descripción factual narrada por un biólogo marino. Se trata de una manera extraordinaria de fomentar el interés de los niños por la oceanografía, sin necesidad de mojarse los pies.   
Lo que debe saber: visite el menú para padres, donde podrá activar o desactivar la música tropical de fondo y ajustar el nivel de información objetiva que se ofrece. También puede restablecer el océano de su hijo, si es necesario. Video: http://vimeo.com/81442324
---
Lea más sobre las tabletas y aplicaciones que Warren Buckleitner recomienda para los niños pequeños.
---
ACERCA DE LA REVISTA TECNOLÓGICA PARA NIÑOS
La Revista tecnológica para niños (Children's Technology Review o CTR, por sus siglas en inglés) es un estudio permanente basado en rúbricas de productos comerciales de medios digitales para niños. Al igual que Consumer Reports (Informes del consumidor), CTR no recibe publicidad ni debe pagar cuotas de entrada, enlaces de afiliación ni costos ocultos para quienes la publican.  Creada en 1993 por Warren Buckleitner, este servicio con fines de lucro se dedica a ayudar a los niños de cero a 15 años al lograr que sea más fácil para sus maestros, bibliotecarios, editores y padres mantenerse actualizados de los nuevos productos digitales mediante información oportuna y objetiva. La revista CTR se vende como una suscripción y únicamente se entrega a los suscriptores, quienes también reciben acceso a la base de datos de las reseñas. Para obtener más información visite la página http://www.childrenstech.com o bien consulte la base de datos de reseñas en la página http://pickyteacher.com.
 
ABOUT WARREN BUCKLEITNER
Warren Buckleitner is a former preschool teacher and current software reviewer. He's the editor of Children's Technology Review, a project that started in 1983 at the High/Scope Foundation.  He holds a MA degree in early childhood education from Pacific Oaks College. He also holds degrees in elementary education and educational psychology.
---
La traducción de este documento ha sido elaborado en el marco de un acuerdo cooperativo (PR/Award no. U295A150003, CFDA Nº 84.295A) del Departamento de Educación de Estados Unidos. No obstante, este contenido no representa necesariamente la política del Departamento de Educación, y usted no debe asumir el aval por parte del Gobierno Federal.