De nuestra presidenta. Transiciones apoyadas: Lo que podemos aprender de serpientes, leones marinos y una flamenca llamada Dinky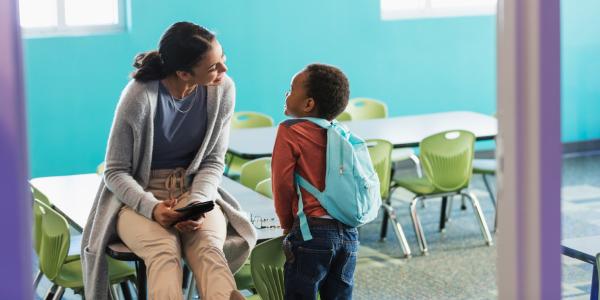 You are here
En el número de noviembre de 2018 de Young Children, conocieron a mi mamá. ¿Mencioné que, además de ser facilitadora y organizadora de grupos de voluntarios durante mi niñez, es un ejemplo del aprendizaje durante toda la vida?
Mi mamá siempre ha tenido interés en la historia, la naturaleza y el desarrollo humano. Animal Planet es una de sus cadenas favoritas. Muchas de nuestras conversaciones incluyen detalles poco conocidos sobre animales—por ejemplo, las costumbres de los perezosos (¡no son perezosos en realidad!) o los exóticos rituales de apareamiento de distintas aves o las ingeniosas estrategias que emplean las hienas para cazar su presa. Descubrió la primavera pasada el programa de la tele The Zoo, una mirada tras las cámaras en el Zoológico Bronx en Nueva York. Ya soy igual de fanática que mi mamá y sintonizo fielmente cada domingo por la noche.
Aprendo algo nuevo cada vez que veo The Zoo. Un episodio de la primera temporada—"Moving Day" (Día de mudanza) realmente me afectó. Tiene tres argumentos: un miembro del personal aprende a darle comida a una pitón; Franklin y McCabe, dos leones marinos jóvenes, tienen que cambiarse a otro zoológico en la Cuidad de Nueva York; y una flamenca llamada Dinky requiere cirugía.
La parte del episodio dedicada a la pitón sigue una cuidadora, experta en gorilas, mientras aprende a darle de comer a una enorme pitón africana de roca. El Zoológico Bronx exhibe especies que se hallarían juntas naturalmente en estado salvaje—como los gorilas y pitones. Esto significa que el personal debe aprender a proveer un cuidado de la mejor calidad a cada uno de los varios animales en las diversas áreas de exhibición. La experta en gorilas trabaja con un cuidador que es experto en reptiles; primero observa cómo él le da de comer a la pitón y luego lo intenta ella. Comenta a su colega que se siente un poco nerviosa en cuanto a este reto nuevo, ya que queda fuera de su área de pericia. Él le da ánimo y apoyo al ofrecerle comentarios y consejos útiles mientras aprende ella el proceso. Después de alimentar a la pitón con éxito, dice ella que ha ganado confianza y que agregará las serpientes a la lista de animales con que trabaja a gusto.
Ahora déjeme hablar más de los leones marinos. La trama comienza con Clyde, un león marino de 790 libras (357 kilos) y el macho de cría en el estanque. A fin de evitar conflictos entre los tres machos conforme se van madurando Franklin y McCabe, los cuidadores se dan cuenta de que estos dos jóvenes deben ser cambiados a otro zoológico. Desarrollan un plan detallado e intencional que incluye introducir jaulas poco a poco en el ambiente de los animales, usar entrenamiento y pescado para que meterse a las jaulas sea una experiencia positiva y, unas semanas más tarde, transportar los leones marinos por camión a su hogar nuevo en el Zoológico Queens.
Los cuidadores colaboran durante todo el proceso. Hablan de la importancia de quedarse calmados y en la misma página para mantener la normalidad de todo para la transferencia. No quieren contribuir al estrés de los leones marinos.
El día de la mudanza, todo va justo como habían planeado. Los cuidadores meten a Franklin y McCabe en el camión con éxito (tiene aire acondicionado y una bomba de agua en caso de que se atasquen en el tráfico de la Ciudad de Nueva York), descargan los leones marinos en el Zoológico Queens y los animan cuando se alejan nadando. Franklin está algo vacilante al principio. Tarda algo, pero con tiempo se ajusta a su hogar nuevo. Los cuidadores están allí en cada paso del camino, y proveen apoyo, cuidado y ánimo. Uno de ellos dice de la mudanza de los leones marinos: "Nacieron aquí, se criaron aquí y les enseñamos sus primeros comportamientos; pero ya les toca ir adonde se harán adultos. Y eso siempre es agridulce".
¿Le parecen familiares estas historias?

Mientras miraba este episodio, no podía más que pensar en todas las transiciones que hacen los niños, las familias y los educadores cada septiembre, y las muchas oportunidades que tenemos de proveer apoyo para ellos y para nosotros, uno al otro. Puedo recordar darle la bienvenida a una nueva clase de niños preescolares en mi aula. Trabajaba en un programa de año completo, así que el último viernes de agosto era el último día del programa de verano y el nuevo año escolar empezaba el día después de Labor Day (Día del Trabajador). Había nuevos nombres en los casilleros y libros sobre el otoño en el rincón de lectura.
Había mucho entusiasmo y algo de ansiedad entre todos mientras nos acomodamos juntos. Todos teníamos que aprender reglas nuevas y hacer amigos nuevos, y los educadores teníamos que empezar a evaluar cómo individualizar la instrucción y apoyar el aprendizaje y el desarrollo de cada niño sobre la marcha.
Las transiciones pueden ser estresantes, tanto para los animales como para la gente. El episodio "Moving Day" me recordó de lo esencial que es apoyar a nuestros colegas y aprender de ellos, planear con intención, tener paciencia durante el proceso y actuar con bondad, colaboración y comprensión. Habrá topes en el camino y es posible que no todo vaya como planeamos, pero tenemos una oportunidad de tanto aprender como enseñar que las transiciones y los cambios son factores importantes y necesarios de la vida.
Tendrá que ver el programa usted mismo para aprender más sobre la flamenca Dinky. Sólo diré que su historia es de una cirugía exitosa para repararle un tendón con ruptura. El apoyo para la recuperación de Dinky incluye una tablilla hecha a medida para llevar puesto y un levantador especial que le permite ponerse de pie mientras se cura la pierna; un iPad que toca sonidos de la exhibición de flamencos para que Dinky no se sienta sola durante su tiempo separada de su bandada; y un cuidador que ayuda con cariño a Dinky cuando vuelve por primera vez al agua.
Si ven "Moving Day", es posible que les afecte como me afectó a mí lo mucho que a veces tienen en común las prácticas de los cuidadores zoológicos y las de los educadores.
Amy O'Leary
Amy O'Leary serves as President of the NAEYC Governing Board.