Announcing the Draft of NAEYC's DAP Position Statement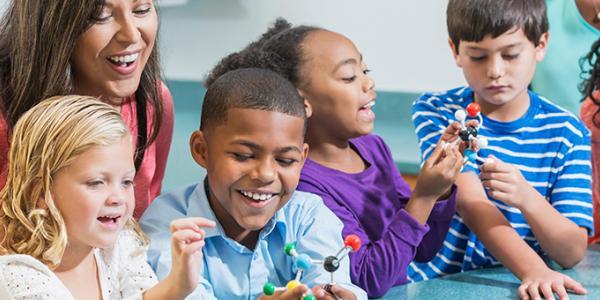 I first encountered NAEYC's Developmentally Appropriate Practice position statement soon after I began teaching toddlers. At the time, I was in college preparing to teach primary and secondary students with learning disabilities. Realizing I knew little to support these toddlers in my care, I quickly turned to NAEYC and the DAP statement and related resources because I needed help understanding toddlers' development and how to create effective learning opportunities that were quite different than what I was learning for older children.
That experience started a shift in my education and career pathway which eventually led me pursue early childhood education, and the privilege I now have preparing early childhood educators at Owens Community College. Like so many of my higher education colleagues, I make it a priority to introduce early childhood education students to the DAP statement, helping them to understand how fundamental it is to our profession and to guiding their practice.
I'm both honored and humbled to chair the NAEYC Governing Board's Early Learning Systems Committee that in conjunction with the DAP/Equity Work Group has released the initial public draft of the proposed fourth edition of the DAP position statement for review and comment.
Reflecting NAEYC's commitment to periodically revising and updating its core position statements, we've worked hard to reflect the knowledge from research and practice that has emerged over the last decade since DAP was last revised. Many of the key concepts are quite familiar, but some important changes have been made, especially to better incorporate principles from our soon to be released statement on advancing equity in early childhood education.  
The three core considerations that guide early childhood educators' decision making have been revised to better reflect the understanding that all child development and learning occurs within a social and cultural context, and that the social and cultural contexts of the teacher and the school/program are just as important to consider for their implications and effects on early learning as the social and cultural context of the child.
The principles of development and learning have been reworked to better reflect the more nuanced understanding of development and early learning that has emerged over the last decade and to reflect recent large-scale syntheses of relevant research. Finally, the guidelines for practice have been reordered and reworded slightly to more closely correspond to the Professional Standards and Competencies for Early Childhood Educators now nearing completion.
I want to stress that this is an initial draft, and we are counting on you to review it and provide feedback to make the final version as strong as it can be.
Please review the statement in English or Spanish (coming soon) and submit your feedback through this survey or by emailing [email protected].  A PowerPoint that summarizes the changes is also available.
Thank you for your review and comments. This round of feedback will be open until July 15, 2019.
---

For more information, please visit https://www.naeyc.org/resources/position-statements.
Elisa Huss-Hage
Elisa Huss-Hage, MEd, is director of early childhood education at HOPE Toledo, a nonprofit dedicated to ensuring accessible, affordable, high-quality education for 4-year-olds in Toledo, Ohio. Previously, Huss-Hage was a faculty member for 25 years in the Department of Education and Human Services at Owens Community College in Ohio. She has served on NAEYC's Higher Education Commission, the NAEYC Governing Board, and as a NAEYC accreditation program peer reviewer. [email protected]