Education is a Game Changer for Women as Well as Children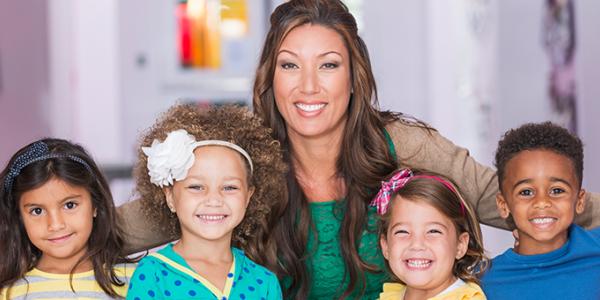 This blog post was originally published on New America's website on January 23, 2018, and is part of Moving Beyond False Choices for Early Childhood Educators, a series edited by Stacie G. Goffin.  This post provides an introduction to the series.
Education is a game-changer for women[1] and children. We know a mother's education predicts a child's future success in school and beyond. We know women with more education, in general, make more money and have better career options. A recent meta-analysis found better quality classrooms had better educated teachers, and we know higher quality classrooms predict better child outcomes. And, finally, we know women in under-developed countries across the world are literally dying in pursuit of the opportunity to go to school and college.  So I'm unclear as to why we are debating degrees for early childhood educators.[2]
I am not insensitive to the challenges, fears, and costs associated with transforming our nation's ECE workforce. I know them well because it has been my life's work for the last 30 years. North Carolina was my laboratory. In 1988, less than 10% of early childhood educators working in licensed child care settings in North Carolina had a two- or four-year-degree.  They earned poverty level wages and had employers who did not support their professional development. Yet when asked, these women overwhelmingly said they wanted to go to college. We began with 21 early childhood educators taking courses to earn ECE associate degrees, providing them with (1) comprehensive scholarships to support tuition, books, and paid release time, (2) a scholarship counselor, (3) a wage increase, (4) a retention requirement, and (5) mandated employer buy-in.
Now 30 years later, North Carolina's experiment has included over 33,000 early childhood educators, including directors and family child care educators. Scholarships have expanded to support bachelor's degrees, teacher licensure, and even ECE master's degrees. The complexion of the ECE teaching workforce remains unchanged, but the education of our state's workforce has been transformed.
What makes North Carolina an interesting laboratory for exploring the interplay among preparation and education, compensation and status, and diversity and inclusivity? First, North Carolina is the 9th largest state. Second, it is a purple state in terms of its political climate. Third, the state began at the bottom in terms of its ECE standards and its workforce education when the experiment began. And finally, about half of North Carolina's children from birth to kindergarten are children of color and/or Hispanic origin, as is the ECE teaching workforce.  
Despite concerns to the contrary, North Carolina has not lost diversity in its ECE teaching workforce, even though our rated facility licensure weights staff education as 50% of a program's license score, and even though our pre-K standards require a BA in ECE with a Birth to Kindergarten license. In fact, the racial and/or ethnic distribution of pre-K teachers who meet these higher standards does not differ. 
All early childhood educators, regardless of program setting, have been supported to achieve this higher standard. Over the last 12 years[3], there has been a 16% increase in African Americans in director and/or owner positions. By 2015, 63% of all teaching staff, 81% of center directors, and 49% of family child care educators had degrees.
I have learned from women who have made this educational journey. Their overwhelming messages revolve around actualization, transformation, and profound appreciation. For many, their perception of themselves as smart, strong, capable women was affirmed. Their understanding of early childhood education and the import of their life's work was transformed. And finally, for many, there had been this unachievable dream to earn a college degree. With the help of this comprehensive scholarship and a counselor who believed in them, they achieved their dream, graduating debt-free and often exceeding what they thought was possible.
These women are now working across North Carolina in the wide array of jobs our field offers. Many continue in centers, classrooms, or homes as lead educators, or administrators; some are working as technical assistants or professional development specialists or have gone on to teach in our colleges and universities. And the complexion of women in these roles is changing the number of women of color in leadership positions.
Making this possible requires a significant investment of time and money in our workforce. North Carolina, a conservative and relatively poor state, made that investment over the last 25 years, and continues to invest so the state can have a fully degreed ECE workforce. It has also taken courage to require the workforce to get more education, and provide time to do it. We have not solved the issue of compensation, but degreed individuals earn or have the potential to earn a lot more money. They can move to different settings and maintain their teaching role; they can advance in their roles within their programs; or they can move to other positions within our field. But wherever they go, they now have new assets — a degree in early childhood education; increased lifelong earning potential; new knowledge and competencies; the pride that comes from their achievement; the confidence that they can advance in our field if desired; and the vision that their children and grandchildren will go to college.   
ECE is at a crossroads. Our children need better-educated teachers, and our teachers need real opportunities. We cannot fail either. We do not have to choose. Our children can have diverse, well-educated, effective educators, and our workforce can have real opportunities for educational, wage, and career advancement as early childhood educators.
The views expressed here are those of the author and not necessarily those of her organization.
---
[1] Throughout this article I talk about the women of our field, not to diminish the presence or value of men in our profession, but to recognize the overwhelming gender demographic of our workforce.
[2] For the purposes of this blog, early childhood educators refer to teachers of children from birth to the start of kindergarten.
[3] Unless otherwise indicated, the data presented is an aggregate of all ECE programs regardless of age group: child care, Head Start, and NC PreK, all of which North Carolina requires to be licensed.
Sue Russell
Sue Russell is Executive Director of T.E.A.C.H. Early Childhood® NationalCenter.