Inspire a los niños a pensar y actuar como científicos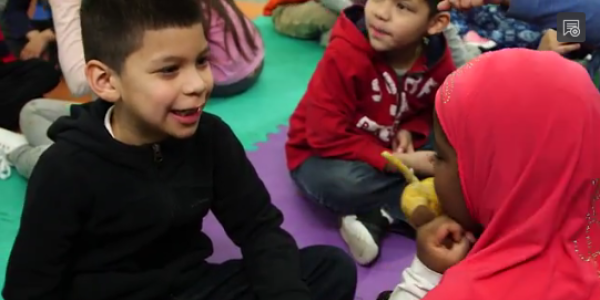 Jeanne R. Paratore, Lisa M. O'Brien
Veamos a los niños en la clase de primer grado de la maestra Poulin hablando acerca de una ilustración en un libro de animales y sus hábitats.
---
La transcripción en español puede leerse aquí.
¿Qué pudieron notar mientras vieron la lección? Me llamó la atención la capacidad de observación directa y atención de los niños a los detalles de la ilustración del libro, así como también su uso de vocabulario de ciencias sofisticado para describir y explicar lo que vieron. También me di cuenta de que la maestra Poulin escuchaba con mucha atención y desarrollaba las ideas de los niños con bastante habilidad. Me acordé del "baile" que los maestros muy eficaces realizan cuando cambian estratégicamente su postura: a veces, son quienes dirigen y, otras, toman distancia y siguen el ejemplo de los niños.
Estas observaciones me llevaron a pensar un poco más acerca de cómo los maestros con habilidades hacen esto. Cómo crean situaciones y oportunidades que guían a los niños a reaccionar ante sus habilidades naturales de observación y curiosidad, y supuestamente dirigen su propio aprendizaje.
La respuesta, creo, es simple: ¡los involucran en el trabajo de científicos reales! Es decir, crean tiempo y espacio para que los niños (a) perciban y experimenten fenómenos del mundo, (b) hacen preguntas importantes, (c) descubren maneras de responder sus preguntas y (d) comparten lo que aprenden. ¡Crean oportunidades para que los alumnos sean científicos!
Pensar y actuar como científicos no solo contribuye a comprender mejor los fenómenos importantes del mundo real, sino que también ayuda a los niños a desarrollar un autoconcepto de que son capaces de aprender. Comienzan a pensar en la identidad de los científicos e incluso pueden buscar más oportunidades para pensar y hablar como ellos.
A continuación, algunas maneras de inspirar a los niños a pensar y a actuar como científicos
Desarrollar su curiosidad natural.
Involucrar a los niños en prácticas de ciencias auténticas o "reales". Por ejemplo, guiarlos para plantear preguntas importantes, observar y reunir evidencia, y utilizarla para sacar conclusiones.
Brindar oportunidades prácticas para encontrar respuestas a preguntas. Por ejemplo, para explorar los conceptos de flotar y hundirse, proporcionar cubetas de agua para probar diversos objetos.
Crear oportunidades para compartir nuevos conocimientos. Incluir estilos informales, como "trabajar en turnos y hablar" al terminar una lección, y estilos más formales, como una noche familiar o un tablero de anuncios en el salón o en línea.
Dar oportunidades de plantear preguntas importantes y trabajar con otros para encontrar respuestas.
Guiar a los niños en el planteamiento de preguntas importantes sobre un tema del plan de estudios (por ejemplo, ¿cómo los animales utilizan sus características físicas para sobrevivir?).
Dar oportunidades para aprender con y de otros (por ejemplo, trabajar en turnos y hablar para compartir ideas y comentarlas con los demás).
Ayudar a los niños a vincular su aprendizaje en diversos contextos.
Utilizar otras áreas de contenido (lectura, matemáticas) para contribuir al aprendizaje de ciencias. Por ejemplo, utilizar textos informativos para aprender sobre adaptaciones de animales o aplicar habilidades matemáticas para medir y registrar los resultados de una investigación.
Trabajar con las familias para crear vínculos entre la casa y la escuela. Por ejemplo, solicitar a los padres que envíen algunos objetos de la casa que los niños reconozcan (esponjas, piedras, pelotas de playa, canicas). Luego, pedir a los niños que identifiquen esos artículos y describan cómo se utilizan en casa, y que los usen como parte de una investigación en la clase sobre los conceptos de flotar y hundirse.
Ampliar la indagación a momentos de aprendizaje informal. Por ejemplo, durante la merienda, pedir a los niños que piensen si los alimentos podrían flotar o hundirse y por qué. En el patio, buscar objetos para colocarlos en un charco para ver si flotan o se hunden.
Para ver planes de lecciones y videos que inspiren a los niños a pensar y actuar como científicos, visiteConsejos de enseñanza para medios educativos en PBS LearningMedia, , creado por Boston University School of Education.
Aprenda a integrar estrategias de enseñanza inspiradoras en sus rutinas cotidianas con cursos de desarrollo profesional de la colección especial de PBS TeacherLine para educadores de la primera infancia.
Los recursos presentados en este blog se elaboraron como parte de Corporation for Public Broadcasting (CPB) y PBS Ready To Learn Initiative con financiamiento del Departamento de Educación. Ready To Learn es un programa federal que contribuye al desarrollo de medios educativos innovadores para la televisión y digitales dirigidos a preescolares y alumnos de los primeros años de primaria, así como sus familias.
La traducción de este documento ha sido elaborado en el marco de un acuerdo cooperativo (PR/Award no. U295A150003, CFDA Nº 84.295A) del Departamento de Educación de Estados Unidos. No obstante, este contenido no representa necesariamente la política del Departamento de Educación, y usted no debe asumir el aval por parte del Gobierno Federal.
Jeanne R. Paratore
Jeanne R. Paratore, EdD, is professor emerita of literacy education at Boston University. She has published widely on issues of classroom literacy instruction, family literacy, and integration of high-quality educational media with high-quality literacy instruction. She is one of only 100 worldwide elected members of the Reading Hall of Fame.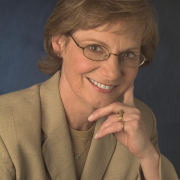 Lisa M. O'Brien
Lisa M. O'Brien, EdD, is assistant professor of reading and language education at Merrimack College, Andover, MA. Her work is focused on providing all children equitable opportunities to learn, and in particular on effective and engaging integration of technology in early childhood and elementary classrooms.