It's Not Too Late! 5 Ways to Get Involved with Early Ed for President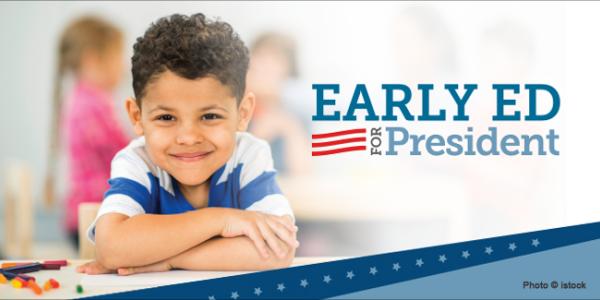 Nearly ten months ago, I was a first-time participant at the 2016 Public Policy Forum when NAEYC announced its own first-time electoral advocacy effort - the Early Ed for President campaign, designed to elevate the conversation around early childhood education and educators in the 2016 election cycle.
Since then, NAEYC members like me, and friends, Affiliates and partners all around the country have carried the Early Ed for President messages to candidates far and wide, making sure they know about the importance of early childhood education! And every one of the 105,320 (and counting!) likes and follows on social media mean our voices are growing. We've heard both Presidential candidates talk about child care and early learning - and we want to hear more. 
With Election Day just weeks away, we need every one of you to join us. Here are five things you can do - in just five minutes per day - to join the movement and make sure early childhood education is being embraced on the road to the White House (and the state house, and the school house!)
Are you on Facebook? Check out Facebook.com/supportearlyed for the most up-to-date information and engaging conversations. Or maybe Twitter is your thing! Follow @NAEYC and @SupportEarlyEd - and share tweets and pictures using the #EarlyEdIn16 hashtag. That way, your friends and colleagues will learn about Early Ed for President and why it's important— and they'll share as well!
 
Visit the Early Ed for President website, sign the Supporter Wall, and watch an Early Ed for President webinar! Looking for more to do on the site? Check out Early Ed Wins to learn what's already happening all around the country and donate $16 in 2016 to support the cause. In addition NAEYC's Public Policy and Advocacy team will be hosted a webinar on the Early Ed for President campaign on Wednesday, October 26, watch the full webinar today!
 
Join the Public Policy or Advocacy Committee at an NAEYC Affiliate near you (and follow them on social media) to become part of local and regional efforts to advocate for access to high-quality early care and education for all children and families.
 
Reach out to your candidates and elected officials with stories about your experiences. Or write a letter to the editor of your local paper describing  how early childhood education is an issue everyone can support. (And don't forget to thank your elected officials who have supported and continue to support this bipartisan cause that benefits us all)!
 
VOTE. Make sure your friends and family vote. Make sure all the parents who drop off their kids vote. Make sure the educators and staff who work in your center vote. Organize a "Take Your Child to Vote" campaign in your classroom or center so that kids can see and engage in this critical right and responsibility.
Early Ed for President is a campaign that all candidates can support, and sharing the message is something that we can all get behind!  Go #earlyedin16!
Amanda DiScala
Amanda DiScala is Owner/Educational Director of Bridges to Learning Child Development Center and President of NJAEYC