Aprovechar al máximo los textos informativos
Si ha estado en la educación preescolar por algún tiempo, es probable que haya notado que se habla cada vez más de los textos informativos. En parte basado en muchos estudios que demuestran que los conocimientos previos y el vocabulario son fundamentales para la comprensión de lectura, según los estándares de aprendizaje, se espera que los niños pequeños se interesen en los libros informativos y aprendan con ellos. Los Estándares Estatales Esenciales Comunes exigen que 50% de la lectura en edad preescolar (incluyendo lecturas en voz alta de los maestros) consista en textos informativos. Por lo tanto, las editoriales de libros y en línea están dando cada vez más prioridad a estos textos dirigidos a niños de esa edad.
Conozco a algunos maestros que evitan los textos informativos y que incluso sienten temor de utilizarlos. La oruga muy hambrienta parece ser mucho más llamativo que un libro informativo acerca del ciclo de vida de las mariposas, y enseñar acerca de personajes también parece ser mucho más interesante que enseñar acerca de un índice. Afortunadamente, hay estrategias que pueden hacer más interesantes los textos informativos tanto para los educadores como para los niños.
Consejos y trucos para enseñar con textos informativos

Una de las estrategias más importantes al enseñar con textos informativos es cerciorarse de que los niños estén leyendo y escribiendo con un propósito del mundo real. Por ejemplo, pueden:
Leer textos informativos para aprender a cuidar una mascota en el salón de clases.
Comparar algunos textos informativos para prepararse para una excursión.
Dividirse en grupos con base en los temas de interés, leer textos informativos sobre el tema elegido y enseñar a otros grupos al respecto.
Escribir e ilustrar textos informativos sobre un tema que han estado estudiando en clase de ciencias para que sus compañeros más pequeños los lean en casa.
Escribir publicaciones informativas en blogs acerca de lugares históricos en la zona donde viven para una página web de la comunidad.
Escribir instrucciones para los encargados de cuidar el jardín durante un descanso escolar.
Mejorar un conjunto de libros informativos en clase, ya sea agregando un índice o explicaciones de términos clave que hagan falta.
Cuando los niños consideran que tienen un motivo importante para leer y escribir, es probable que demuestren más interés en el tema y el texto, que se esfuercen más, que piensen más acerca del contenido y que les preocupe más la calidad de lo que escriben. (Para obtener más información acerca de la enseñanza con textos informativos, visite https://pbslearningmedia.org/readytolearn y www.readingrockets.org/reading-topics/reading-comprehension).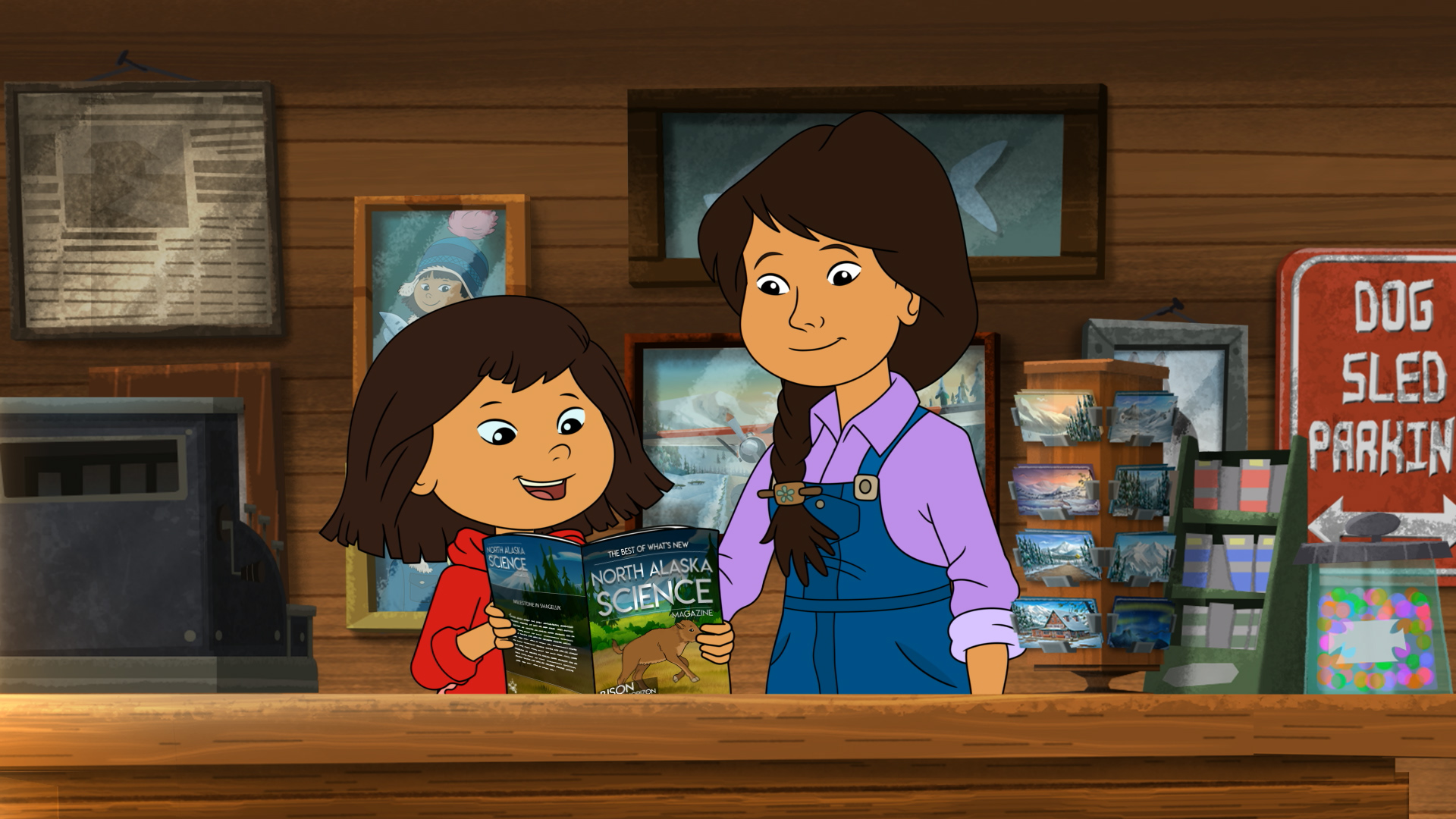 Presentación de Molly de Denali

A partir del verano de 2019, los educadores de todo el país cuentan con un nuevo recurso para dar vida a los textos informativos para niños pequeños: la nueva serie animada de PBS KIDS, Molly de Denali,  que presenta entretenidos episodios, juegos digitales y otros recursos educativos para utilizarse en todos los entornos de aprendizaje. La protagonista, Molly Mabray, es una enérgica e ingeniosa niña de 10 años procedente de Alaska que vive en la ciudad ficticia de Qyah (se pronuncia KIE [como pie]). Tal como su público objetivo de niños de 4 a 8 años, Molly tiene la capacidad innata de explorar el diverso y fascinante mundo que la rodea.
El principal objetivo de Molly de Denali es ayudar a los niños a aprender a acceder a textos informativos y a crearlos de acuerdo con sus necesidades. Se trata de aprender a resolver problemas del mundo real, satisfacer su curiosidad y enseñar a los demás. Molly captura la atención con textos informativos para propósitos de la vida real, tal como pretendemos que sea en nuestras clases.
Otro de los objetivos de Molly de Denali es ayudar a los niños a aprender qué pasa por la mente cuando leen y escriben. Por ejemplo, los episodios pretenden ayudarlos a:
Comenzar a generar imágenes o fotografías mentales mientras leen o escuchan un texto.
Aprender a crear un texto para transmitir información sobre la naturaleza y la sociedad.
Utilizar características de un texto, como diagramas y leyendas, para ampliar su comprensión.     
Además, Molly de Denali crea conocimientos de contenidos en ciencias y estudios sociales para favorecer el aprendizaje sobre el clima, artefactos históricos y la cultura de los nativos de Alaska. Incluye representaciones auténticas de niños contemporáneos procedentes del lugar, las cuales están fundamentadas por expertos en cultura y educación en este tema.
---
Molly de Denali, creado por WGBH Boston, se elaboró como parte de Corporation for Public Broadcasting (CPB) y PBS Ready To Learn Initiative con financiamiento del Departamento de Educación. Ready To Learn es un programa federal que contribuye al desarrollo de medios educativos innovadores para la televisión y digitales dirigidos a preescolares y alumnos de los primeros años de primaria, así como sus familias.
PBS KIDS y su logotipo son marcas registradas de PBS. Utilizado con permiso. Los contenidos de este material gráfico se crearon con un donativo del Departamento de Educación. Sin embargo, no representan necesariamente la política del Departamento de Educación, y no debe asumirse que cuentan con la aprobación del Gobierno Federal. El proyecto es financiado por un donativo de Ready To Learn (PR/ADJUDICACIÓN número U295A150003, CFDA número 84.295A) del Departamento de Educación para Corporation for Public Broadcasting.
---
La traducción de este documento ha sido elaborado en el marco de un acuerdo cooperativo (PR/Award no. U295A150003, CFDA Nº 84.295A) del Departamento de Educación de Estados Unidos. No obstante, este contenido no representa necesariamente la política del Departamento de Educación, y usted no debe asumir el aval por parte del Gobierno Federal.
Nell K. Duke
Nell K. Duke, EdD, is professor in literacy, language, and culture in the School of Education and the combined program in education and psychology at the University of Michigan. As of September 2022, Dr. Duke serves as the executive director of the Center for Early Literacy Success at Stand for Children (www.stand.org). She earned her bachelor's degree from Swarthmore College and her master's and doctoral degrees from Harvard University. Her work focuses on early literacy development, particularly among children living in economic poverty. Dr. Duke has received the International Literacy Association's William S. Gray Citation of Merit for outstanding contributions to research, theory, practice, and policy. Her website is www.nellkduke.org.