Making Videos at Home: Tips for Educators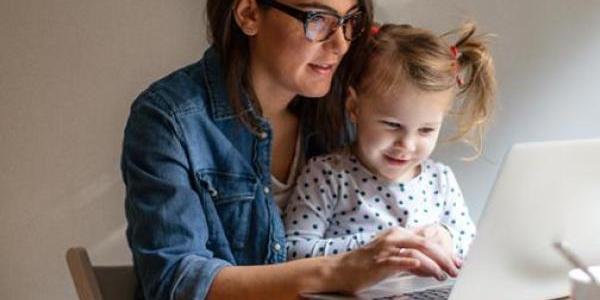 Gillian Frank, Michael Coventry
Are you interested in supporting the children and families in your program by creating videos to share via HELLO, Youtube or Facebook?  We've pulled together some simple tips!
What do I need to make a video?

A camera or smartphone with video recording capabilities. If using a smartphone make sure to use the camera on the back of the phone and rotate the phone to record horizontally ("landscape"). 
A tripod or a flat surface.  If you have a tripod, great.  But if you don't, steady your phone or camera on a flat, even surface, looking slightly down at you. Looking up to the camera is the most flattering angle.
An external microphone, if possible. If you're using the built-in mic on your camera or phone, make sure not to sit too far away.
Where should I make my video?  Does lighting matter?

Think about what the location will look like on camera. Make sure unwanted items are out of sight--feel free to hide that laundry!  It's also great if you can make the location represent the style of video you're creating--an exercise video outdoors, a story video on your sofa or from a nice comfy chair.
Find a quiet place with as few distractions or possible interruptions as you can.  
If you can get  it, natural lighting is best. It's important to make sure the light is in front of you (i.e. behind the camera).  Otherwise, it will be hard to see you. 
Anything to keep in mind for when the camera is recording?

Write out what you want to say.  Ideally, you should write out a script for everything you want to say--especially the start of the video-- and then take a minute or two to practice and commit it to memory. But don't worry if you don't remember it word for word, recalling from memory will make it more natural.
Center yourself in the frame and be aware of your posture.
Relax, and smile.
Sit up straight!  
Be mindful of not talking too quickly.  Speak slowly, pause between sentences, and lower your voice a bit if you're naturally high-pitched.
If you make a mistake, no worries! Don't worry about a few 'ums' or 'ahs.' They tend to make videos seem more authentic.
Take the video pretty close up to you.  Children want to see your face and if the camera's too far away, they can't do that.
If you're reading a book, consider pausing and turning the illustrations towards the camera. We often do this when reading aloud to children in our classrooms.  Remember to hold the illustration steady for a few seconds longer than you might need to when engaging a child face-to-face. 
Pause for a few moments at the end of your recording before getting up to press stop. This will help if you are going to edit the video and the pause can be cropped without cutting any important information. 
Don't forget to clean your camera lens!  Smudges aren't a good look.
How do I share my video?

Hello is a great place to share!  As a NAEYC member, only you can post there -- but anyone coming to the site can see the resources you post.  And, everything you post to Hello is emailed the next morning to all 60,000 NAEYC members in the daily digest! 
Click on the "Post a Message" link on the right hand side of the Hello homepage
Fill in your message with a subject and maybe a few words about what your video is about and who it's for.  If you belong to any interest forums, you may need to choose "Open Discussion Forum" under "Select Discussion" in the "To:" field.
The, at the bottom, click on the "Attach" button at the bottom.
Then, from the File Upload screen, click "Select Files to Upload" and upload the file either from  your computer or from your smartphone's library.
After the file is uploaded, you will be taken back to your message.  Click the blue "send" button to post it right away, or you can schedule your message for later or save it as a draft.
References:
Gillian Frank
Gillian Frank is Senior Creative Design Specialist at NAEYC.
Michael Coventry
Michael Coventry is Director, Digital Strategy and Interest Forum Program at NAEYC.