Preschool Teacher uses Crowdfunding to Raise Money for Annual Conference Expenses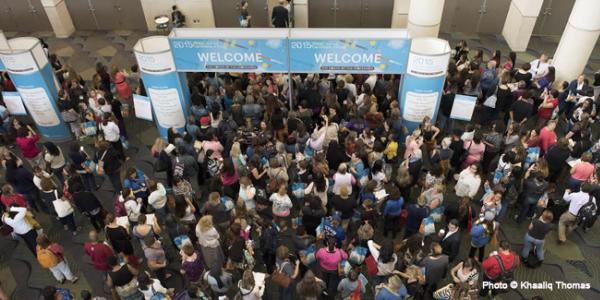 Emily Warne​
Being the daughter of an early childhood educator has some serious advantages. My mother, a NAEYC member, nurtured our sense of curiosity, understood the importance of meaningful play, and always made learning fun.
Not everyone is born with a formal educator as a parent, but that's okay—because they have you. Every day, you provide children with high-quality early learning experiences that greatly impact their lives by developing the basis for later success.
Families recognize the important role you play in society, and they want the best for their children. That includes making sure that the professionals that shape their children's futures have access to ongoing professional development and the latest in early childhood research and technology.
And while there are many ways that you can enrich your career, attending the NAEYC Annual Conference is simply the best opportunity to enhance your skills and connect with thousands of other professionals who share your passion for educating young children.
No one knows that better than NAEYC Member Christina Amato, who is determined to attend this year's conference and decided to start a fundraiser to help cover the costs of registration and travel expenses to Los Angeles.
She downloaded the NAEYC Funding Tool-Kit and used its letter templates to approach the families of the children whose education she is responsible for every day at Ganon Early Childhood Education Center in San Mateo, CA.
"I used the letter to parents from the NAEYC website as a guide to inform supporters of what the conference is and how it would benefit not only their child, but the center as a whole," she explains.
Then, she took it one step further, creating a GoFundMe page and sending the link to parents, as well as her own friends and family members via her personal Facebook account. "I also talked to as many parents as I could face-to-face to tell them about the exciting opportunity that I had to attend the conference," she says. "With each milestone, I kept the families informed of the progress."
It worked—in as little as two months, Christina has already raised over 65% of her goal, and she still has plenty of time to collect additional donations before the conference begins November 2. "I am ecstatic about the amount I was able to raise so far," she says.
Her advice for other educators who may be thinking about fundraising to attend the conference but are unsure if it will be successful? Just go for it!
"I was scared at first that no one would support me," she explains. "But, it turns out, I have an amazing support system and great work community. I am always looking for new ways to gain more knowledge in my career as an early childhood educator and by attending NAEYC's Annual Conference, I can do just that." 
Thousands of early learning professionals agree, and amongst them are hundreds who creatively fundraise to attend the conference. Many "crowdfunding" platforms exist online to help collect donations from families, friends, and even local businesses. These include GoFundMe, the website that Christina used, as well as Indiegogo, Donorschoose and more.
With the help of these websites and the NAEYC Funding Tool-Kit, Christina was able to raise the necessary funds to attend the most important conference for early childhood professionals in the country, and so can you. Good luck!
Emily Warne​
Emily Warne is a former senior marketing manager at NAEYC.