Tacos Anyone? Preschoolers Investigate a Taco Truck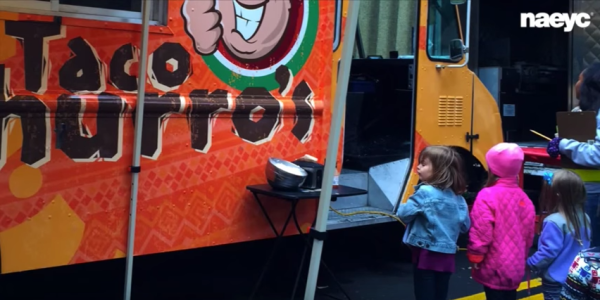 Cate Heroman, Kaitlen Perkins, Briana Guillory
The three- and four-year-olds at the LSU Child Development Laboratory Preschool in Baton Rouge, Louisiana are getting ready for NAEYC's Taco Tuesday during the Week of the Young Child! Student teachers Briana Guillory and Kaitlen Perkins thought about children's interests and noticed that so much of their dramatic play centered on preparing and cooking food.
Exploring food preparation as a topic to study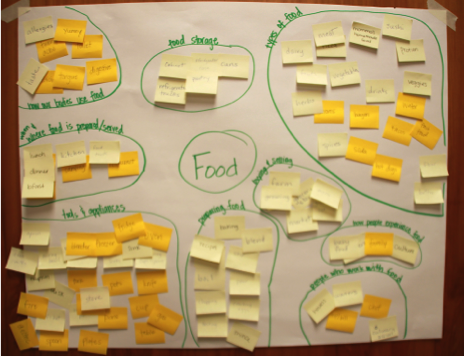 To decide if this would be a good topic to study, they made an anticipatory web by brainstorming words associated with foods and then organizing them into categories on chart paper. The concepts they decided would be important to explore were:
What are the types of food?
Where is food prepared and served?
How is food stored?
What tools and appliances are used to prepare food?
Where do people buy and sell food?
How do our bodies use food?
Who are the people who work with food?
Starting with kitchen gadgets
The preschool is located in the heart of LSU's campus, within walking distance of a food court, food trucks, a dairy, and a food preparation kitchen. All agreed that a project about food was rich with possibilities for engaged learning! But….where should they begin? They decided to explore interesting kitchen gadgets as a starting point.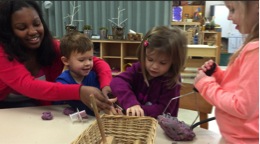 A letter was sent to families describing the project and how they could be involved. Families sent kitchen gadgets for exploration. Which ones had moving parts? Why did that spoon have holes? They used the gadgets with sensory materials like play dough, water beads, and even made prints with them. The children talked about how their families used the gadgets at home. They wondered if people who worked as chefs or cooks used similar gadgets.
Preparing questions for the taco truck visit
Two food trucks used by college students park daily right outside the preschool. Briana and Kaitlen made a preliminary visit to the food trucks, talked to the owners, took pictures, and thought about the possibilities for learning. As children arrived at school, they responded to the question of the day: Have you ever tasted food from a food truck?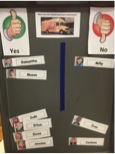 The teachers announced that the class was going to visit one of the trucks, a taco truck and the children thought about the questions they would ask:
Can you give us one of your yummy tacos? (Samantha)
Can you make tacos while driving? (Samantha)
Do you have a horn? (Evan)
How do you drive a taco truck? (Eloise)
Do they have any seats on the taco truck? (Milly)
How do you make the tacos? Where do you get the ingredients from? (Milly)
Do they have chips? (Jackson)
The children practiced asking their questions during a class meeting so they could remember during their site visit.
Visiting the taco truck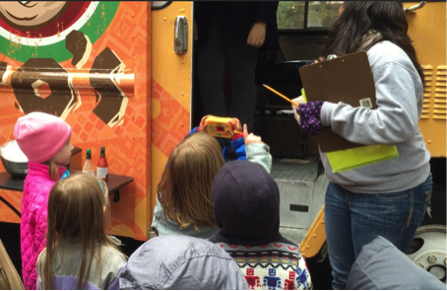 Each child carried a clipboard and child-sized digital camera to create a memory of what they were about to see.
They looked at the ingredients and how they were stored. They watched the worker put together a taco as they chose their toppings. What a treat!
After the visit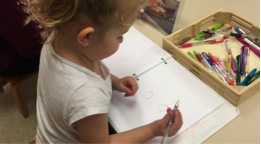 Back in the classroom, they debriefed about their experience and discussed the answers to their questions.

They drew pictures of the taco truck.

The children enjoyed the story of Dragons Love Tacos, especially the part when the dragons ate spicy salsa.

Next they decided they would try to make their own tacos in the classroom.
---
Tiny Tacos
Step 1: Get your taco shell ready.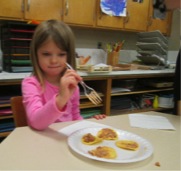 Step 2: Taste the beans
Bailey: First you have to use the can opener to open the beans!
Krish: I don't like beans! (Krish tries the beans.) I want beans on my plate! Tastes good!
Bailey: I like them too!
Ali and Eden: We don't like them.
Step 3: Spread the beans on your tiny tacos.
Step 4: Taste the salsa.
Richa: Yum! I love it!
Simon: It's going to be spicy! (He tries the salsa.) Yummmmm! Can I have salsa on my chips please?
Bailey: I love salsa!
Step 5: Spread the cheese onto the tiny taco.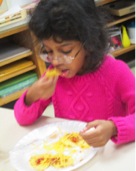 Eden: I like cheese tacos the best!
Ali: Me too!
Simon: I love my taco! I love it!

The teachers asked what did it feel like when you bit into it? What did you hear?
Simon: It's hard!
Bailey: It's crunchy.
Richa: It's loud!
Eden: I hear crunch, crunch, crunch.
Bailey: I love my taco! Krish: These tacos are tasty!
---
Cate Heroman
Cate Heroman is an author, early childhood consultant, and volunteer education chair at Knock Knock Children's Museum, a museum designed for children birth to age 8.