Empowered and Encouraged: Public Policy Forum is the Place for Young Professionals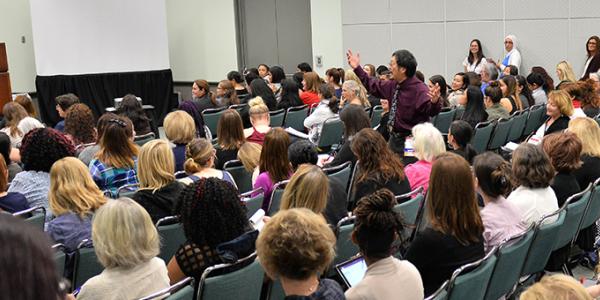 Rachel J. Franz, Zaina Keenan, Jenifer Fuller, Hector Rivera
As I was walking through security to a meeting with my senator's legislative staff, one of the security personnel noticed the small NAEYC pin on my lapel. He quickly realized that he recognized the letters from the child development program on Capitol Hill—it is a NAEYC-Accredited program! This was a powerful moment to truly realize that the individuals who represent us when making legislative decisions already look to NAEYC to affirm that their children are receiving the best care possible. —Jenifer Fuller, Young Professionals Advisory Council (YPAC)
On February 28, 2017, on a bustling Capitol Hill, more than 200 early educators and advocates from all over the nation engaged legislators in discussion about the importance of affordable, high-quality early childhood education and the early learning workforce. The 2017 NAEYC Public Policy Forum in Washington, DC, was the largest one yet, and this three-day event provided teachers, seasoned advocates, and early childhood policy makers with a chance to hone their expertise on early childhood education (ECE) policy and to speak out about it. Among the participants were five members of the Young Professionals Advisory Council (YPAC), a group of teachers, specialists, directors, students, and allies ages 18–30 who come together to bring a voice to young early educators across the nation. As one of the youngest people participating, YPAC member Zaina Keenan notes that "the NAEYC Public Policy Forum is an intimidating event. People from all over the country are gathered together to prepare for and visit Capitol Hill in the hopes of convincing legislators to pick our issues from the many issues being advocated for on any given day."
Public Policy Forum is the place for young professionals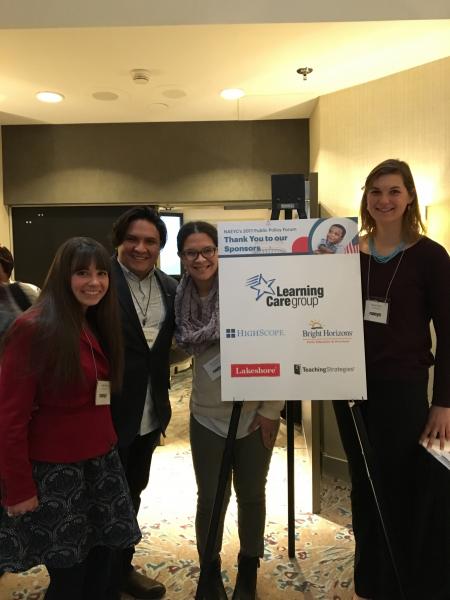 The Public Policy Forum can be intimidating initially. Yet, all participants felt more comfortable shortly after the first Power to the Profession session started because of an overwhelming sense of belonging. Public Policy Forum is the place for anyone who is passionate about children, families, and early childhood education. The Public Policy Forum offers many benefits for young professionals, including:
An invaluable understanding of ECE policy and funding. "Everything we do—research, classroom teaching, administration, higher education, and more—is done because of the funding we have," asserts Keenan. Understanding policy is key to making change. The Forum organizers do a fantastic job of defining and contextualizing the jargon associated with policy, and they make it accessible to all.
Policy becomes personal. The Public Policy Forum provides a way for us to bring our personal and professional passion to the nation's forefront. YPAC member Hector Rivera explains, "My work as a child care provider in inner city New York has gone from focusing on achieving quality care to trying to survive—in every sense of the word. Every day, families tell me how worried they are about their rights as immigrants and whether they are going to lose the support they receive to subsidize their child's care. It was that exact urgency that ignited the fire in me to act. I knew there was no better way for me to do something than to go directly to Capitol Hill."
Small size, big impact. With fewer than 300 participants, attendees are able to get a more personal understanding about colleagues in the field and to initiate relationships. Rivera writes, "By meeting other professionals on my state team, I was able to gain the connections and support I needed as a center director to attain the proper licensing for my center."
Young professionals are capable professionals. The Public Policy Forum is the perfect place to step up to the plate and get out of your comfort zone. Veterans in the field are excited to involve a new generation of educators and advocates; this relationship is essential for the continued success of the field.
It's normal to be nervous: Tips for future attendees of PPF and other NAEYC events
"Before attending the Public Policy Forum, policy and advocacy were areas in the profession that I avoided because I felt ill-equipped to participate," says Jenifer Fuller. Aside from the participants who work primarily in policy, most first-time attendees and even returning participants had some jitters about heading to Capitol Hill. With NAEYC's accessible presentations to help participants prepare, Fuller observes, "Attending NAEYC's Public Policy Forum was a perspective-changing experience."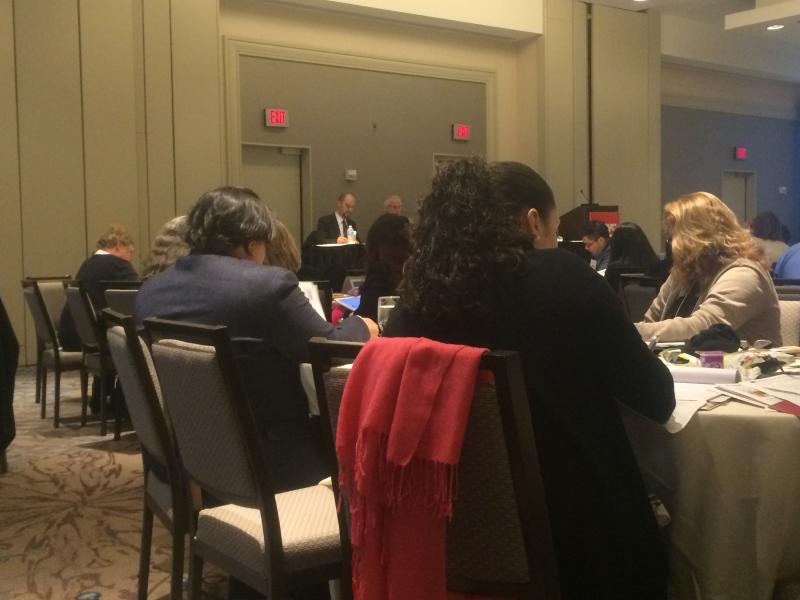 Remember that legislators are human, too. Zaina Keenan writes, "It is nerve wracking to go and speak to legislative staff. However, it's important to remember that they are people, too. Imagine how nervous they would be if asked to come and do a read aloud with a group of 20 preschoolers! They are experts in their field as we are in ours, and we have a lot to teach each other if we enter supplied with information to share."
Review materials ahead of time. Policy staff put together a webinar with recommendations about how to prepare; viewing this at least two weeks before the Forum is key. This step will decrease anxiety going in and maximize the impact of your meetings and future advocacy. One easy step? Follow your legislators on Facebook and Twitter.
Ask questions. Don't be afraid to ask questions. The acronyms can be overwhelming, so jot them down as you hear them and ask about them later. Jenifer Fuller says, "It was understood that we may not be experts on legislative jargon, but we are experts in what young children need to thrive. NAEYC provided the tools to make the bridge between what we know is best for children and ways to share that information with legislators so that actions can be taken to implement change."
Pack your blazer. Dressing to impress invites others to take you more seriously, no matter your age or experience level. Hector Rivera writes, "As someone who knows that by the end of the day I will have paint and food crumbs all over my clothing, formal attire isn't second nature to me, but it's still a must! Also, carry plenty of business cards, as you never know when you will connect with someone."
Make a plan for after the Forum. "My state team and I contacted Congressional staff members with a summary of our meeting and additional information that they requested during our meeting. NAEYC's Public Policy Forum provided access to my senators and representatives in ways that will create changes to my work in the field," writes Jenifer Fuller.
Next steps: Get involved with policy as a young professional
Public Policy Forum is a wonderful leap into the world of early childhood policy. Zaina Keenan says, "It's an opportunity to create an annual plan for advocacy at all levels, and to kick it off in a big way—speaking to those who impact our field at the national level." There are many things you can do before the next Public Policy Forum to get involved.
A first step is to visit NAEYC's Policy site. Through NAEYC, you'll find many opportunities for involvement:
Next year's Public Policy Forum will be here before we know it. Hector Rivera says, "To any professional contemplating attending PPF, I say go for it! It is a truly rewarding experience and every professional in our field should experience this policy forum." The time to get involved is now.
---
NAEYC's Young Professionals Advisory Council (YPAC) was formed with a clear goal in mind: Helping NAEYC strengthen its recruitment, retention and engagement of young professionals in the field. Click here to learn more about YPAC!
Rachel J. Franz
Rachel J. Franz, MEd, is the director of education and founding lead teacher at Tiny Trees Preschool, an outdoor preschool program in Seattle, Washington. She is a founding member of NAEYC's Young Professionals Advisory Council (YPAC).
Zaina Keenan
Zaina Keenan is the early childhood director at Children's Village, an NAEYC-accredited and Keystone 4 Star center in Philadelphia. In addition to her everyday responsibilities and those of the NAEYC Young Professionals Advisory Council (YPAC), Zaina serves on the NAEYC Member Engagement Committee, her local affiliate's (DVAEYC) Membership Advisory Council, and the Becker's Advisory Council, is a member of the 2016–17 Pennsylvania Early Childhood Advocacy Fellowship, and has presented at statewide conferences over the past year on strategies for effectively teaching English Language Learners.
Jenifer Fuller
Jenifer Fuller serves at Tulsa Community College, in Tulsa, Oklahoma, as adjunct faculty and as the education specialist in the Child Development Center. Jenifer is an advocate for developmentally appropriate practice, play, infant mental health, and infusing early childhood with nature. In addition to serving on the YPAC Content Committee, Jenifer serves as the Membership Chair for her local affiliate chapter and as the Vice President of Chapters for Oklahoma AEYC.
Hector Rivera
Hector Rivera is the manager of Children and Family Programs at The DreamYard Art Center in the Bronx where he directs the school-age early childhood program. Hector identifies as a queer Afro–Puerto Rican Taino, an identity he brings to his work around the arts as a means for social change. He believes that educating young people using curriculum based in anti-bias practice and with a social justice lens is key to children's liberation.