Just the Facts: America for Early Ed State Fact Sheets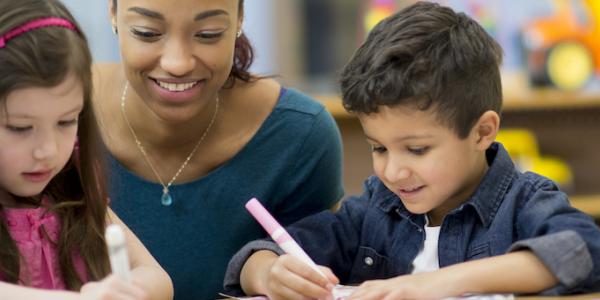 Lauren Hogan
Every year, more and more NAEYC members and early childhood educators are visiting their state and federal elected officials to talk about the importance of investing in high-quality early childhood education. So we decided it was time to create a set of accessible, vibrant state fact sheets you all could use to help you talk with those policymakers about what's happening in early childhood education and for early childhood educators.
That's why it's our pleasure to introduce NAEYC's America for Early Ed State Fact Sheets, highlighting 20 key data points and priorities organized to bring attention to two key goals, outlined in NAEYC's Strategic Direction: (1) increasing access to high-quality early learning and (2) advancing the early childhood education profession.
Each State Fact Sheet contains data gathered from federal and national sources, as well as NAEYC's early learning program and higher education accreditation systems.
We encourage you download your state's fact sheet, share it with your networks and on social media (see sample posts below and images here), and join us as we work together to deliver on the promise of high-quality early learning!
Looking forward to using new state fact sheets from @naeyc @SupportEarlyEd to advocate for high-quality #earlyed and a stronger #ECE profession! Access your state's fact sheet here: https://bit.ly/2QjzpOc #ECEWins
DYK? Only a fraction of eligible children receive #childcare assistance each month. We can do better. Can't wait to use state fact sheets from @naeyc @supportearlyed to show policymakers what's happening in #ECE, and why they need to #FundChildCare. https://bit.ly/2QjzpOc #ECEWins
Great goals (increasing access to high-quality #earlyed and advancing the #ECE profession) + Great data (from @CSCCEUCB @CLASP @PreschoolToday and more) = Great fact sheets from @NAEYC @SupportEarlyEd! Check them out at https://bit.ly/2QjzpOc #ECEWins

Are you inspired yet to share these with your own elected officials and state leaders? Start right now!  
Don't hesitate to ask questions if you need help. Email [email protected] anytime, and thank you for being an advocate for children, families, and educators!  
Lauren Hogan
Lauren Hogan is the managing director of policy and professional advancement for NAEYC, in Washington, DC.