What can you do to support and advocate for children, families and educators?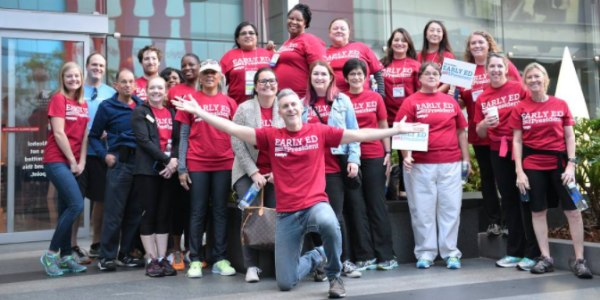 Editor's Note: On February 3, Rhian Evans Allvin sent out a letter to all NAEYC members entitled "Today and Every Day: Using Our Values as Our Guide." The letter, which you can read in full here, asked us to support and advocate for all the children, families and educators in our communities. Here are some ways we can fulfill that charge. 
The earliest years in a child's life are a crucial time for learning, and right now is a crucial time for us to support the future - of our children, our workforce and our country. Our voices, at once unified and diverse, distinctive and collective, are powerful and strong. We must speak out on the critical importance of high-quality early childhood education, providing partners and policy makers with the information and opportunities they need to put young children at the forefront of their agendas.
Write down your story.
No matter who you are, you are the only one with your perspective. Your story about early childhood education can become testimony, a letter to the editor, a viral video, and much more. Email us at advocacy@naeyc.org and let's bring your story to life.  
Pick up the phone.
You are someone's constituent. Call your elected officials to let them know why you think high-quality early childhood education is important. Make sure they know you will be holding them accountable for investing in the children, families and educators in your community. Not sure who your representatives are? Find out here. 
Go to a meeting.
There are plenty of places where you can stand up and raise your voice on behalf of children, families and educators. Go to a city council meeting, a school board meeting, a briefing, or a town hall - in person or on Facebook! Go to a hearing, a rally, a book club, or a service group. Get to know your leaders and partners - and let them get to know you. 
Tweet.
It's only 140 characters. You can do it. Follow your elected officials & let them know how you feel about their votes & positions. #earlyed
Join your Affiliate.
Community sustains us. Come together with fellow educators and advocates in your state today. Visit www.naeyc.org/membership for more.
Be ready.
There is always a time when intention needs to become action. Stay informed and connected so you can engage, advocate and mobilize at the moment your voice is needed.