Zoom Circles and Google Hangouts for Parents: Teachers as Essential Conduits to Relationship-Building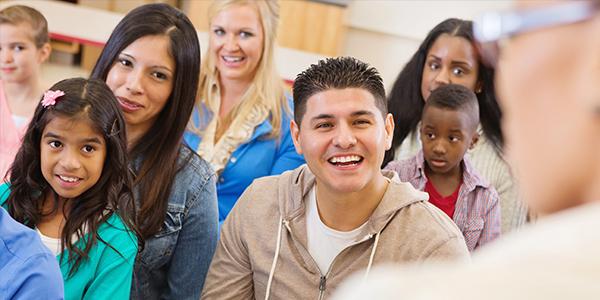 This blog is a part of "Supporting Families and Teachers Through Change", a blog series where authors from many perspectives and roles in early childhood explore ways to support educators and the families they serve during this period of rapid change. 
As a parent of three- and six-year-old children and working full-time, I want to tell all teachers to "lay their burdens" down. There is a sense that if children have fallen "behind," then it must be because teachers weren't doing their job. Far from it! What many don't realize is that teaching young children is akin to being a parent. I can't imagine trying to "parent" my children via video conferencing  and then send them letters to remind them how much I love them. I am sure my kids would not appreciate this, and they likely won't thrive without some help and support from family members and other support networks. I'd like to share my message with all education leaders, political pundits, and most importantly policymakers who continue to debate whether teachers need raises and whether early childhood educators should be paid more. Our teachers are our family, and they are essential. I hope this new normal moving forward means truly appreciating our early care and education professionals and not laying the burden of human development and growth solely on their shoulders.
I want teachers to know that you can support families during future stay-at-home times not by providing more Zoom circles or Google Hangouts to children (I actually have needed less of that!), but by using those same tools and checking in with families. There was a time in the beginning of the period when parents were screaming for more work and Zoom circles to keep their children engaged while they worked or dealt with stay-at-home orders and all the life challenges the pandemic brought. What I believe parents really needed was to talk to another person who understood their children's needs, emotions, and the things that got their children to focus and attend to the work, task, or activity at hand. The parents did not need more worksheets, they needed someone they could reach out to who understood their children. Thus, I would encourage teachers to consider turning the cameras on parents and ask them how they are doing--and turn those  Zoom Circles for children into Zoom Circles for parents and families.
Teachers can be the conduit to connect families with children who are experiencing some similar losses and routine challenges, and group support is valuable. Teachers could be the glue to hold families together and expand their networks and social support. I don't think this should all lay on teachers' shoulders, but they could be the essential force to keep all of us sane until we get to a  new normal post-COVID. 
Iheoma U. Iruka
Iheoma U. Iruka, PhD, is research professor in public policy and founding director of the equity research action coalition at the Frank Porter Graham Child Development Institute at the University of North Carolina at Chapel Hill. Dr. Iruka is engaged in projects and initiatives focused on how evidence‑informed policies, systems, and practices in early education can support the optimal development and experiences of children who are from households with low income, ethnic minorities, and immigrants. She is focused on ensuring healthy development and excellence for young diverse learners, especially Black children, through classroom and family tools, the examination of nontraditional pedagogical approaches, public policies, and publications geared toward early education practitioners and policymakers. She is an author of several books, including Don't Look Away: Embracing Anti‑Bias Classrooms (Gryphon House, 2020). Dr. Iruka serves or has served on numerous national boards and committees, including the Brady Education Foundation, the American Psychological Association's Board of Educational Affairs Task Force on Racial and Ethnic Disparities, and the National Academies of Sciences, Engineering, and Medicine committees on Supporting Parents of Young Children and Applying Neurobiological and Socio‑Behavioral Sciences from Prenatal through Early Childhood Development: A Health Equity Approach.