Using Technology to Enhance Children's Learning at Home and at School: Building Relationships is Key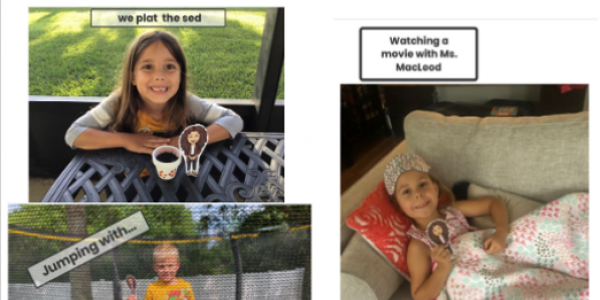 Diane Bales, Kelly Dalsemer, Bonnie Blagojevic, Lynn Hartle, Noelle Chung, Katie Gardner, Kelsey MacLeod, Juana Rodriguez-Vazquez
In the spring of 2020, when many schools and early care centers abruptly closed because of the COVID-19 pandemic, teachers were expected to quickly ramp up distance learning and family supports for the young children in their classes, using their school's existing technology tools. 
Schools that already had strong relationships with families and digital communication systems in place were at an advantage. Other programs had to quickly learn new tools and develop strategies. In all subject areas, teachers needed family support to help children learn, and they had to consider what strategies and technologies that could strengthen participation and partnership. 
This blog post features four educators (pre-K, kindergarten, ESL, migrant education) in culturally diverse programs who focused their intentional teaching with guidance from the NAEYC & Fred Rogers Center Position Statement on Technology and Interactive Media (2012). The approaches that these four educators used this spring can help other teachers who are continuing virtual teaching this fall, this time with children and families who are new to their classrooms. Here are some steps teachers can take to get to know children and families, and ensure that children are put first:
Make sure that caring relationships take precedence over technologies. 
Carefully select learning activities, tools, and technologies that promote children's critical thinking, collaboration, creativity, and communication skills.
Provide learning experiences in the context of scaffolded and supported exploration.
Ask families about their availability to support at-home learning. Inquire about how many devices they have at home and the state of their home's internet connectivity. Adjust plans accordingly.
Meeting Families Where They Are: Ensuring Equitable Access

As the pandemic forced educators to shift to virtual classes, the teachers' first priority was connecting with families. In keeping with the NAEYC Advancing Equity In Early Childhood Education position statement, teachers asked themselves, "What are we doing to ensure all families are included during this time of distance learning?" 
Juana, a Migrant Education Regional Coordinator, first asks teachers, "Are we meeting families where they are? Are we partnering with families in ways that will actually work for them?" Providing support and building relationships with families is important—not just handing out tech equipment and resources, but truly creating a partnership. 
Teachers provided meaningful support for families to learn to use technologies as tools to explore and learn at home with their child. A virtual meeting with families was held in March to help identify challenges to participation and brainstorm solutions

Click to watch Juana explain Access Issues for ALL families 




Meaningful Learning with Materials at Home

Before the pandemic, teachers never expected families to take on so much of the teaching and support of children's learning. To effectively partner with families, teachers had to determine:
what non-digital materials families already had that could be used as learning tools (e.g., nature; loose items such as beans, dice, blocks; writing and drawing tools; books or magazines);
what internet access and digital tools, such as devices, websites, apps, were available to families;
and what supports were needed for families to learn tools and apps to engage with both digital and non-digital tools to support their children's learning.
Noelle, a pre-K teacher, introduced Story Stones as a way for students and families to enjoy storytelling together using materials that families could readily access at home. Story Stones, or Story Circles, can be made from various materials, including stones, cardboard or paper circles, or plastic lids, and decorated with paint, glitter, and crayons. As a simple and practical guidance for families, Noelle shared a video of herself demonstrating how to create and use the Story Stones. 
Children could use paint or any writing instrument to illustrate their own characters, settings, and other objects on their stones. Families used their phones, tablets, or laptops to record videos of children's stories and then uploaded the videos to SeeSaw (an online sharing platform). This learning experience provided children the opportunity to express themselves creatively and narrate their own unique stories while also using tactile, moveable pieces.

Click to watch Noelle explain the directions for making Story Stones and see some of the children's creative projects 




 A Kindergarten Teacher's Letter Introduces a Storytelling Activity

To maintain strong relationships with her kindergarten students, Kelsey mailed a letter containing a Bitmoji-created "Flat Teacher" of herself with an invitation to her students to "take me around to all the places; take a picture of me with you; just let me see your faces." (The activity was inspired by a book they read — Flat Stanley.)  Over the spring and into the summer, the children used Seesaw to post many photos of activities they shared with "Flat Teacher Ms. MacLeod," including planting seeds, jumping with family, and watching movies.

 Click to watch Kelsey share the children's experiences with Flat Teacher 




Invite and Scaffold Learning

According to a report by Sesame Street Workshop, connecting formal school learning to informal experiences at home and in the community supports and enriches children's learning. In an effort to make these same type of connections during distance learning, teachers developed strategies to introduce literacy activities that children would have done at school to projects that could be done at home, both on and off digital devices.
Katie, a kindergarten English-as-a-second-language teacher, asked students to use their tablets to practice language domains in Blended Learning lessons (a mix of face-to-face instruction with technology-mediated activities). Students completed creative tasks, such as one titled "Dream Yard." In Seesaw, Katie provided step-by-step written directions in English and Spanish, as well as English audio-recorded instructions with learning expectations.
Children first viewed a model Dream Yard that Katie created. Students were then asked to use the camera on their tablet to take pictures of their yards. To create their own Dream Yards, they used the drawing tools to add features such as play equipment, trees, and animals. Some even added swimming pools. Students then added an audio recording describing the yard of their dreams and shared their final products with the class through SeeSaw.

     Click to view some of the children's Dream Yards  




Conclusion

Although the pandemic poses many challenges, it also presents many opportunities, such as partnering with families to strengthen learning opportunities for children. Through interactive technologies, teachers can provide direct instructional support and continue rich conversations with children and their families.
Kelsey, Juana, Noelle, and Katie shared these stories and more in the May 2020 webinar,  "Children and Families as Digital Creators and Storytellers: Lessons Learned" presented by the NAEYC Technology and Young Children Interest Forum (funded by a NAEYC mini-grant). Links to this webinar and another, along with additional mini-grant activities and related resources, can be found in the "Children and Families as Digital Creators and Storytellers" Wakelet collection at https://wke.lt/w/s/7ELzSR. 
We invite you to continue this discussion on the NAEYC HELLO Community: During this time of distance learning, what strategies have you found work well to build relationships with all families and ensure all children can participate?
This blog is authored by member's of the NAEYC Tech and Young Children Interest Forum.
Diane Bales
Diane Bales, PhD, is the Associate Professor of Human Development and Family Science at the University of Georgia
Kelly Dalsemer
Kelly Dalsemer, MEd is a Early Childhood Instructional Resource Teacher at Orange County Public Schools, Orlando, FL; Adjunct Professor, University of Central Florida.
Bonnie Blagojevic
Bonnie Blagojevic works as an early childhood education consultant at Morningtown Consulting, in Maine.
Lynn Hartle
Lynn Hartle, PhD is a Professor of Education at the Pennsylvania State University, Brandywine.
Noelle Chung
Noelle Chung works as a Title I Pre-K teacher at Knollwood Elementary in Salisbury, NC
Katie Gardner
Katie Gardner works as a Kindergarten ESL teacher at Knollwood Elementary in Salisbury, NC
Kelsey MacLeod
Kelsey MacLeod works as a Kindergarten teacher at Whispering Oak Elementary in Winter Garden, FL
Juana Rodriguez-Vazquez
Juana Rodriguez-Vazquez works as Migrant Education Services Director for Mano en Mano in Milbridge, ME