Hello Book Club: NAEYC Members Discuss Big Questions for Young Minds by Janis Strasser and Lisa Mufson Bresson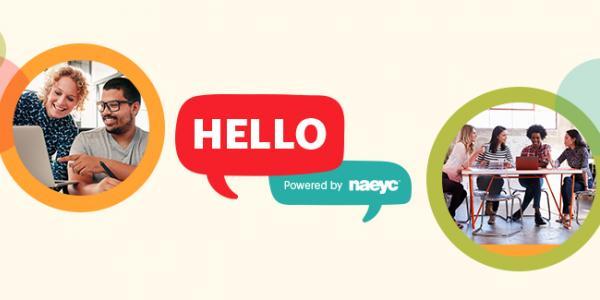 Last month, NAEYC continued with the second iteration of our successful online book club, as members were invited to read Big Questions for Young Minds: Extending Children's Thinking, by Janis Strasser and Lisa Mufson Bresson.
Each week during July, the two authors posted questions exploring key ideas and takeaways from the book. The result was an engaging discussion between the authors and members, complete with real-life classroom examples and ideas on how to encourage children to think deeply.
Here are a few excerpts from the discussion on HELLO:
Inspiring Higher-Level Thinking in Children

To begin the discussion, Janis (NJ) asked members if the introduction section of the book had inspired anyone to try new questions with children. Cheryl (TX) responded by saying how thrilled she was when the book landed on her desk. She added, "I found the charts to be a great visual tool for me and I am beginning to create similar charts with our own questions for our programs." Sherrie (CA) jumped in by saying that she loved the reminder to start questions with "I wonder" or "What do you notice," and that it was a practice she adapted in her own classroom. Sherrie also noted how, after reading the introduction, she was inspired to post sample questions in the various rooms of her classroom, such as "How did you get that idea?" in the block area and "How does this piece of writing make you feel?" in the writing area. Lisa (NJ) thanked Sherrie for her examples and expanded on them by saying, "Not only is the children's thinking extended, but our connection with individual children deepens when they see how genuinely interested we are in their work."
Supporting Higher-Level Thinking for Alternative Learners

Makaila (TX) asked the book club to help her with a problem. After introducing the concepts of Big Questions to her coteacher, the coteacher responded by saying she did not believe all children were capable of higher-order thinking. Makaila does believe all children are capable of higher-order thinking and wanted advice on how to support coworkers on accepting the differing abilities of young children and including them in richer "conversations." Betty (CA) weighed in with the example of Reggio Emilia and how "special rights" children work alongside all the children in the class at their level of development. She said that "asking big questions gives these early learners the opportunity to build synapses and self-confidence." Pamela (NJ) agreed with Makaila and responded by saying, "Your assistant is not the only one who believes this about children with disabilities. In many situations, it is not the disability that is the problem—it is because children with disabilities have not been given the same opportunities or experiences as their typically developing peers to draw upon to develop these skills." She finished by saying that often times you simply need to give students with disabilities the opportunities to practice and develop those skills.
The conversation continued with members discussing challenges that educators face while asking young children high-level questions, as well as ideas on how to turn closed-ended questions into open-ended ones.
 
---
Although July's book club is over, the discussion online never truly ends. Has Big Questions for Young Minds inspired ideas in your own classroom? Or maybe you haven't read the book yet but are interested in applying it in your classroom. Whatever your interest, we want to hear your thoughts and experiences! Log on to Hello today to get started.
Gilmar Rosas
Gilmar Rosas is Community Manager at NAEYC.