Excerpt from Nurturing Creativity: An Essential Mindset for Young Children's Learning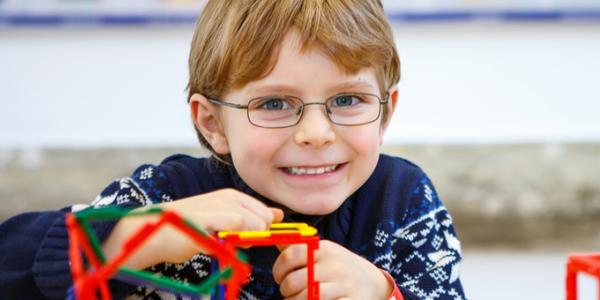 What Do Today's Children Need for Their Future?

Experts, business leaders, and educators identify several skills and abilities that today's young children need now and in the future (Trilling & Fadel 2009, 8–11; AMA 2010, 3). Children need to be
Creative thinkers who can deal with practical and abstract issues, some of which have not yet even arisen
Flexible and able to adjust to an increasingly complex world filled with information, technology, and diverse people
Problem solvers who will be ready for the challenges and opportunities they will face
Able to generate innovative ideas
With new technology and an ever-expanding, information-based economy, nurturing children's creativity and curiosity while providing a solid foundation in critical thinking, communication, and math is the best way to prepare them for their future (Diamandis & Kotler 2012).
To nurture these skills and abilities, early childhood classrooms must include creative experiences that intrigue children, encourage problem solving, evoke a sense of curiosity and initiative, foster innovative ideas, and include open-ended materials that challenge children's thinking. Young children need opportunities to follow their interests, make choices, collaborate with others, and find meaning in their experiences. They also need teachers who recognize their creative ways of seeing the world and value their growing potential. Children need provocations—invitations to explore an idea or a concept—that match their interests, questions, and actions, and that allow them to gain a deeper understanding of the concepts
they are investigating.
The challenge for early childhood educators is establishing an environment where children can, through both teacher- and child-guided experiences, explore, establish goals and plans, work on projects of their own choosing, take responsibility for some of their own learning, search for ideas, question possibilities, probe deeply, try diverse solutions, communicate, revisit and revise their goals, evaluate, and discover excitement in the inventive process. Rather than prepare children to simply follow directions and do well on tests that focus on limited knowledge and skills, we must nurture creative, critical thinkers who are free to make mistakes and encouraged to learn from them. Children need an environment where they are able to expand their thinking and find new possibilities while gaining creative confidence in their abilities.
Throughout this process, children also need opportunities to strengthen their social and emotional development with a knowledgeable teacher who values creative thought, supports unique efforts, and plans experiences based on the knowledge and skills she knows children need to develop. Along with experiences in literacy, math, science, and social studies, young children need to pursue the visual arts, music, movement, and drama (Edwards 2010; Fox & Schirrmacher 2015; Isenberg & Durham 2015). Children also need the six aptitudes, or senses, of high touch—design, story, symphony, empathy, play, and meaning (Pink 2006). Teachers weave these elements together in ways that support every area of children's learning—intellectual, social and emotional, physical, and creative.
Seeing the Importance of Risk and Mistakes

Whenever a teacher or child tries a new idea or does something differently, he takes a risk: each attempt has the potential to fail. An old adage says, "Anyone who has never made a mistake has never tried anything new." Taking a risk, guessing, or trying something different can be difficult. Most people, including children, are more hesitant to take risks in an environment where conformity is expected and rewarded. Taking a leap into the unknown is scary, and many adults and children do not enjoy taking risks because of past failures or negative experiences.
However, the majority of innovations, experiments, inventions, writings, and designs happen because the creator deviates from convention. In a classroom that inspires creative thinking, teachers and children learn to be comfortable taking risks and making mistakes, both of which are an important part of learning, discovering new ideas, and refining the process of creating.
One way to encourage children to branch out and try new things is to ask open-ended questions and provide supportive, nonjudgmental comments that keep children's ideas flowing. Remember to consider your facial expressions, gestures, intonation, and wait time. When posing any questions or providing support, listen carefully and reflect on what a child is sharing. Some teachers, while well intentioned, ask a barrage of open-ended questions while children are involved in something, which can easily frustrate children or cause them to lose interest in their own ideas. Make sure the questions you ask are genuine, judicious, and help children think more deeply about what they are doing and what they want to achieve. Then give them time to consider and respond to your questions at their own pace. Listening to children is a critical part of providing appropriate words, questions, and support.
To help children plan what they're going to do
Tell me about your plan
How would you solve . . .?
What will you do if your idea doesn't work?
When children are stuck or need encouragement or direction
Keep going . . . you are on track.
Are you stuck? How can I help?
I noticed . . .
To encourage children to explain their thinking or go deeper
Where do you go from here?
What would happen if . . . ?
What would be another way . . .?
To help children reflect on what they did and learn from it
When was the hardest time coming up with this idea?
Tell me a story about your work.
Would you want to do something different next time?
---
From Nurturing Creativity: An Essential Mindset for Young Children's Learning, by R. Isbell & S.A. Yoshizawa. Copyright © 2016 by the National Association for the Education of Young Children.
 
Watch a recorded webinar about the importance of creativity and how to help children develop it presented by the authors of this book, Rebecca Isbell and Sonia Akiko Yoshizawa
Buy the Print Book