Spotlight on Young Children: Observation and Assessment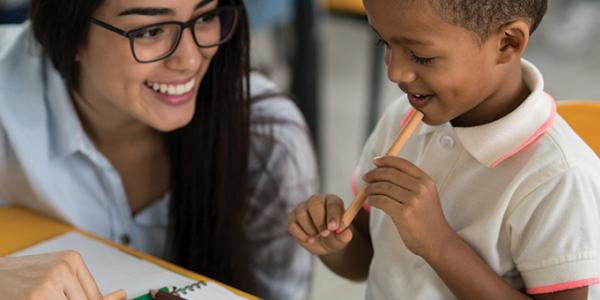 Holly Bohart, Rossella Procopio
About the Book

The debate surrounding testing and accountability in early childhood education continues, but one thing is universally agreed upon: effective observation and assessment of young children's learning are critical to supporting their development. Educators balance what they know about child development with observation and assessment approaches that both inform and improve the curriculum. This foundational resource for all educators of children from birth through third grade explores
What observation and assessment are, why to use them, and how

Ways to integrate documentation, observation, and assessment into the daily routine

Practices that are culturally and linguistically responsive

Ways to engage families in observation and assessment processes

How to effectively share children's learning with families, administrators, and others 
Find inspiration to intentionally develop and implement meaningful, developmentally appropriate observation and assessment practices to build responsive, joyful classrooms. 
Product Code: 2842 
ISBN: 978-1-938113-34-5
Publish Date: 2018
Citation (in Chicago 17th ed. style): 
Bohart, H., & R. Procopio, eds. 2018. Spotlight on Young Children: Observation and Assessment. Washington, DC: NAEYC.
Holly Bohart
Holly Bohart is senior editor in Books and Related Resources at NAEYC. She formerly taught in special education early childhood programs.
Rossella Procopio
Rossella Procopio is editor of Books and Related Resources at NAEYC.
Reviews
This is a must-have book for both in-service and preservice teachers. It addresses the continuum of observing and assessing children from birth to grade 3, including approaches for children who are dual language learners. With engaging, easy-to-read articles written by various experts in the field, this text is ideal for college courses and makes the challenging task of formative and summative assessment not only understandable but doable.
—Holly Seplocha, Professor of Elementary and Early Childhood Education, William Paterson University
 
This book offers practical strategies and solutions to help teachers of young children embed authentic assessment into daily routines and activities. The considerations for culturally and linguistically appropriate assessment and for children with disabilities, as well as the reflection questions, help professionals apply authentic assessment concepts to the children with whom and the settings in which they work. 
—Margaret Gillis, Education Researcher, SRI International
 
Through a wealth of practical ideas and strategies, a strengths-based approach that includes families, and in-depth discussions of assessment methods, this valuable resource makes high-quality assessment an attainable goal for everyone.
—Margo Dichtelmiller, Emeritus Professor, Eastern Michigan University
 
The process of assessment, including observation and documentation, is critical in assuring that teaching and learning are unequivocally linked. This collection of articles provides many perspectives and strategies for ongoing, authentic assessment in the early childhood classroom.
—Alison Maher, Teacher Education Director, Boulder Journey School
Buy the Print Book
Buy the E-book
Read an excerpt