Spotlight on Young Children: Social and Emotional Development, Revised Edition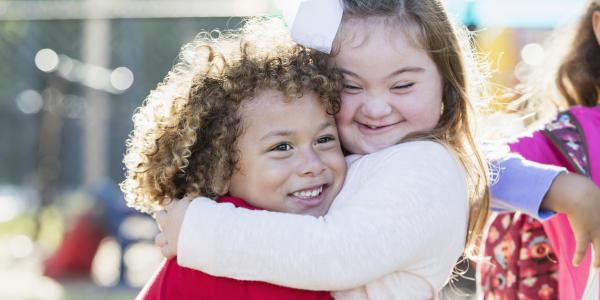 About the Book 

Children's relationships and experiences during their formative years have a far-reaching impact, and early childhood educators play a critical role in fostering the social and emotional competence children need to process and learn from these interactions. Explore how teachers can use the opportunities embedded in their curriculum, practices, and routines to support positive, healthy behaviors in children from birth through age 8. 
The revised and updated edition of this volume reflects recent advances in brain science, the field's heightened recognition of children's cultural contexts as central components of their social and emotional development, and more. It covers a wide range of timely and timeless topics, including how to   
Establish trusting relationships to teach, model, and reinforce positive behaviors 
Honor each child's dimensions of diversity and support the development of their individuality and humanity  
Engage in social justice projects that increase children's empathy and sense of agency  
Mitigate the effects of trauma in children's lives 
Implement strategies that relieve anxiety and teach coping skills  
Each article in this collection also includes questions to prompt deeper thinking on the content, highlighting connections to developmentally appropriate practice. Using the guidance in this resource, help children develop the social and emotional skills essential to their future well-being and success. 
Introduction
Marilou Hyson
Part One: Identifying and Building Strengths 
Part Two: Building Caring, Peaceful Communities 

Supporting Peer Relationships and Social Competence in Inclusive Preschool Programs 
Adam S. Kennedy 
Guidance Strategies to Prevent and Address Preschool Bullying 
Jill M. Raisor and Stacy D. Thompson  
Never Too Young to Champion a Cause: Supporting Positive Identity Development Through Social Justice Curriculum in Preschool 
Veronica Benavides, Roxanne Ledda, and Maimuna Mohammed

Part Three: Supporting Children and Families in Difficult Times 

Creating Trauma-Sensitive Classrooms 
Katie Statman-Weil 
Supporting Anxious Children in the Preschool Classroom 
Sierra L. Brown, Allison Aberson, Stephanie Easley, and Kara E. McGoey 
Welcoming Refugee Children into Early Childhood Classrooms 
Sadia Warsi  
Using Nature Contact to Support Children Under Stress
Becky L. DelVecchio, Susan Ferguson, and Wesley Knapp  

Part Four: Integrating Social and Emotional Perspectives into the Curriculum

Three for One: Supporting Social, Emotional, and Mathematical Development in Preschool and Kindergarten 
Linda M. Platas  
Partnering with Families: Supporting Social and Emotional Development Through Picture Books 
Alison Hooper 
Paired Learning: Strategies for Enhancing Social Competence in Dual Language Classrooms 
Iliana Alanís and María Guadalupe Arreguín 
Product Code: 1164 
ISBN: 978-1-952331-14-5 
Publish Date: 2023 
Citation (in Chicago 17th ed. style): Hyson, M., ed. 2023. Spotlight on Young Children: Social and Emotional Development. Rev. ed. Washington, DC: NAEYC. 
Articles 

"Outdoor Recess Matters! Preventing and Reducing Children's Challenging Behavior on the Playground"
- Authors Hsiu-Wen Yang, Michaelene Ostrosky, Paddy Cronin Favazza, Yusuf Akemoğlu, W. Catherine Cheung, and Katherine Aronson-Ensign outline the challenging behaviors that can occur for children with and without disabilities during recess. They detail a wide-ranging approach for preventing and responding to challenging behaviors during this play-filled part of the day. (
Young Children,
Summer 2022) 
Marilou Hyson
Marilou Hyson, PhD, consults nationally and internationally on early childhood issues, with special emphasis on emotional development and professional development for teachers. Formerly, Marilou was NAEYC's associate executive director for professional development, where she led the development of several position statements and standards. She has been a preschool and kindergarten teacher and a university teacher educator.
Reviews
This updated version of Spotlight on Young Children: Social and Emotional Development is an essential handbook for all early childhood practitioners. (Book study, anyone?) Kudos to the authors for elevating cultural variations in social and emotional development and norms, links to violence prevention, and how child well-being is a direct reflection of family and educator well-being. 
—Kristen E. Darling, Research Scientist, Early Childhood Development, Child Trends 
Grounded in evidence-based practices, important aspects of social and emotional development are highlighted and paired with clear, relatable examples and easy-to-implement strategies. Reflection questions throughout encourage the extension and application of the material. This book is a great resource for all who work with young children.   
—Keri Giordano, Associate Professor, Department of Advanced Studies in Psychology, Kean University 
Current research has consistently shown strong linkages between early childhood mental health and future outcomes. This revised edition uses this information to provide a deep but swimmable dive into how those involved in early childhood education can foster social and emotional health in their classrooms, with children and their families as well as amongst educators. I particularly enjoyed the book's treatment of trauma and early childhood stressors! 
—Herbert Hickey, Early Childhood Educator, Horizons for Homeless Children 
The authors have written an extraordinarily accessible book for educators that offers crucial insights, inspires contemplation, and is packed with examples and an abundance of resources. This book absolutely moves the early childhood field forward.  
—David Walz, Bilingual School Psychologist and Child and Family Advocate, AdvocacyDenver   
This is an excellent resource for early childhood educators seeking culturally responsive approaches to creating resilient, inclusive, and trauma-sensitive classrooms that support young children experiencing stress, anxiety, and bullying. 
—Teresa Byington, Professor/Specialist of Early Childhood Education, University of Nevada, Reno Extension, and Author of Lose the Lecture 
This book is not only a must-read but one that can be referenced back to for ongoing support. Through this compilation of rich content, useful references, and quality-driven resources, readers will better understand the role of both the caregiver and educator in maximizing performance on a child-centered level, learning environment level, and family/community level. 
—Nagwa Elsamra, School Social Worker, Elizabeth School District 
With expanded articles on a wider range of topics, this new edition of a classic book is well-arranged into four cohesive parts. Contemporary issues are raised in an accessible way, with every one of the articles offering helpful charts, appropriate resources, and interesting reflection questions. This resource will be consulted over and over again, until the pages start to fall out and it's time for the next edition.  
—Ellen A. Cogan, Owner and Chief Consultant, Hilltop Early Childhood Services 
Buy the Print Book
Buy the E-book