Now Read This! Curious George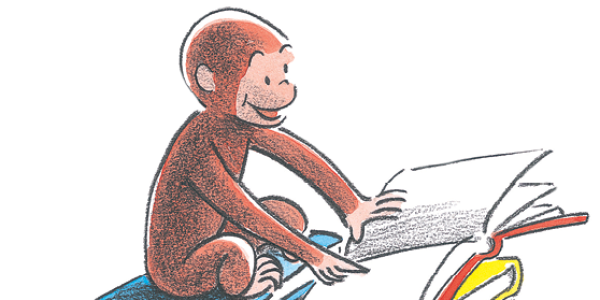 You are here
Curious George is one of the most beloved and well-known children's book characters of all time. Since the first book's publication in 1941, the series has sold over 75 million copies and has been translated into 25 languages. George appears in countless books—teachers can read the original Curious George along with other favorites from the series, like Curious George Goes to the Hospital (Houghton Mifflin, 1966). This lets children reconnect with a favorite storybook character throughout the year. Read on to discover ways to use Curious George in your classroom or family child care program!
---
Louise Borden. 2016. Houghton Mifflin Harcourt.
Ever wonder how Curious George came to be? Teachers can use this informative history of the series' authors to learn about Margret and H.A. Rey's harrowing lives—and George's fascinating beginning!
Louise Borden takes the reader on a journey from the Reys' childhoods in Europe to their time living in Brazil (in an apartment with two mischievous marmosets—sound familiar?) to their bicycle-riding escape from Paris during World War II. While teachers will not want to share every detail with the children in their classrooms, the book holds important lessons on creativity, bravery, and perseverance.
Try this:

Develop an author study on the Curious George books by the Reys as well as the books inspired by them. Read the books during story time, and incorporate activities into centers and small groups.
Plan a classroom birthday party for George, and have children make invitations and decorations.
Visit www.curiousgeorge.com/curiosity-day for more ideas and resources!
H.A. Rey and Margret Rey. [1941] 1993. Houghton Mifflin.
The classic book that started it all! George is a good little monkey, but he is always very curious. In his first story, George meets the man with the yellow hat and travels with him to a zoo in a big city. Children today are still delighted by George's adventures: sailing on a ship from Africa to a new city across the ocean; discovering new and exciting objects, such as the telephone; and flying through his new city while hanging on to a bunch of balloons. George's first tale sets the stage for his troublemaking and curiosity in stories to come!
H.A. Rey and Margret Rey. 1963. Houghton Mifflin.
Follow along with George as the man with the yellow hat shows him the letters of the alphabet! Each letter is represented by an object or animal that children will be familiar with, from alligators to mice to zebras. George learns to write both upper- and lowercase letters—all while still getting into trouble!
Try this in the . . .

Dramatic play center: Add yellow straw hats, sailor clothes, and a play telephone so children can dress up and re-create George's adventures!
Writing center: Have children dictate letters to Curious George; add word cards like George, man, yellow, and hat.
Library center: Offer a variety of Curious George books in the classroom library so children can follow George's stories on their own or with a friend. Include some in the home languages of the children in your class. Stock books about the objects and animals the man with the yellow hat uses to teach George about the alphabet. Children can read more about goldfish, ostriches, snails, and jaguars, just to name a few!
Block center: Children can use blocks and toy cars to recreate the houses, streets, and vehicles George sees when flying over the city with balloons.
Art center: Provide children with large chart paper so they can draw letters—or begin to draw letters—like the man with the yellow hat! Have children illustrate their favorite scenes from a Curious George book.
Exploration station (sand and water table): Provide plastic boats like the one George travels on so children can explore floating and sinking.
---
For more details on Curious George books, visit…

To play Curious George games and more, visit…

http://pbskids.org/curiousgeorge
---
Book covers and artwork courtesy of Houghton Mifflin Harcourt
Joellyn Powers
Joellyn Powers, MFA, is an assistant editor for Young Children and Teaching Young Children.