The Reading Chair: Winter 2021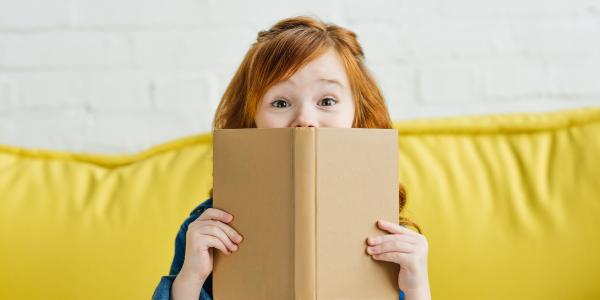 You are here
Isabel Baker, Miriam Baker Schiffer
Kind

By Alison Green. Foreword by Axel Scheffler. Illus. by various artists. 2019.
New York: Scholastic Press. 48 pp. Ages 3 to 8.
This book features the artwork of 38 top-notch illustrators, each of whom brings to life a different aspect of kindness: giving a hug, listening, patience, being kind to animals, making room for a new friend, being curious about others. In the foreword, Axel Scheffler, one of the illustrators, writes of the importance of connecting with others through kindness, especially at a time when our world can feel divided. Each page offers a jumping off point for a different conversation or learning experience. Make a class kindness jar as described in the book; share words from each other's languages; talk about and celebrate the ways classmates are the same and different.
---
Curious About Birds

By Cathryn Sill. Illus. by John Sill. 2020.
Atlanta: Peachtree Petite. 22 pp. Ages 1 to 4.
In this informational book, lovely, simple language is paired with delicate and detailed illustrations about birds. This board book is well balanced, conveying a lot of information without overloading the small pages. Young readers will be transfixed, and the language will invite adults and children to converse about what they see. The birds are named at the bottom of each page, helping readers appreciate and identify the natural world they are learning about. The Sills, who are accomplished naturalists, have created a rare and rich science title made successfully into an accessible board book.
This book could spark various nature-based learning activities. Take a walk outside with children to listen to bird songs. Collect feathers and discuss how they look and whether they feel similar or different from each other. Older children can build their own bird nests using found objects, like twigs, mud, and leaves.
---
My Hair Is Beautiful

By Shauntay Grant. 2019.
Halifax, Canada: Nimbus Publishing Ltd. 14 pp. Ages birth to 4.
This board book offers a poetic celebration of Black hair. It is simple enough for young readers, with two words and a picture of one child per page, but rich enough to attract older readers too. The alliterative language ("Cornrow Curly . . . Simply Stated . . . Beaded Braided") introduces interesting vocabulary, and the quality photographs feature irresistible faces. This joyous book ends with a mirror on the last page that invites each and every reader to see themselves as part of the celebration of hair.
---
My Bed: Enchanting Ways to Fall Asleep Around the World

By Rebecca Bond. Illus. by Salley Mavor. 2020.
Boston: Houghton Mifflin Harcourt. 40 pp. Ages 3 to 8.
Bedtime and sleep are universal. But the ways in which people sleep around the world vary widely. Rooftop beds provide a cool breeze in the desert of Morocco. A stovetop bed provides warmth in Russia. A hammock bed in South America can protect against scorpions and snakes. Each page has a summary sentence in large font for young readers. In smaller print, additional detail is provided for children who would like to learn more about why different types of beds are used in different countries.
Mavor's pictures are amazing. She uses meticulous, hand-stitched embroidery to render three-dimensional figures from fabric, beads, and wire. Her scenes incorporate local architecture, animals, patterns, furnishings, and landscape. Children will love open-ended discussions about their own sleep routines and transition objects (like blankets and stuffed animals) along with those in the book that they might like to try.
---
Mayhem at the Museum: A Book in Pictures

Illus. by Luciano Lozano. 2020.
New York: Penguin Workshop. 40 pp. Ages 3 to 8.
Visiting a fine art museum may be daunting for young children. There are the big halls, the imposing architecture, and the need to keep still and quiet. But for one little girl visiting the Metropolitan Museum of Art in New York City, the artwork comes playfully to life. Literally! A young piano player in a piece by Pierre-Auguste Renoir makes faces at her. Vincent van Gogh hands her a straw hat from atop his head in a self-portrait. And Paul Cézanne's apples spill onto the floor, providing a nice snack for her and her diverse school group, who are soon adorned with costumes, flowers, and instruments from the paintings. The welcoming museum guard encourages their creativity, and everything is put back in the paintings by the time the children head home. The featured paintings are listed at the back of the book, which will help teachers extend the book into classroom conversations and experiences.
---
Forever Favorite

On Market Street
By Arnold Lobel. Illus. by Anita Lobel. 1981.
New York: Simon & Schuster Books for Young Readers. 40 pp. Ages 3 to 7.
Beloved illustrator Anita Lobel was inspired to create this book on a trip to Paris, where she and her husband, Arnold, discovered 17th-century theatrical posters of people constructed from the objects of various trades. From that, the couple spun this fantastical Caldecott Honor-winning alphabet book about a boy's shopping extravaganza to buy gifts for his friend, who is a cat. Each letter of the alphabet features a person whose body is made from the wares they sell (apples, books, clocks, doughnuts, eggs, flowers, and so on). Didactic alphabet books can feel forced, but when the story and the art come first—as they do here—and the alphabet is integrated within that, the result is an inspiring, timeless book that children will want to pore over again and again. This is an excellent browsing book. Children and adults will enjoy pointing out and discussing the various objects they see and making connections to the world around them. It can even inspire the creation of an alphabet book at home or in school about the objects children encounter on a street near them.
---
Copyright © 2021 by the National Association for the Education of Young Children. See Permissions and Reprints online at NAEYC.org/resources/permissions.
Isabel Baker
Isabel Baker, MAT, MLS, is the founding director of The Book Vine for Children, a national company dedicated to getting good books into the hands of preschool children and their teachers. Isabel has worked as a children's librarian and is currently a presenter on early literacy and book selection.
Miriam Baker Schiffer
Miriam Baker Schiffer, MFA, is a writer in Brooklyn, New York. She consults on book selections for The Book Vine, in McHenry, Illinois. Miriam's children's book, Stella Brings the Family, was published by Chronicle Books in 2015.