Mensaje en la mochila: Cómo guiar el comportamiento de su hijo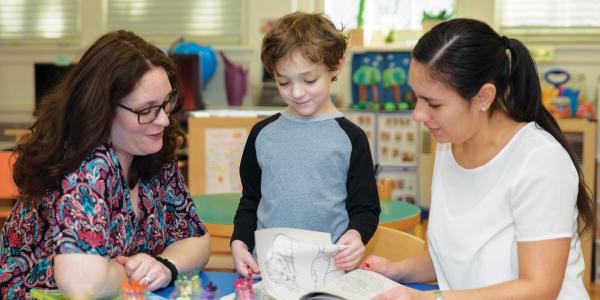 You are here
Este mensaje es para recortarse, fotocopiarse y enviarse a casa con los niños como recurso para los padres. Está disponible también por internet en NAEYC.org/tyc.
Su niño de edad preescolar está aprendiendo comportamientos positivos justo como está aprendiendo nuevas palabras y habilidades. Los comportamientos difíciles suelen ocurrir cuando los niños sienten que no tienen otra manera de expresar sus sentimientos o de obtener lo que necesitan. Es importante que usted se mantenga calmado, paciente y constante mientras ayuda a su hijo a comprender las expectativas.
Su hijo está muy molesto y hace un berrinche. 

Pruebe esto:
Considere lo que podría ser la conexión con el berrinche. ¿Tiene hambre, está cansado o necesita ir al baño? Trate estas necesidades primero.
Anime a su hijo a respirar hondo; lo pueden hacer juntos.
Hable en voz baja y agáchese al nivel de su hijo.
Desarrolle consecuencias lógicas que se relacionan con el comportamiento no deseado, prométalas y cumpla su palabra de implementarlas. ("Si no puedes esperar a que te toque usar el columpio, vamos a las resbaladillas"). 
Cuando su hijo está tranquilo y relajado, es buen momento para establecer ciertas cosas para animar el comportamiento positivo.

Pruebe esto:
Conversen sobre las reglas y expectativas de la familia. Su hija puede ayudar a idear reglas y las consecuencias de no seguirlas.
Refuerce los comportamientos positivos. ("¡Estás usando tus palabras para explicar qué quieres!").
Ayude a los niños con los comportamientos que les cuesten trabajo aprender, como el de esperar su turno. Practíquelos juntos.
Dé apoyo demostrando comportamientos positivos. 
---
Fotografía: Por cortesía de Paul Gargiulo
Keri Giordano
Keri Giordano is an assistant professor at Kean University. She has been in the field of early childhood for 21 years and specializes in working with children with challenging behaviors and their teachers and families.