Message in a Backpack™: Going Beyond the Playground: Math, Science, and Outdoor Fun رسالة في حقيبة الظهر™ - ما بعد الملعب: الرياضيات والعلم والمرح في الخارج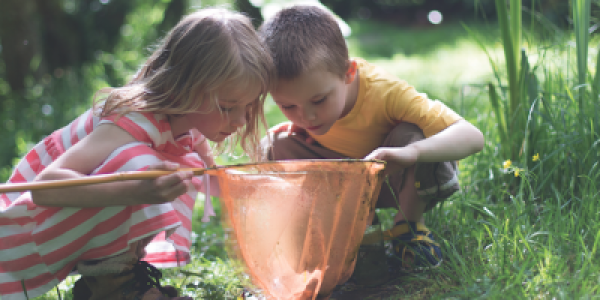 You are here
يعتبر الخروج للمشي أو إلى أحد المتنزهات المحلية للعب، أحد الطرق الرائعة لمساعدة أطفالك على التعلم! فبالإضافة إلى قضاء الوقت في الملعب، خصصوا بعض الوقت للاستكشاف: هل ترون أشجارًا يمكن عدها، أو جيرانًا يمكن تحيتهم، أو لافتات في الشارع يمكن قراءتها؟ 
---
توجد هنا بعض الأفكار الخاصة بالتعلم من خلال اللعب، والتي سوف تساعدكم على الاستغلال الأمثل لوقت الأسرة في الملاعب الخارجية.
لعبة البحث عن لافتات الشارع

بينما أنتم سائرون في أرجاء الحي، أدع طفلك للبحث عن اللافتات والتعرف عليها، مثل "قف" "و ممنوع الوقوف قطعيًا". وتحدثوا عنها. إن من شأن ذلك أنه يساعد الأطفال على إدراك أن الكلمات المكتوبة والرموز  لها أغراض مهمة عديدة: لتبقينا آمنين، وتساعدنا على العمل معًا، وتنشر معلومات ضرورية.  حاول تحفيز طفلك على التفكير بأسئلة من نوع: "ما هي اللافتات التي تراها؟ إني لأتساءل عن   الأدلة التي تساعدنا على معرفة ما تقوله اللافتات." تعاونوا معًا على تحديد الألوان والحروف والأرقام على اللافتات المختلفة!
العلوم فوق التل

تعتبر التلال مصدرًا للاستمتاع، بالتدحرج والجري ، و الاستكشاف. هل تعلم أن التلال أيضًا مناسبة جدًا لتعلم مفاهيم ومصطلحات العلوم؟ جرّب هذا في المتنزه مع طفلك: اجمعا بعض المواد الطبيعية (أكواز الصنوبر، والحصى والَعِصيّ) واختبرا ما إذا كانت تتدحرج على التل.  واستخدما كلمات مثل أسرع وأبطأ، وسرعة و وزن، وكتلة وانحدار، بينما أنتما تجربان.  إن الأطفال يحبون أيضًا دحرجة أجسادهم على التلال!
ساعد طفلك على أن يكون مُلاحظ

تدربا على ملاحظة الأرقام والحروف، وأي تفاصيل أخرى، بينما أنت تستكشفون الأشياء خارج المنزل.  شجع طفلك بقول وفعل أشياء مثل هذه:
 "أنا أرى أرقام على هذه اللافتة! أنا أرى الرقم ثلاثة. إني أتساءل عما يعني"، "وما هي الأرقام الأخرى التي يمكننا العثور عليها خلال مسيرتنا، وما الذي تخبرنا به؟"
 "أنا أرى بعض آثار الأقدام على الأرض. إنني أتساءل عن أصحابهم. وإلى أين هم متجهون؟" ألفَّا قصة معًا حول آثار الأقدام!
 "أنا أراقب بعيني الصغيرة ... سحابة على شكل الحرف O! فماذا ترى أنت؟"
حدّدا المتنزهات والأماكن المكشوفة الأخرى في الحي الذي تقطنون به

ففي بعض الأحيان تكون الأماكن الأكثر سحرًا قريبة للغاية.  بعض المواقع الإلكترونية، مثل findyourpark.com/your-parks يمكن أن تساعدك على معرفة المتنزهات القريبة. حتى أصغر المساحات يمكن أن تحمل سحرًا ينعشك أنت وأسرتك!
Rachel J. Franz
Rachel J. Franz, MEd, is the director of education and founding lead teacher at Tiny Trees Preschool, an outdoor preschool program in Seattle, Washington. She is a founding member of NAEYC's Young Professionals Advisory Council (YPAC).