Feature Teacher: Shaytarra Harrington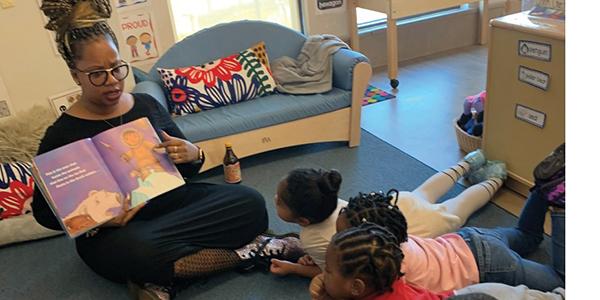 You are here
Shaytarra Harrington has worked in education for over three years and has taught at Martha's Table, in Washington, DC, for two years. She has experience in lesson planning that focuses on children's interests and individual strengths as well as areas of growth to support them in their continued development. Shaytarra believes in helping children realize their full potential.
What is something important a child has taught you?
Patience! Lessons and activities don't always work out the way we anticipate, and you just have to accept it and keep moving! As an educator, you must be completely flexible and understand that the children may not behave in the way you want them to or react to an activity in the way you've planned.
What is most important in your classroom?
The children. Everything I do is for and because of them. I believe in meeting each child where they are and taking them to the next level. Some children need more one-on-one support while others may work better in a small group. My lesson plans are always geared toward each child's individual needs.
How do you show children that you value them?
I make sure I learn each child's name within the first five minutes of meeting them. I think it demonstrates a level of respect, and it shows the children and families that you care. I also speak with children, not at them. When I am interacting with a child, they have my undivided attention; it shows them that what they have to say is important.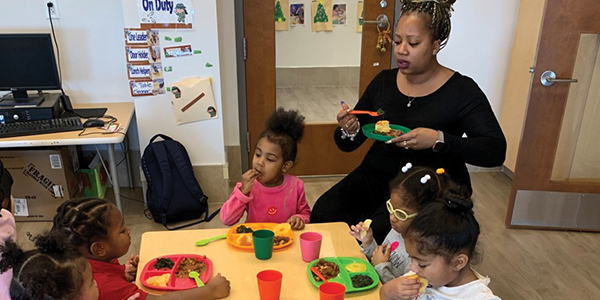 How do you communicate with children's families?
I have an open-door policy where parents and guardians are encouraged to come in at any time to check in and see what we are up to. There is a weekly journal that goes out on Fridays; it's a snapshot of the things we worked on throughout the week, like different activities, changes to the classroom, or our investigation for the month. We also use an app called Brightwheel. It's a newsfeed from day to day of what each individual child is doing. We also have spirit Fridays; each month has its own color, and we wear it on Fridays to earn points. Families like to show their spirit and support by participating too.
What do you do when things don't go as planned?
I just breathe! I remember one day in particular: I had planned a painting activity with chart paper on the floor. One child took off her shoes and socks and painted her feet. This was not how the activity was supposed to go, but she looked so happy. I breathed in and took my shoe off and painted my foot too, and we made footprints together. Before I knew it, everyone was taking off their shoes and painting their feet. If I had stopped that first child and told her no, I would have stopped her creativity.
When I am interacting with a child, they have my undivided attention; it shows them that what they have to say is important.
Why didn't someone tell me?
How hard this job truly is—that there would be days where I felt completely helpless and wondered if I was doing a good job. This is one of the most difficult professions, yet one of the most rewarding.
Favorite children's books:
Oh, The Places You'll Go!, by Dr. Seuss, and The Very Hungry Caterpillar, by Eric Carle
How I take care of myself:
Therapy once a week. I meditate and I chant. I also indulge myself by getting my nails done every two weeks.
When I knew I had to teach:
After I completed my service year as a literacy lab tutor, I fell in love with the classroom. Before I started, I wasn't sure if I wanted to be in education. But once I got into my groove, I knew I had truly found my purpose. Seeing the sheer joy on children's faces when they master an activity or concept is priceless.
Future Goal:
When I transition out of the classroom, I would like to become a literacy coach.
 
---
Photographs: courtesy of Shaytarra Harrington