پیام در کوله پشتی ™ بازی با طبیعت برای کودکان حساس Message in a Backpack ™ Nature Play with Sensitive Children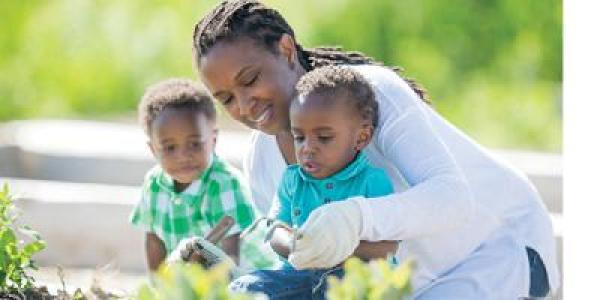 You are here
Becky L. DelVecchio, Susan Ferguson
گذراندن وقت در طبیعت یک روش عالی برای تشویق رشد   در کودک تان ، تسکین استرس و شاید مهمتر از همه ، تفریح ​​در کنار یکدیگر است! اما هنگامی که کودک شما نسبت به لمس اشیاء  طبیعی حساس باشد ، چه اتفاقی می افتد؟ از این ایده ها برای  تبلور تجربیات بازی با طبیعت در  محیط  های داخلی و بیرونی استفاده کنید تا شما و کودک تان  بتوانید با هم لذت ببرید.
---
با هم کتاب های راجع به طبیعت بخوانید! این یک روش عالی برای برقراری ارتباط  عاطفی کودک تان  با طبیعت  و لذت بردن از آن است. با داستان های ساده  حاوی اشیاء طبیعی یا محیط های آشنا برای  کودک تان شروع کنید. کتابهایی مانند موج ،  نوشته سوزی لی ، یا  پیاده روی در جنگل ،  نوشته ماریا دیو ، به کودک شما این فرصت را می دهند که به طبیعت فکر کند بدون اینکه استرس لمس کردن اشیاء طبیعی را داشته باشد.
هر آنچه را که از پنجره یا درب  در طبیعت مشاهده می کنید با کودک تان به اشتراک بگذارید. به تغییرات در فصول ، آب و هوا ،  دویدن  دویدن یک سنجاب از روی  کابل برق ، یا یک  چاله آب که یخ زده است، اشاره کنید.
یک سبد حاوی  مجموعه ای از اشیاء طبیعی ایجاد کنید تا  کودک تان در صورت تمایل  آنها را  کشف و شناسایی کند. این سبد را با "گنجینه های طبیعی" که برای  کودک شما اهمیت خاصی دارد،   پر کنید (به عنوان مثال ،  صدفی که  مادربزرگ از ساحل آورده است ، گلی که باهم  در مسیر رفتن به صندوق پستی پیدا کرده اید،  یا سنگ هایی که  عمو یا دایی سندیپ از موزه آورده  است).
هدایای کوچکی حاوی آنچه در طبیعت پیدا کرده اید را به  به  کودک تان تان بدهید، مانند یک شاه بلوط صاف یا یک برگ رنگی. این گنجینه های پیدا شده بدون هزینه مالی است اما می تواند به اندازه اسباب بازی های خریداری شده  از فروشگاه لذت بخش باشد و به کودکان یاد بدهد که برای طبیعت ارزش قائل شوند.
بیرون از خانه بروید! برای سپری کردن یک مدت زمان طولانی  و یا یک مدت زمان اندک، آنگونه که کودک تان  نیاز دارد احساس راحتی کند، برنامه ریزی کنید. انجام  یک کار - مانند کاشت بذر و آب دادن روزانه به آن - می تواند تمرکز کودک  تان را از احساسات چالش برانگیز دور کند و به  کودک شما این  امکان را بدهد  تا در بازی  دارای یک هدف باشد. کتاب «بذر هویج»، نوشته روت کراوس را نیز بخوانید!
یک مورچه یا کرم را گرفته و به مدت یک روز آن را در یک شیشه شفاف قرار دهید تا کودک شما بتواند یک موجود زنده را مشاهده کند. در مورد اینکه آن مورچه  یا کرم  چه احساسی  ممکن است داشته باشد، بحث کنید. به خاطر داشته باشید که حتما پس از پایان مشاهده کودک تان، آن را آزاد کنید! این  کار دلسوزی و مسئولیت معاونت را می آموزد.
از ناسازگاری های  شخصی خودتان آگاه باشید. حتی اگر نسبت به حشرات یا بافت های خاص سرسخت هستید ، سعی کنید هنگام صحبت درباره طبیعت از کلمات توصیفی استفاده کنید نه کلمات قضاوتی. به عنوان مثال ، به جای گفتن « یوک! آن  حشره را از من دور کن!» سعی کنید  که بگویید ، « یک حشره کوچک  در حال خزیدن روی برگ است! شاید او دنبال پیدا کردن  غذا است.» الگوی مثبت  بیانی و رفتاری، گذراندن زمان در کنار هم، و برقراری چنین ارتباط عاطفی با  کودک تان ، یک راه طولانی در حمایت از تلاش کودک تان برای بازی در طبیعت است.
---
Photograph: © Getty Images
Becky L. DelVecchio
Becky L. DelVecchio, MEd, is adjunct faculty for the Early Childhood Education program at Great Bay Community College in Portsmouth, New Hampshire and Quincy College in Quincy, Massachusetts. 
Susan Ferguson
Susan Ferguson is a lead teacher at the Wellesley College Child Study Center in Wellesley, Massachusetts.