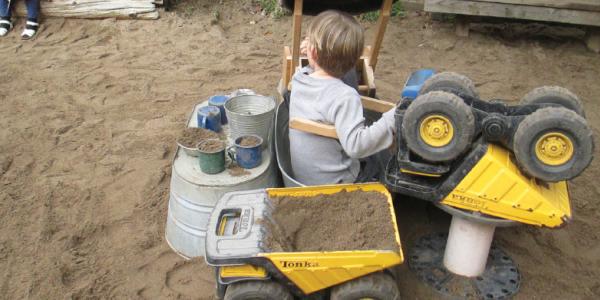 You are here
Nadia Jaboneta, Deb Curtis
Read the following story and teacher reflections, and use the Reflective Questions below to deepen your own thinking and teaching practices.
It was a typical day on the play yard. The children were playing outdoors after it had rained, exploring the wet sand. A group of children from Nadia's classroom excitedly invited her over to see what they had been working on. "Nadia, hurry! Come see this!" As Nadia approached the scene, Samson said proudly, "It's our poop machine. Here's how it works." He used his fingers to spin the wheels of a truck that had been carefully placed on top of a sturdy mountain of sand, tires, metal bins, and more trucks. As the wheels spun, wet sand splashed everywhere. "That's the poop!" said Antonio, as Miles giggled and scooped more sand onto the truck wheels so the poop machine could continue its work.
Gina, another teacher, asked Nadia, "Why are you letting them say potty words? The other children may not want to hear them." Nadia invited Gina to observe the situation with her and study the children's work, their collaboration, and the complex thinking it took to design and create the poop machine. Gina agreed to continue observing the play to determine the value of the children's work and the impact the potty words might have on the rest of the community before she decided whether or not to intervene. She saw that the children were being safe and mindful of their friends as they engaged in the game and that she did not need to intervene after all.
Nadia's reflection: Teachers often focus on children's deficits. After working with mentors and colleagues, I have come to understand what it means to be a reflective teacher and the importance of slowing down to see children's ideas and competencies. This school year, I have been thinking about different ways that my teaching team and I can support the big energy and ideas that the children (14 boys and 8 girls) bring to the classroom.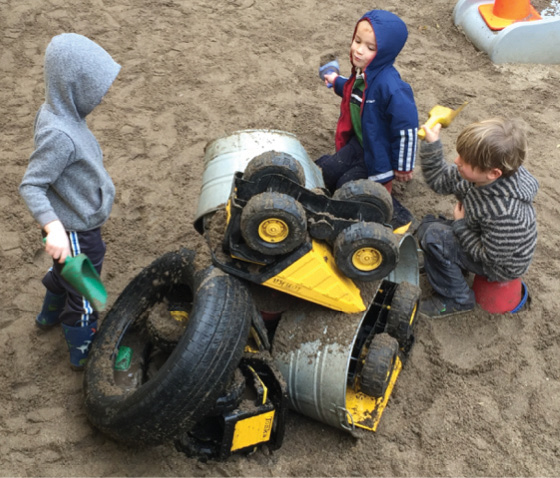 The work in our classroom is often high energy, and it includes lots of rough-and-tumble play. I was not prepared for the amount of potty words and potty play the children would engage in. It took time for me to understand the importance of this type of play and why children love it. But what really stands out to me is not the children's scatalogical humor or toilet vocabulary, but how the children shared their space and materials—collaborating and thinking about each other's ideas and feelings.
I have learned so much through close observation of the children, and it has made me rethink what kind of play I stop and what I let grow. When I let the children lead their play, I am amazed by their skills, knowledge, creativity, and inventiveness.
---
Reflective Questions

Use the following questions from the Thinking Lens™ to reflect alone or with a colleague.
Know yourself
What is your reaction when you hear children use potty words or engage in potty play? Why?
What do you think of Nadia's approach of observing children's competencies rather than jumping in to stop this kind of play?
In what ways do you engage in reflective teaching like Nadia describes here?
Find details of children's competence
What details in the story show the children's skills and competencies?
What examples can you find related to social skills, engineering, building and construction, science and physics, focus, self-awareness, and self-esteem?
Seek children's points of view
Why do you think the children found this experience so engaging?
Why do you think children find potty words and potty play so funny?
Consider multiple perspectives
Stopping or allowing potty talk and potty play is an example of a conflict of values. You may value the play the children are engaged in but still not be comfortable with potty talk. Talk with coworkers about their values concerning potty play and potty talk. After hearing different perspectives, how has your thinking changed?
How might you speak with families who have concerns about potty talk?
Consider opportunities and possibilities for next steps
Study children's use of potty talk and potty play with your coworkers to gain a deeper understanding of this kind of play.
When do children engage in this kind of play?
What seems to be their interest in this kind of play?
What happens when you let the play continue?
What skills and competencies are they practicing when they play this way?
What happens when you join in by playfully showing shock? How do the children respond when you stop the play?
---
More on Children's Humor

Study articles and other resources to learn more about children's humor and why potty talk is a sign of cognitive development and new understandings that children are gaining about their bodies.
"Potty Talk and Body Glee"
www.handinhandparenting.org/article/potty-talk/
"The Laughter Remedy, Children's Humor Category"
www.laughterremedy.com/category/childrens-humor
"Discovering the Meanings of Laughter in a Preschool Classroom" by Sarah L. Smidl
www.naeyc.org/files/naeyc/images/voices/11_Smidl%20v9-1.pdf
How does learning about these underlying reasons impact your thinking and practice?
---
Photos courtesy of Nadia Jaboneta
Nadia Jaboneta
Nadia Jaboneta is a program coordinator and classroom teacher at Pacific Primary preschool in San Francisco, California. She has 21 years of experience teaching young children, training teachers, consulting, and facilitating workshops on various topics in early childhood education.
Deb Curtis
Deb Curtis has spent the past 40 years working with children and teachers in early childhood programs. She developed the Thinking Lens with Margie Carter and Ann Pelo.