Sparking Creativity with Cross-Area Play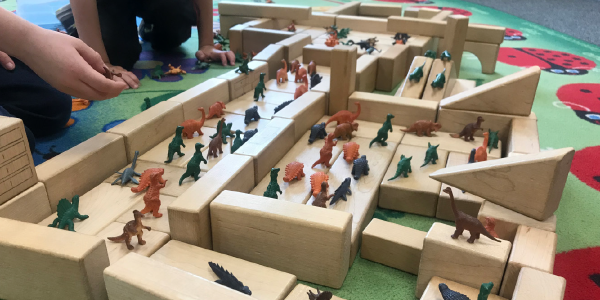 You are here
Lydia Minahan, Jessica Byrd, Sarah Dwyer, Sandra Romp, Layney Viets, Ekaterina Strekalova-Hughes
"All aboard the dinosaur train!" calls 5-year-old Patrick.
Ms. Lydia watches as Patrick and his friends begin working on an elaborate construction project. Together, they pull materials from various areas and pile them into the middle of the carpet: books from the reading center, plates and cups from dramatic play, paper from the art table, dinosaurs from the science center, and magnet tiles from the block area. The children explain to Ms. Lydia that the books are iPads and TVs for the dinosaurs. They are using paper to make signs and tickets for all the train passengers. The plates are the roof of the train, and the cups become tables around which the dinosaurs are neatly placed.
Each child has an equal part in their construction play. They work together to create, explore, debate, write, ask questions, and problem solve. As more materials from different centers come together in the middle of the classroom to serve the children's grand ideas, Ms. Lydia watches with pride. Yet she also keeps an eye on the door. Any minute, the principal could walk in. While Ms. Lydia sees the learning benefits of "cross-area play," her principal sees it as messy and loud.
The concept of cross-area play was born during our graduate course on play, led by coauthor Ekaterina Strekalova-Hughes. We were sharing what turned out to be a common frustration across our own classrooms: the type of play that seemed to spark the most creativity involved materials coming together, and it transcended our traditionally designated learning areas. Yet this type of play was widely challenged by our program directors, coteachers, and other colleagues. We set out to learn why cross-area play encourages our children's imaginations and why it faces so many barriers.
Cross-area play is rooted in the idea that when children are given the freedom to experiment with materials in open-ended ways, their play can transform into elaborate, complex plots and offer rich developmental opportunities. Specifically, cross-area play
helps children make unusual and unexpected connections, which can promote creativity
encourages development across multiple domains as children think, create, communicate, persist, problem solve, and collaborate
fosters confidence and helps children set and follow rules in their play with others
creates more fluid, engaging classroom spaces
The idea of cross-area play calls into question the reliance on familiar, designated areas or centers that typically host predictable play materials and encourage predictable play scenarios. For example, a kitchen corner with play food and cooking utensils usually spurs children to enact cooking and having meals together. The block area typically invites children to erect buildings, bridges, and roads. Because these centers direct children toward a specific type of play, they can limit the range of play scenarios and surprise discoveries.
But when children engage in cross-area play, their play is not scripted. They may move blocks to the dramatic play area, which invites them to build props that support their dress-up scenarios. They may move copies of The Three Little Pigs from the literacy area into the block area to inspire home construction.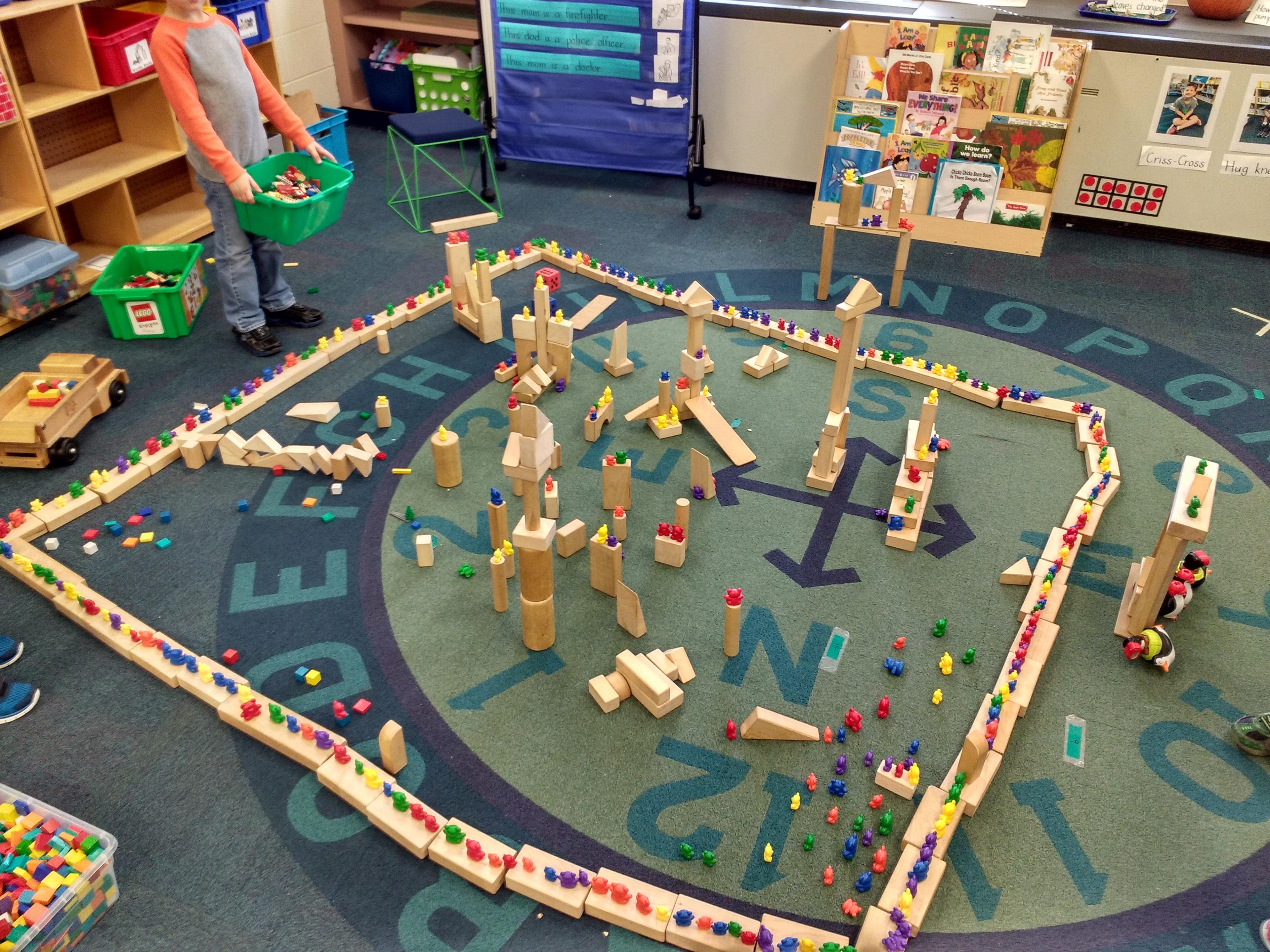 Background of Cross-Area Play

While the term cross-area play was conceived by the authors, mixing classroom materials to deepen children's pretend play scenarios is not new. In 1971, Simon Nicholson wrote in "How Not to Cheat Children: The Theory of Loose Parts" that teachers could promote imaginative play by using materials with no predetermined use or purpose. This, he wrote, could help children persist, problem solve, and work together during play.
Based on this foundational idea, cross-area play is characterized by being free from the constraints of defined toys or interest areas. A classroom that supports cross-area play may have interest areas or centers, but the materials do not have to stay in those defined places. For example, in Ms. Lydia's classroom, children use "tickets" or name tags to check out items from centers or shelves when they want to play with those items outside of the defined center.
Perceived Barriers

While no explicit rules or regulations forbid cross-area play, early childhood educators may face barriers planning for and fostering it—even if they teach in a play-based program. Here are some of the hurdles we encountered:
Classroom evaluation standards. Some environmental rating scales require clearly defined centers or interest areas. Program directors and evaluators may interpret this to mean that the materials in those areas cannot be moved. This was the case with Ms. Sandra, who lost points on a rating scale completed by an evaluator because she had placed books in the block area to inspire story-related connections. "There must be at least three interest centers that meet the required definition," Ms. Sandra's feedback read. "An 'interest center' is a clearly defined play area for a particular kind of play."
Marketing influences. Classroom furniture and learning materials in online and print catalogs are often marketed as belonging to specific learning centers. For example, prekindergarten supplies may be organized into "dramatic play," "blocks and manipulatives," and "math" categories. This type of marketing conveys that materials have a predetermined place in the classroom.
Traditional classroom layouts. Traditional beliefs about how a setting should be designed and organized can present a barrier to cross-area play. Ms. Lydia encountered this when a program director observed how she had placed dinosaurs from the science center throughout the classroom. She aimed to promote large-scale play across all areas. But the director asked her to put the dinosaurs back "where they belong." Without a reason to challenge such practices, the traditional way of designing learning centers with materials that have always "lived" there continues. (See "How to Create a Classroom that Celebrates Cross-Area Play," below, for ways to foster cross-area play.)
Beliefs about "messy" play. Cross-area play often involves mixing many different materials from all over the classroom. This means cleanup takes longer than typical in-center play. Some teachers may discourage children from engaging in cross-area play because of this, particularly when they must adhere to a strict schedule.
We acknowledge that in the face of the COVID-19 pandemic, cross-area play may be more difficult to implement. We suggest regularly cleaning or disinfecting materials and interest areas, and not sharing with other teachers or classrooms.
Cross-Area Play in Action

Classroom organization and structure are needed in early childhood settings. However, limiting materials to defined areas can hinder open-ended play, creativity, and active engagement. In the following vignette, Ms. Layney's thoughtful planning spurred action and expanded children's play scenario.
---
Four-year-old Anika and 5-year-old Regina are preparing to give a concert in the dramatic play area. They have already put on their costumes—flashy capes and sunglasses—and have found microphones for themselves from the utensil jar in the play kitchen. While Anika gathers a pen and paper from the writing area to make tickets, Regina exclaims, "We need a stage!" Luckily, Ms. Layney has arranged the room so the dramatic play and block areas open into each other. Regina has access to large hollow blocks and long wooden planks to build with. She takes on the role of engineer and begins to build a stage. She experiments with different sizes of blocks, tests the stability of her structure, and makes modifications until she decides the stage is ready and the concert can begin. From their elevated platform, both singers command the attention of several children in neighboring areas who are drawn into their play. Before too long, the chairs from the math table are being moved for the audience to be seated.
Cross-area play invites children and teachers to actively reimagine the purposes of the materials and spaces in their classrooms, mixing and reinventing where they "belong" for the sake of creative connections and extended play. At the end of the day, a "messy" or "chaotic" classroom where imaginations go beyond the confines of predetermined centers might be the most compelling evidence of rich play. While some teachers may encounter challenges when attempting to integrate cross-area play into their classrooms, this resistance can present a powerful opportunity to educate program directors and peers. (See "Sharing Cross-Area Play Benefits," below, for ideas on how to promote this type of play.)
Sharing Cross-Area Play Benefits

Share information about cross-area play with administrators, accreditation evaluators, families, and fellow teachers by inviting them to observe the conversations, play, and learning that happens during cross-area play. 
Encourage visitors or observers to get down on the children's level. For example, Ms. Kelly has a sign on her classroom door inviting visitors to get on the floor to experience play the way her students do.  
Use photos and quotations from the children to document the merits of "messy" cross-area play. Share these with families and display them outside the classroom. It can help directors or fellow teachers get on board with this approach. 
How to Create a Classroom that Celebrates Cross-Area Play

As an early childhood educator, you can promote cross-area play in a variety of ways. Here are some strategies that have worked well for us:
Map out your current learning centers and the materials typical for each area. Write down the purposes of the materials and how you see children using them.
Introduce materials to unexpected places. Consider how each material can open up new possibilities when moved from its "home" to a different center.
Connect multiple centers or interest areas with a single material. For example, if children are learning about animals and their habitats, place images or books about habitats with small animal toys in each center. This encourages children to construct habitats with blocks, draw or paint animals, or role-play as animals in the dramatic play area.
Create elements of surprise. Imagine children who love to play "kitchen" finding toy dinosaurs feasting around the table. You could also move books about what dinosaurs eat from the literacy center to the kitchen area.
Create "mobile centers" that can easily be moved around your room. For example, place art supplies onto a cart to create a mobile art center. It can easily be wheeled into different centers for expanding visual representations.
Rearrange your room so your centers are open to each other. This will create shared space, where children are free to mix materials without removing them from their designated spaces.
Involve children in the design of new centers. Create interest areas with children in mind. For example, transform a science center into an archaeological dig site for those who are interested in dinosaurs. Integrate sand from a sensory area, dinosaur books from a literacy center, and toy dinosaurs or faux bones from the (traditional) science center.
Inspire new connections. Periodically change the names or labels of centers to inspire new connections. For example, a center traditionally called "Literacy" can be renamed "Blocks Go Reading" for a period of time when the blocks migrate here from the block area.
Encourage creativity, not chaos. Flexibility encourages creativity, but a chaotic environment is not the goal. Enlist children's help if an area becomes too cluttered or unsafe, such as markers on the floor causing children to trip.
---
Photographs: courtesy of the authors.
Copyright © 2021 National Association for the Education of Young Children. See permissions and reprints online at NAEYC.org/resources/permissions.
Lydia Minahan
Lydia Minahan is a prekindergarten teacher at Primrose School of Ward Parkway in Kansas City, Missouri. She has a master's degree in curriculum and instruction for early childhood from the University of Missouri-Kansas City.
Jessica Byrd
Jessica Byrd is a Montessori lead guide for the Kansas City Public Schools in Kansas City, Missouri.
Sarah Dwyer
Sarah Dwyer is a kindergarten teacher at Wolf Creek Elementary School in Spring Hill, Kansas.
Sandra Romp
Sandra Romp is a kindergarten teacher at Primitivo Garcia Elementary School in Kansas City, Missouri
Layney Viets
Layney Viets is an infant and toddler teacher at the Berkley Child and Family Development Center in Kansas City, Missouri.
Ekaterina Strekalova-Hughes
Ekaterina Strekalova-Hughes is an assistant professor of early childhood education at the University of Missouri-Kansas City and a former teacher.