Conversations with Children! Asking Questions That Stretch Children's Thinking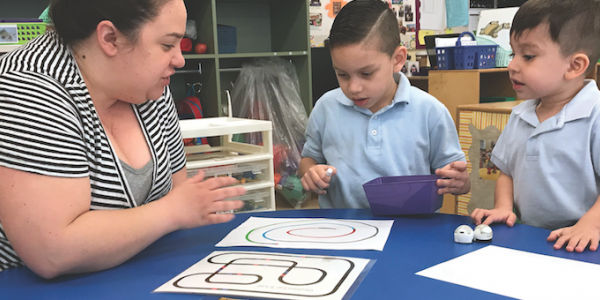 You are here
When we ask children questions—especially big, open-ended questions—we support their language development and critical thinking. We can encourage them to tell us about themselves and talk about the materials they are using, their ideas, and their reflections.
This is the fifth and final article in this TYC series about asking questions that support rich conversations. During the past year, Conversations with Children! has documented and analyzed the many different types of questions teachers ask and the rich discussions with children that flowed from those questions. The series has explored children's interests, considered their developmental needs, respected their cultural perspectives, and highlighted their language development and thinking.
Using an adaptation of Bloom's Taxonomy to think about the types of questions teachers ask children, this article focuses on intentionally using questions that challenge children to analyze, evaluate, and create. This can increase the back-and-forth dialogues teachers have with children—stretching children's thinking!
For this article, I spent the morning in a classroom of 3- and 4-year-olds, located in a large, urban elementary school in Passaic, New Jersey. All 15 children spoke both Spanish and English (with varying levels of English proficiency), as did their teacher and assistant teacher. The teachers in this classroom stretch their conversations with children, having extended exchanges in both languages by listening to and building on children's answers.
Understanding Different Types of Questions
Bloom's Taxonomy has long been used as a way to think about the types of questions we ask students. We have adapted it for young children. Although Remember has mostly right or wrong one-word answers and Create invites use of the imagination and answers that are complex and unique to each child, these levels are just guides. It is up to you to consider which types of questions are appropriate for each child you work with. The lower levels form the foundation for the higher ones.
Remember
identify, name, count, repeat, recall
Understand
describe, discuss, explain, summarize​
Apply
explain why, dramatize, identify with/relate to
Analyze
recognize change, experiment, infer, compare, contrast
Evaluate
express opinion, judge, defend/criticize
Create
make, construct, design, author
A conversation about building with cups in the makerspace

A conversation between the teacher and two children began during planning time and continued as the children built in the makerspace.
During planning time

Teacher: I am excited to see how you will build with the cups. Do you have any idea how you will build with them? (Analyze)
Child 1: I will show you what I can do. (He draws his plan on a piece of paper.)
Child 2: I want to work with the cups too.
Teacher: Maybe you can collaborate and share ideas.
Child 2: Yeah, we can work together.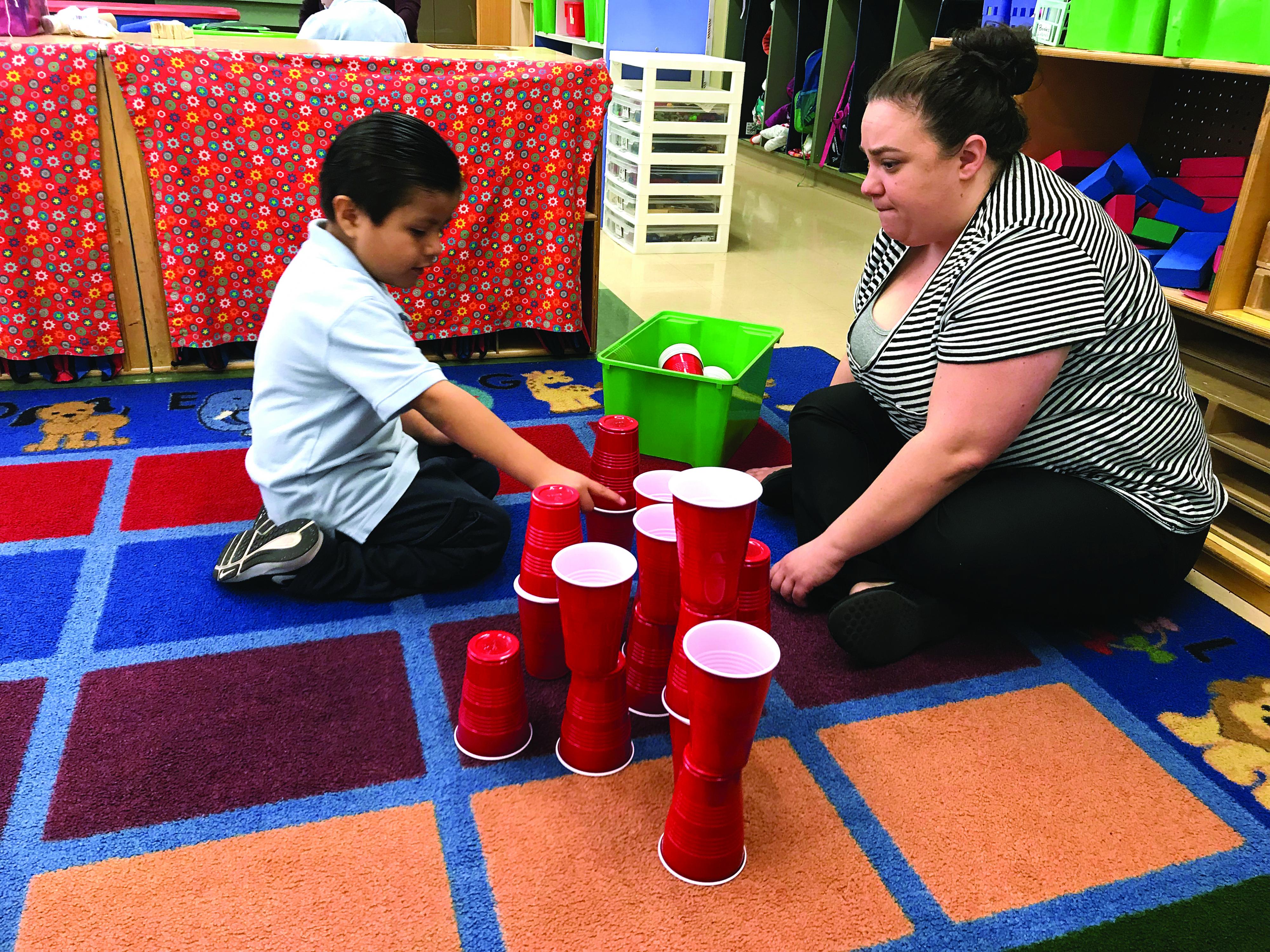 Child 1: We can build a tower.
Teacher: I wonder how tall it will be. I am very curious. I wonder, what will you do with the cups? (Create) I can't wait to see!
Later, as the first child is building

Teacher: Can you describe what you did? (Understand)
Child: I put these two and put these one at a time and then these two.
Teacher: How did you stack these differently? (Analyze) (The child doesn't respond.)
Teacher: I noticed you stacked this one and this one in a diff erent way. How did you stack them differently? (Analyze)
Child: (He becomes excited, pointing.) I show you!
Teacher: Please demonstrate!
Child: I knew what my idea was. (He shows the teacher how he stacked the cups.)
Teacher: Can you describe what parts of the cups were touching? (Understand)
Child: The white part. Teacher: Oh, that is called the rim of the cup. How did you stack this one? (Apply)
Child: I was trying and trying and trying!
Teacher: So you are stacking the rims together. And how is this stack different? (Analyze)
Child: This one is the right way and this one is down.
Teacher: Oh, this one is right side up and this one is upside down!

A conversation about creating a zoo in the block area

The children were preparing for a visit to a local zoo. After listening to the teacher read several books about zoos, one child worked on building structures in the block area to house giraff es and elephants.
Teacher: I am excited to see how you are building the enclosures.
Child: It fell down and I'm making it different.
Teacher: So it fell down and now you're thinking about building it a different way. Architects do that; they talk about the stability of the structure. How can you make it sturdier so it doesn't fall? (Evaluate)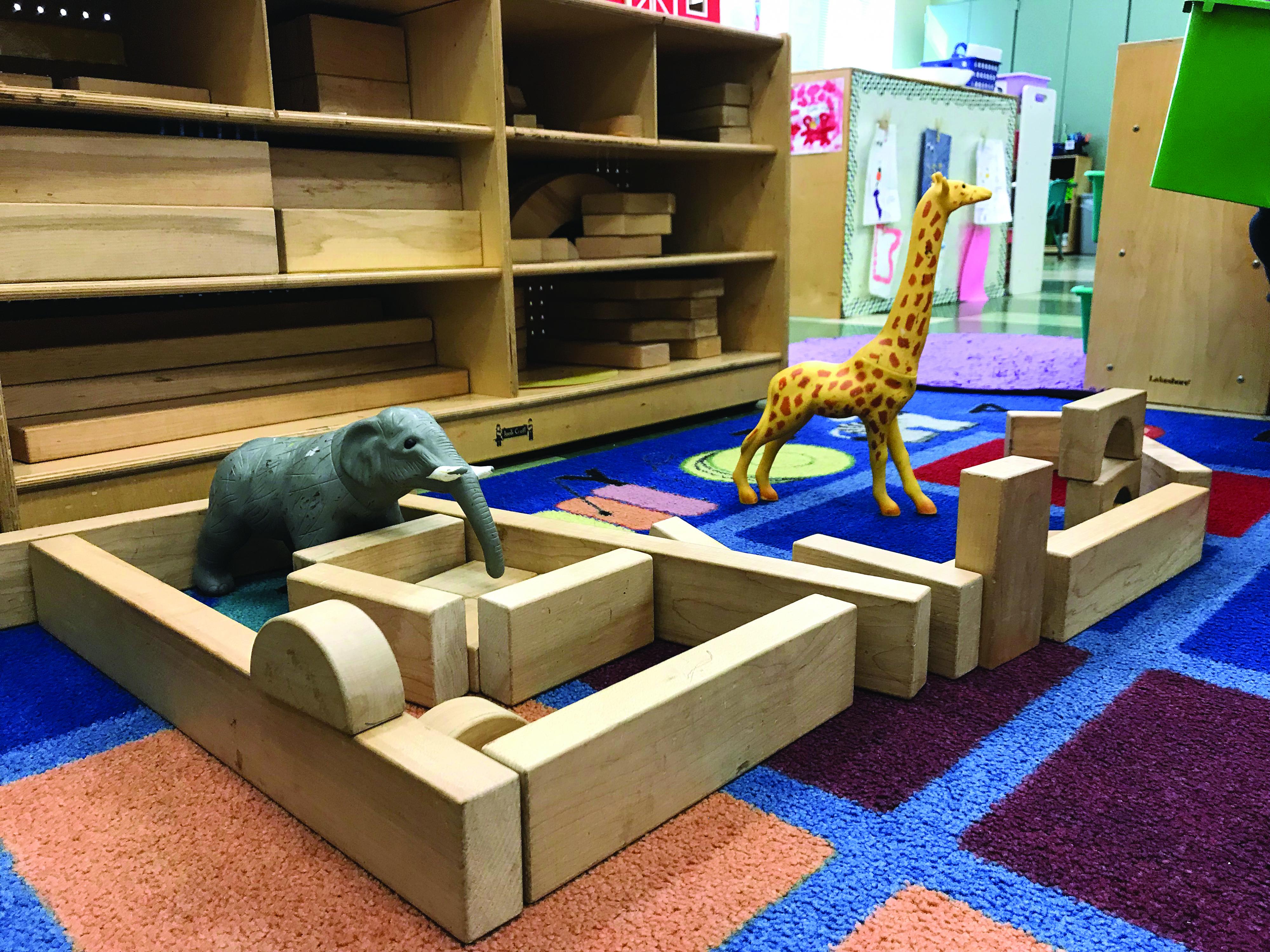 Child: I'm trying to make a watering place for the elephant to drink water. I have to make it strong so he can drink and the water doesn't go out.
Teacher: Maybe you can be the architect and draw the plans and your friend can be the engineer and build it. How do you feel about that? (Evaluate)
Child: I'm gonna ask him.
A conversation about coding with robots

The children had been using the Ozobot Bit, a small robot that introduces children to coding, for many months. Because these robots are programmed to follow lines and respond to specific  color patterns (e.g., coloring small segments of the line blue, red, and green will make the robot turn right), preschoolers engage in a basic form of coding just by drawing lines. In this conversation, the teacher helps a child develop his own code.
Teacher: So tell me: what do we have to do first? (Understand)
Child: (He draws as he speaks.) You have to keep going.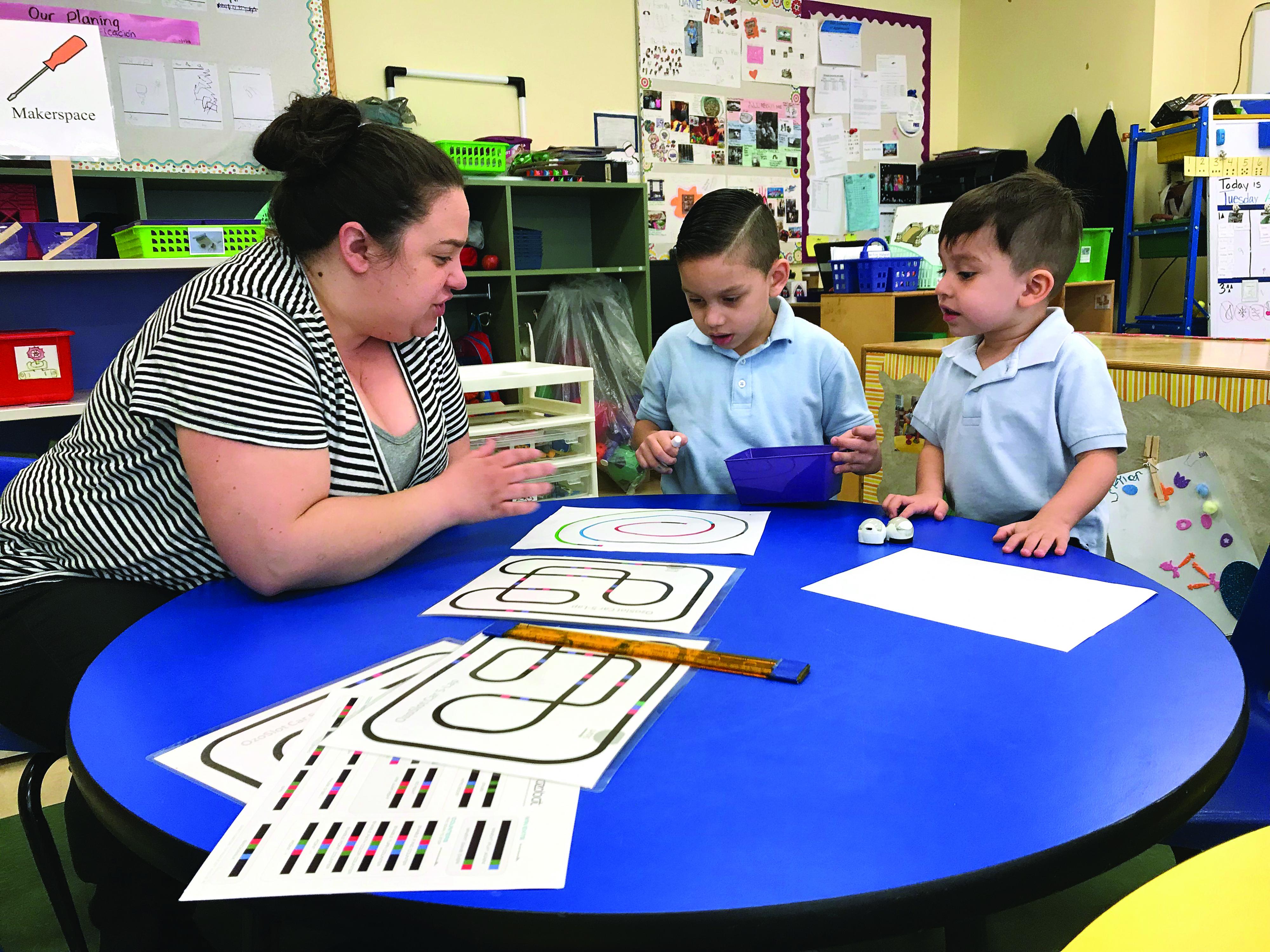 Teacher: Why do we have to do it that way first? (Apply)
Child: Because have to draw it 'fore it can go. And you don't draw it, it don't go nowhere. Wanna see?
Teacher: So if it's not on the line, it won't go anywhere. It only goes on the line.
Child: Yeah.
Teacher: Okay. So are there any rules you have to follow? What rules do I need to know? (Apply, Analyze, Evaluate)
Child: You can't stop it with your hand. . . . And if you want to make another one, first you have to turn it off and then you make another one. (He demonstrates with four markers how to code on the paper and then puts the robot on the line.) Now it going backwards.
Teacher: So how could you fix it so it continues? (Analyze, Evaluate, Create)
Child: (He makes the black line on the paper thicker and retries the Ozobot, but it still stops and turns around.)
Teacher: How can you fix it? Try something else to solve the problem. What should we try next? (Analyze, Evaluate, Create)
Child: I gonna do the whole thing again. (The child starts drawing the code.)
A conversation to stretch dramatic play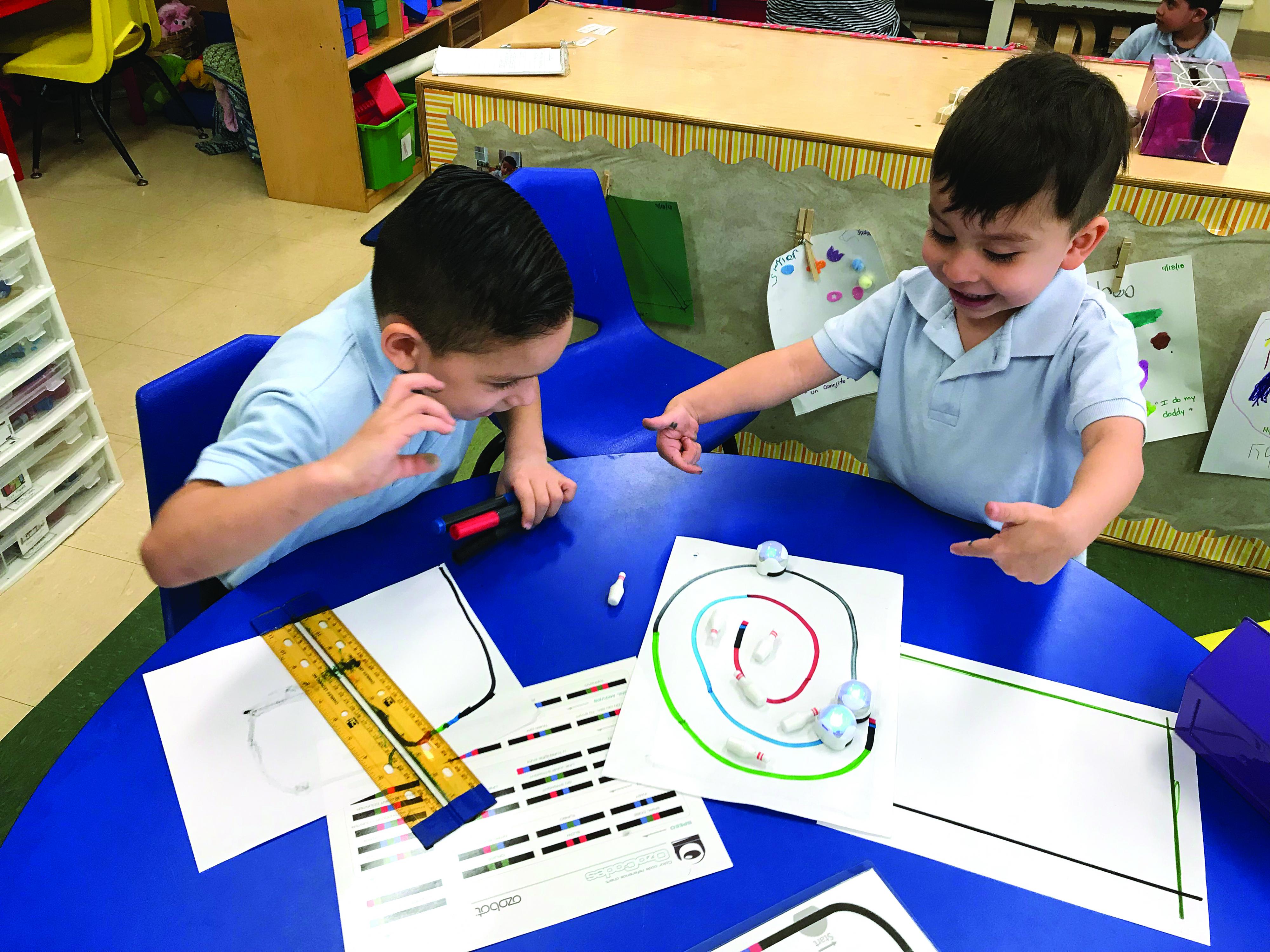 A child held a baby doll and a girl doll as the teacher entered the dramatic play area.
Teacher: Tell me about the baby. (Apply)
Child: This girl has a baby. We going to the doctor because we all sick.
Teacher: How do you think the doctor will help you get better? (Evaluate)
Child: The doctor has to check my heart and then he gonna check my mouth.
Teacher: So what can you do to help your friends get better after the doctor checks your mouth and heart? How will you take care of them and yourself? (Apply, Analyze, Evaluate)
Child: They go to bed back home and go to sleep.
Teacher: And what will you do? Tell me more about that. (Apply, Analyze, Evaluate)
Child: I'm going read them a book.
Teacher: Oh, that is such a good idea! Do you have a special book in mind? (Understand, Apply)
Child: (She nods her head in affirmation and smiles broadly.) I have a special book. (She holds up My House: A Book in Two Languages/Mi Casa: Un Libro en Dos Lenguas, by Rebecca Emberley.)
Teacher: Will you read the book to me? I'll pretend that I am sick and I am in the bed and you can read the book to me. (The child gives the teacher a small blanket.) You are giving me my blankie. You read and I'll listen. (Apply, Create) (The child invents her own story as she turns the pages.)
Conclusion

As the teacher, it's up to you, the one who knows your students best in an educational setting, to decide which questions are appropriate for which children during a particular interaction. It can be challenging to develop and ask questions that engage children in analyzing, evaluating, and creating, such as, "If you could come to school any way you wanted, how would you get here? Why?" But questions that each child will answer in her own way are well worth the effort!
---
Note: Thank you, Megan (teacher), Ms. Perez (assistant teacher), and all of the wonderful students who taught me so much about coding! In addition to being the teacher, Megan King is the author of the chapter "A Makerspace in the Science Area" in the book Big Questions for Young Minds: Extending Children's Thinking. And a great big final thank-you to the five preschool classrooms that invited me into their worlds, sharing their questions and conversations with TYC readers.
---
Suggestions for Intentionally Stretching Conversations with Young Children Ÿ

Make sure to allow plenty of wait time for children to process what you are saying, think about it, and answer. Give them at least a few seconds, but vary this according to the children's needs. Ÿ
 
Listen to the children's responses. Use active listening strategies: make eye contact, encourage children to share their ideas, and restate or summarize what they say. Ÿ
 
Ask another quesiton or make a comment after the child answers. If you aren't sure how to respond, you can almost always say, "What else can we add to that?" or "Tell me more about that."
More high-level questions to spark conversations


In the makerspace: Ÿ
Which material worked better in this experiment? Why? (Analyze) Ÿ
 
What are some reasons your machine worked/didn't work? How will you change it now? (Evaluate) Ÿ
 
What will you be constructing today? Can you draw your plans? (Create)

In the block area: Ÿ
How is the house you built different from/the same as your home? (Analyze) Ÿ
 
What do you think would happen if we removed this block to make a doorway or window? (Evaluate) Ÿ
 
How will you create on paper the house you want to build? What details will you write or draw so you can remember what you want to build in case you don't have time to finish today? (Create)

With robots: Ÿ
Why do you think the robot got stuck? (Evaluate) Ÿ
 
Why didn't the code work this time? (Evaluate) Ÿ
 
How will you design a game for the robots to play? (Create)

During dramatic play:
Ÿ How could you turn this piece of fabric into part of your costume? (Analyze) Ÿ
 
How could we change the house area to make it cozier for the babies? (Evaluate) Ÿ
 
I wrote down the story you told your patient when she said she was afraid of the dentist. Can you illustrate the story to make a picture book? (Create)
---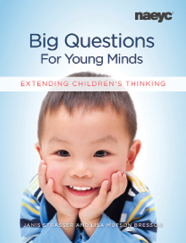 Some text in this article is excerpted from Big Questions for Young Minds: Extending Children's Thinking, by Janis Strasser and Lisa Mufson Bresson (NAEYC).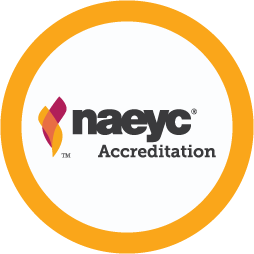 This article supports the following NAEYC Early Learning Program Accreditation standards and topic areas
STANDARDS 2: CURRICULUM; 3: TEACHING
2D:
Language Development
3G:
Using Instruction to Deepen Children's Understanding and Build Their Skills and Knowledge

Photographs: Courtesy of the author
Janis Strasser
Janis Strasser, EdD, is a teacher educator and coordinator of the MEd in Curriculum and Learning Early Childhood concentration at William Paterson University in Wayne, New Jersey. She has worked in the field of early childhood for more than 40 years.