Feature Teacher: Vibeka Mitchell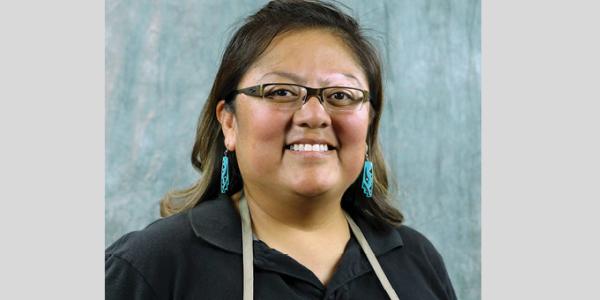 You are here
Vibeka Mitchell is Navajo from Naschitti, New Mexico. She is a Head Start teacher with Youth Development Incorporated (YDI), located on the campus of Southwestern Indian Polytechnic Institute (SIPI), in Albuquerque.
Why I have to teach:

A majority of the children in my class are Native American, and I want them to know who they are as Indigenous children. We have introduced different positive Native American-based curriculum themes for the children to hear about, see, and role-play in the classroom. I want the children I teach to love school, challenge themselves, and be proud of who they are.
What is something important a child has taught you?

Patience. All children are unique and bring different perspectives to the classroom, so it's important to be patient when working with preschool children.


What is most important in your classroom?

That the children's needs are met. This includes their educational, health-related, and emotional and social needs. Our class motto is "We are all friends at school." This motto has shown the children that we are there to support one another and be friends.
How do you communicate with children's families?

I love to talk to parents and address them by name daily. I attend all parent meetings and family events so families become comfortable with me. I love to joke and laugh with them, and this has helped families to feel welcome and be more willing to volunteer in our center. We have truly built a community. Open communication is crucial for the families and the teacher— it opens doors for us to become a team that strives to help each child succeed.
What do you struggle with the most?

Finding time to complete everything I want to do. There are so many great ideas I'd like to implement! 
What do you do when things don't go as planned?

I tend to go with the flow. I've learned that taking deep breaths helps when I'm faced with challenges—especially with tantrums. When working with 3- to 5-year-olds, not everything will go as planned. I observe the children to see if we need to transition to another activity. We have routines and a schedule in our class, but we are flexible.
Words of inspiration:

Have fun with the children. Be silly. Be a positive role model. Be animated when reading books and singing songs. This helps the children stay focused on the activity and also learn it's okay to have fun in school.
Proudest accomplishment:

Being told by the children in my class that they love school and enjoy reading. This is the greatest compliment because it shows me I have done my job!
Favorite children's book:

Little Critter books—the series by Mercer Mayer—are my favorite children's books of all time; I love the illustrations. My favorite one to read aloud is Just a Little Different. It helps children realize we are all unique, and it ties into our class motto!
What I'm reading now:

I read Teaching Young Children to get ideas to implement in class. On very busy days, there may not be an opportunity to brainstorm with fellow teachers, so I turn to TYC articles for motivation.
How I take care of myself:  

I love to read biographies about people who have changed their lives to become Christians. I attend church to keep my mind clear and to think positively. I relax at home with coloring books and by going to the movies with my husband.
My teaching style in three words:

Patient, fun, caring.
Why didn't someone tell me?

That I would be an important asset not only to the children, but to their families as well! Sometimes families need guidance, especially with understanding their children's milestones. Sometimes parents are surprised at just how capable their children are. In my class, we encourage the children to independently take care of our class materials. We have picture labels and we show the children how to clean up the areas. Each child is responsible to help clean up when we transition. Many parents and other family members are surprised when the children hear the cleanup song and the class stops what they are doing to clean. Challenge the children because they will learn and amaze you every time!
My two cents:  

Always create a good relationship with parents, guardians, and other primary caregivers. This helps with goal setting for children and with welcoming children's primary caregivers into the class. When there are strong relationships, you'll see better outcomes for the children and set a good example for positive communication.
Future goal:

My goal is to complete my master's program and receive my degree in early childhood education.
What is an accomplishment of yours that has involved furthering the early childhood education field as a whole?

I have been privileged to work with the Southwestern Indian Polytechnic Institute, a national tribal community college. Our Head Start program is located on their campus. We support parents who are accomplishing their educational goals. The program has participated in several initiatives funded by the American Indian College Fund, including Wakanyeja "Sacred Little Ones"—Tribal College Readiness and Success by Third Grade. Through a W.K. Kellogg Foundation grant, we engaged parents in developing culturally relevant thematic units for a Native-based curriculum. We have done some amazing work in our class, and as a result, I have seen families become engaged in their children's education.
---
Photographs: Courtesy of the Southwestern Indian Polytechnic Institute IT department