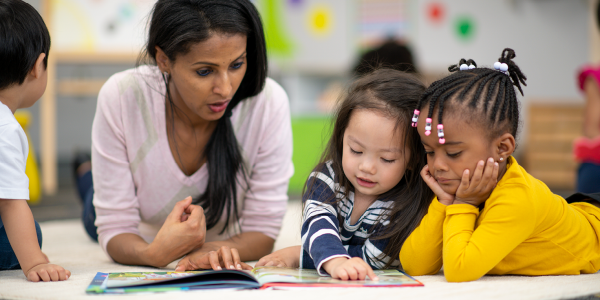 You are here
Isabel Baker, Miriam Baker Schiffer
I Like This, You Like That

By Linda Ashman. Illustrated by Eve Coy.
2022. New York: Abrams Appleseed. 32 pp. Ages 2 to 5.
Friendship is often about finding common ground, but in this sweet rhyming book, opposites attract. Two children talk about how much they don't have in common and how they like each other nonetheless. Many of Ashman's examples show how friends can make room for each other's preferences while enjoying the same setting. For example, the friends paint together, one messy and one neat. They both like the playground, but one takes to the slide and the other to the swings. This is instructive for young readers who sometimes need a reminder to give a friend a little space.
On each spread, Coy's warm illustrations show the pair together, looking toward each other with a smile or grin, always communicating. Ashman and Coy use occasional tense moments to add interest to the story, and they diffuse these moments with humor. This book provides lovely examples of the pleasures of being and enjoying a good friend! Educators can turn to this book for planned experiences like interactive read alouds, and they can connect back to it during the spontaneous moments that arise with young children.
---
John's Turn

By Mac Barnett. Illustrated by Kate Berube. 2022.
Somerville, MA: Candlewick Press. 32 pp. Ages 3 to 7.
Every Friday at Assembly, a student gets to perform a special talent in front of the whole school: playing an instrument, doing magic tricks, telling jokes, and more. This week it is John's turn, and he is going to do something new. He is going to dance ballet. In this delicately crafted story, Barnett captures the tension between wanting to share who you are with the world and worrying about taking a big risk. Berube's illustrations—which seem restrained but convey layers of feeling—capture that tense energy inside John as he changes into his ballet outfit and takes the stage. Other children laugh, but a teacher shushes them, and John proceeds. He comes alive as he dances.
There are high stakes for all the characters in the book, not just John. They want to be wowed. They want to support each other. They are nervous about new things. Working together, John and the audience are transformed by his performance. John beams; his schoolmates cheer. This is a brilliant social and emotional title, and it may be particularly helpful in facilitating conversations around sharing one's interests, strengths, and work in various capacities and creating welcoming spaces for each other to do so.
---
Brown: The Many Shades of Love

By Nancy Johnson James. Illustrated by Constance Moore. 2020.
New York: Cameron + Company. 32 pp. Ages 3 to 7.
Narrated by a little boy, this book is an ode to the many shades of brown skin in his family. They are referred to by their relationships to the narrator, including "my daddy," "Auntie," "my cousins," and other relatives. James' poetry is evocative—combining sight, smell, touch, and taste to describe brown in ways that feel alive on the page. Moore's illustrations convey the love and connection between the family members. At the end of the book, the little boy shows his painting palette. He says he likes to paint all the shades of color in his family and to give each shade a name. This is an appealing way to facilitate conversations about skin color. It is also an excellent way to introduce children to the idea of drawing and painting people using various shades of brown and tan.
---
Big Truck, Little Island

By Chris Van Dusen. 2022.
Somerville, MA: Candlewick Press. 32 pp. Ages 3 to 7.
Drama is about to unfold on a little island when a barge carrying a big-rig truck approaches the shore. Once on land, the truck begins its journey on the main road to deliver its 20-ton oversize load to the other side of the island. But then . . . oh no! The truck gets stuck on one of the narrow roads in town, and traffic on the island comes to a standstill. The residents come up with a solution that would only work in a close community like this one. Folks on one side of the jam trade cars with folks on the other, and they all go on their way. This takes trust and teamwork! Eventually, the truck gets unstuck and delivers a sweet surprise by nightfall. Van Dusen's bright-eyed illustrations have the same cheerful energy one knows from his other books and are sure to delight readers while also imparting useful wisdom about the value of community.
 

---
Home Is In Between

By Mitali Perkins. Illustrated by Lavanya Naidu. 2021.
New York: Farrar Straus Giroux Books for Young Readers. 40 pp. Ages 4 to 8.
When Shanti and her parents immigrate from India to the United States, she finds herself straddling two cultures: the Indian one her family brought with them, and the American one waiting for her outside her door. She works hard to jump back and forth between the foods, customs, dances, languages, and songs at home and those her friends teach her about at school. After a while, Shanti is so exhausted from the back and forth that she realizes she needs to find a way to bring her friends and family together and live with both cultures at the same time.
Perkins' story contains many details (and Bangla vocabulary words, such as foods luchi and biryani) that convey how many challenges there are when entering a new culture. Even the table manners are different! Naidu's illustrations are colorful and clear, chock-full of cultural details. This is an excellent story to recognize and honor similarities and differences in cultures and ways to create an inclusive environment that embraces learning about new things and people.
---
Forever Favorite

In each issue we feature a classic book to (re)introduce teachers to old favorites.
Who Took the Cookies from the Cookie Jar?
By Bonnie Lass and Philemon Sturges. Illustrated by Ashley Wolff. 2021.
New York: Little, Brown and Company. 22 pp. Ages 1 to 5.
This version of the classic Who Took the Cookies from the Cookie Jar has been popular for over two decades, and it is now available as a board book. Young readers love chanting along to this whodunit of a tale. What makes this version unique is its focus on a group of animal friends living together in a southwestern United States landscape, working together to find those cookies and make sure that everyone has a chance to partake. Wolff excels at drawing winsome animal facial expressions. On these larger-than-average board pages, her images show off lots of interesting detail while remaining easy to decipher. Young learners will enjoy trying to solve this tale using the animal-related clues that are sprinkled throughout the book, and teachers can begin to facilitate discussions about animals in various settings.
---
Copyright © 2022 by the National Association for the Education of Young Children. See Permissions and Reprints online at NAEYC.org/resources/permissions.
Isabel Baker
Isabel Baker, MAT, MLS, is the founding director of The Book Vine for Children, a national company dedicated to getting good books into the hands of preschool children and their teachers. Isabel has worked as a children's librarian and is currently a presenter on early literacy and book selection.
Miriam Baker Schiffer
Miriam Baker Schiffer, MFA, is a writer in Brooklyn, New York. She consults on book selections for The Book Vine, in McHenry, Illinois. Miriam's children's book, Stella Brings the Family, was published by Chronicle Books in 2015.