Feature Teacher: Jennifer Scott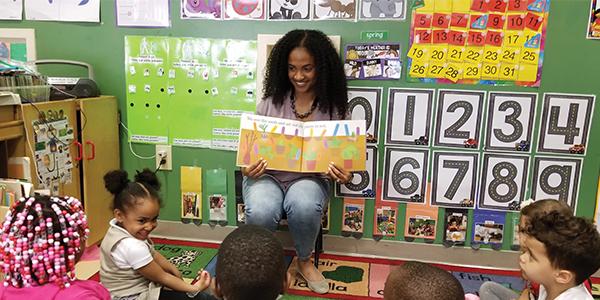 You are here
Jennifer Scott is a pre-K classroom teacher at Egenolf Early Childhood Center, in Elizabeth, New Jersey.
What is something important a child has taught you? To see the wonder in the mundane—something as simple as the wind blowing can tune you in to the feeling of it on your skin and to the sound of leaves rustling. To a child, everything is new and wondrous.
What is most important in your classroom? Building vocabulary and strengthening social and emotional skills. As children grow their vocabulary, they strengthen their relationships with peers, caregivers, and even with themselves. Managing feelings, sharing, taking turns, and supporting one another help our classroom become a safe community.
How do you build on children's individual and family strengths, cultural backgrounds, and experiences? In the beginning of the year, I gather information from families on children's past experiences: what children's daily routines consist of, who they play and interact with most frequently, what they enjoy, and the most important values their families wish to instill. I use this information to plan activities and positive reinforcement. I also try my best to communicate with children in their home languages. I speak English, Spanish, and Haitian Creole, and I use a translator for other languages or for words and phrases I may not know.
How do you show children that you value them? I say good morning to each child who walks through the door. Especially in the beginning of the year when the children are new and shy, I start off our morning meeting with a greeting that offers each child an opportunity to hear their name in a pleasant manner (accompanied with clapping, dancing, and/or cheering). I also give high fives, hugs, and smiles.
What do you do when things don't go as planned? It's imperative to expect the unexpected. I do my best to anticipate what could happen, but I also go with the flow. If something I'm doing isn't working, I try to think of other solutions. If those don't work, I communicate with my teaching assistant and if we can't figure something out, we speak to our family worker and then to our director.
Favorite children's book: I love Tami Charles' Freedom Soup because it's important for young children of color to see themselves represented in literature and for their stories to be shared with the world. This book also gives a voice to the children of Haitian immigrants, who proudly celebrate a rich and deep culture.
How I take care of myself: I eat fresh and well-proportioned meals. I run and weight-train three to five times a week. I'm cognizant of what I allow in my space, whether it's food, television, or energy. I keep folks around me who I can trust, and when I need to get something off my chest, I know I can turn to them.
My two cents: Life is not a competition. Do your best and run your own race, but be kind to yourself.
My teaching style in three words: Reflective, intuitive, entertaining.
Future Goal: At some point I may consider a PhD. Until then, my personal goals are to always remain positive and to give everything I do 100 percent.
---
For a closer look into Jennifer's center, see the article, Many Languages, One Community: Engaging All Families. The author of this article, Lorraine Cooke, is the director of Jennifer's center.
Photograph: Courtesy of Jennifer Scott