Feature Teacher: Curti Dunmore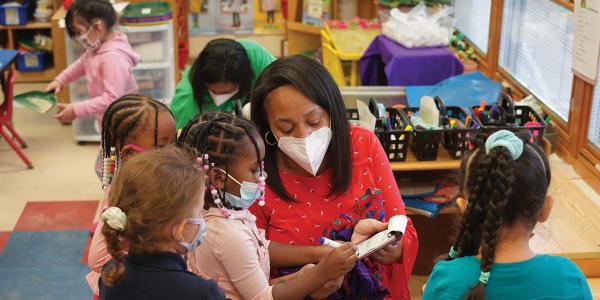 You are here
Curti Dunmore is a preschool teacher at Egenolf Early Childhood Center in Elizabeth, New Jersey. She has been an early childhood educator for more than 16 years.
Tell us about yourself! 
I have always wanted to work with young children. Initially, my dream was to become a pediatrician, but in my undergrad years I quickly learned that scientific dissection and I do not mix. After some deep reflection, I recognized that teaching is a career that would provide an opportunity for me to have a positive influence, to embrace my artistic side, and to work with young children. Teaching is something that has always come naturally for me. As the oldest of six siblings, you could say I was born for this.  When I watch the spark of excitement light up in a young child's eyes after learning something new, I am immediately in my happy place and feel reaffirmed that I made the right choice in my career path. 
What is something important a child has taught you? 
I always learn something new from the children I teach. My two most important takeaways have been that mistakes only make us stronger and that we should appreciate the silly moments. The children I teach help to remind me that all children can be engaged and excited learners when we focus on supporting the strengths, needs, and interests of each and every child.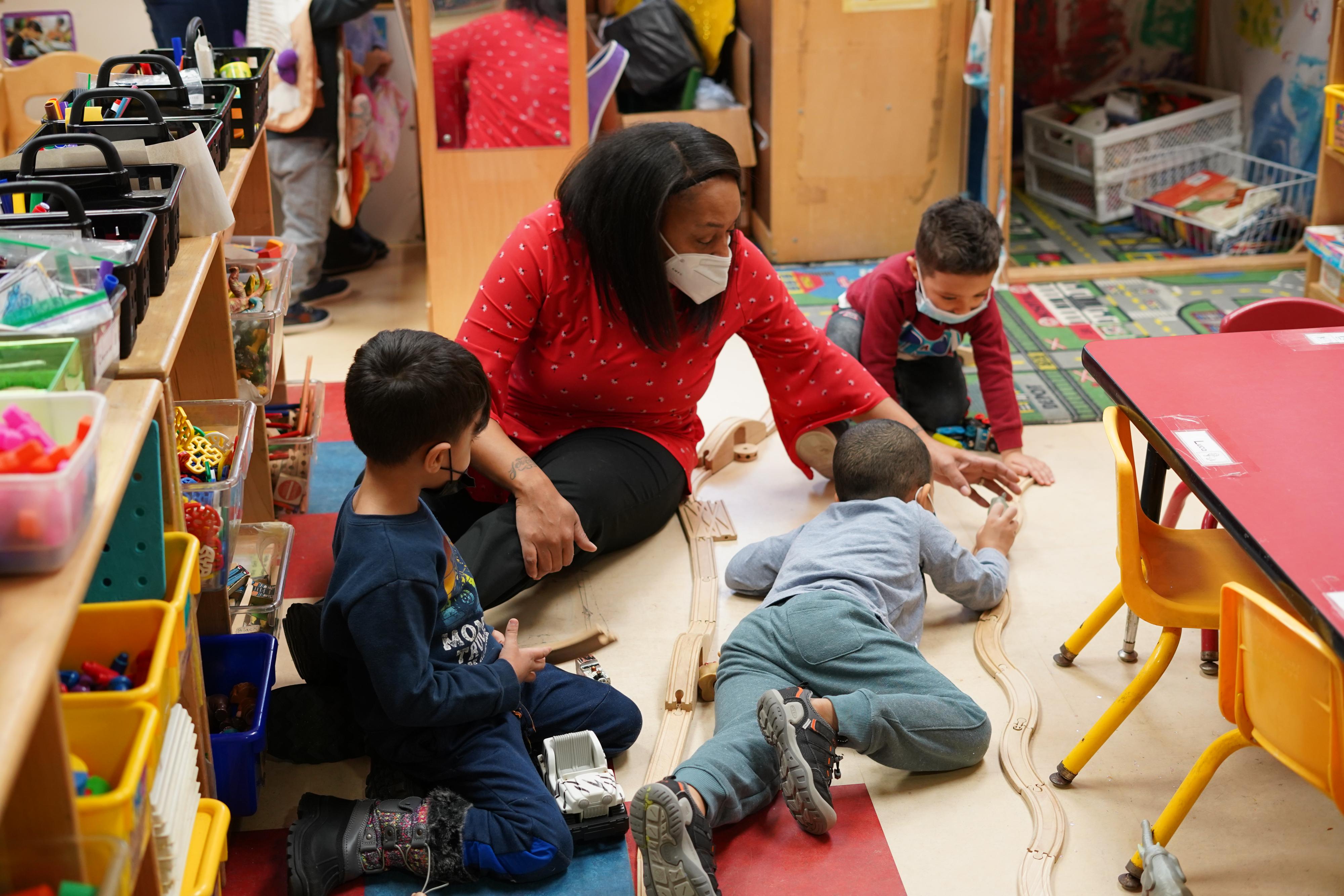 What is most important in your classroom?  
Kindness is most important in my classroom: kindness to oneself, kindness to others, and kindness to the environment. We role-play and model scenarios to help the children learn different ways to express themselves, even when they may not feel like being kind. For example, I used puppets to act out a scenario in which sharing is an issue. The puppets demonstrated ways to communicate, problem solve, and determine possible solutions. After roleplaying, I like to follow up with a book related to the issue. Children need to be shown that there are many ways to solve a problem, and that it can be done respectfully and with kindness. 
I also strongly believe that children are the future. Are we really caring for, protecting, and educating the future presidents, teachers, scientists, and parents in ways that are progressive?   
What do you do when things don't go as planned?  
I improvise. One of the most valuable lessons I learned as a new teacher was that things in education are constantly changing. You must be flexible, adaptable, and able to let some things go. I also try to have a backup plan, even including tried-and-true teacher tools like singing, finger play, or posing questions for discussion. One of my favorite spur-of-the-moment games is I Spy. This game can be altered to fit the location, age group, and energy level of the children you teach.    
Favorite children's books:  
Giraffes Can't Dance, by Giles Andreae.  
This is a favorite of mine because it focuses on celebrating your uniqueness and finding your confidence. I enjoy sharing this story because of its beautiful illustrations and its language around movement. One activity I do using this book is a dance line. I also encourage the children to dance individually while the class cheers them on. This always turns out to be a great bonding time for the children and a chance for them to embrace their silliness.  
The Kissing Hand, by Audrey Penn. 
This book is a classic that hits on the separation anxiety that many children experience when first coming to school. I like to share this book with my class to help them see that what they are feeling is normal and to give them a coping mechanism as they embrace the change. I also use this book to share how "I love you" is communicated in sign language. 
Papa, Please Get the Moon for Me, by Eric Carle 
I enjoy sharing this book when we talk about the solar system since its focus is on the moon.  However, this story is more about a father's love for his daughter and how families will do the seemingly impossible to keep their children safe and happy. One activity we do while discussing this book it to create ladders to try to reach a paper-mâché moon. The problem solving, creativity, and experimentation that the children use to try to reach the moon is inspiring. This always turns out to be a great team building project.   
How I take care of myself:  
Laughing often (I love comedy), exercise, reading, binge watching TV, and prayer. As teachers, we often deal with challenging issues and occasionally heart-wrenching situations. When I or my peers are faced with these issues, we often talk about them together. I find it helps to clear your heart and open your mind to other perspectives of the issue. It is comforting to know that we support one another in any way that we can. Maintaining a positive outlook is important; I do this by praying daily and remembering that I teach to ensure a bright future. 
What is your proudest accomplishment?  
I feel most proud at the end of every school year when I see how much my children have developed and grown. For example, one child did not speak when she started in my class. Her family was concerned and frustrated. During our time together, she grew an appreciation for songs and finger plays. By the end of the year, her family wanted to know what I did to help their daughter. I explained to them that I let her be herself, supported her interests, and celebrated her achievements. They were happy to know and see that their child had learned and grown so well.   
When I knew I had to teach:   
During my undergrad years, like many college students, I needed a job. A friend of the family suggested that I apply for a substitute position. She knew that I had a lot of experience caring for young children. When I got the job substitute teaching for a lunch shift at my local pre-K program, I loved it. I didn't want to leave the children when my shift was over. I knew right then that I wanted to be a teacher. I fell in love with the endless possibilities of learning and the joy of working with young children. That was over 16 years ago.  
Future goal:  
I would like to expand my professional development portfolio to include more advocacy for young children. I don't yet know what that would look like, but I know that I am passionate about developmentally appropriate practice, inclusivity, and support for early childhood educators. I would love to share some of my experiences and knowledge with future educators. I am also looking into writing children's books. 
My teaching style is . . .
Inclusive: In my classroom, everybody counts. Everybody is a valuable member of our classroom community, and everyone is included. We celebrate diversity daily and embrace the beauty of other cultures. It is important to me that children know that we are stronger and better when we work together. 
Engaging: Learning should be an adventure. I try my best to create learning experiences that engage children in every way possible. I want them to be able to use all their senses and their mind when learning.  When children are actively engaged, they are learning. 
Empowering: I want children to all walk away from my class feeling and knowing that they are intelligent, capable, and valuable, that I believe in them, and that they can do anything if they try.   
How does math connect to your work with young children?  
Math is all around us. It is a subject area that you will use for the rest of your life in endless different scenarios. As a teacher of young children, I find it is important to make math engaging and relevant. We incorporate math concepts and skills right into our daily classroom activities, from one-to-one correspondence to measuring distance and volume. For example, we encourage children to count themselves for attendance, and together we graph the results. Through song, books, and application, we expose young children to the wonders of math in hopes that they will embrace it and continue to feed their curiosity.  
---
Photograph: courtesy of the author.
Copyright © 2022 by the National Association for the Education of Young Children. See permissions and reprints online at NAEYC.org/resources/permissions.