Feature Teacher: Garnett Booker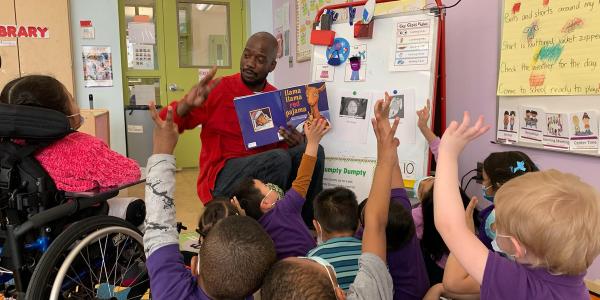 You are here
Garnett Booker is a pre-K teacher for English Language Learners at Truesdell Elementary School in Washington, DC. He has over 15 years of experience in the early childhood field.
What is something important a child has taught you?
I can remember a former student telling his family that he wanted to be a teacher "just like Mr. Garnett and Brown like [me] too." The part about this that stood out to me was the sequence of the narration. The child highlighted an internal characteristic first, my passion for teaching. He then highlighted an external trait too—my skin color. His description was intriguing, since he used the word "Brown" versus "Black." That taught me the subjective nature of describing external traits. It also showed me how children pay attention to internal and external traits from an early age. We (adults) influence this and can be a role model for what's possible. 
What strategies would you recommend to build on children's individual and family strengths, cultural backgrounds, and experiences and to show children and families that you value them?  
I would recommend reflecting on your own personal biases when working and interacting with families. This will hopefully create a sense of awareness in yourself as it relates to equity and diversity in practice and working within a broader group or community. I like to think about the quote "It takes a village." Communities are necessary for the upbringing of young children, but not every member of a community looks, acts, or thinks the same way. I try to remember that everyone in a "village" is original in their own way and has the right to be valued as an important member of their community.  
What is your favorite children's book and why? 
My favorite children's book is Love Is, by Diane Adams. For me, this book truly highlights the act of love twofold, by both letting go and holding tight. The book describes the journey of love between a girl and a duckling as they grow together, the girl caring for the duckling until it is old enough to be released back into its natural habitat. While difficult, the girl realizes it is best for the duck. After many years, she revisits the park where she found the duckling and notices the duck has ducklings of her own. The two of them immediately recognize each other and greet each other with a hug. A true reminder of the power of love.  
What are you reading now?  
I am currently reading the Power of Now: A Guide to Spiritual Enlightenment, by Eckhart Tolle, a book about self-enlightenment. This book has had an impact on my reflection process both personally and professionally.  
What is your proudest accomplishment as an educator?
My proudest accomplishment was implementing a rough-and-tumble play space for children at one of our learning centers. For me, this inclusive process included creating and presenting a short professional development presentation on rough-and-tumble play for fellow staff at my school, creating and discussing the guidelines of rough-and-tumble play with the children, and becoming a go-to resource for families who had questions or concerns about rough-and-tumble play. Observing the children engaged in rough-and-tumble play to this day continuously reminds me of this accomplishment.  
What is a future professional goal that you have for yourself?
I would like to become an early childhood instructional coach. As I work toward that goal, I know that I can participate in learning opportunities offered by NAEYC to grow in this area, and I can submit proposals to conferences to share my experiences and what I've learned.   
My teaching style is . . .
all about building communities of learners that empower children, recognize children's ability to have agency in their learning experiences, encourage children to take risks, and support children's individuality.   
I am a NAEYC member because . . .
the organization truly advocates for the importance of child development and research-supported practices. For example, the position statement on developmentally appropriate practice has been transformative for the field and for me as a professional. Being a member has helped shaped my pedagogy.   
How has being part of NAEYC positively impacted your teaching and/or interactions with children?
It has helped me incorporate play into the daily learning experiences as part of developmentally appropriate practice. For example, children in my class have the opportunity to experience play on a continuum. By that I mean play is never just one part of our schedule; it happens throughout the day and is incorporated in every learning experience. 
How does this issue's theme on content and curriculum planning and enrichment in preschool connect to what you do as a teacher or in your work with young children?
I particularly connect with this theme because I recently have been interested in project-based learning and how it can be used to enhance curriculum. I also try to incorporate makerspaces (a hands-on approach to STEM teaching and learning) into the classroom environment, a process that can support content and curriculum. For example, making playdough has been a great learning experience for all children to enjoy. They have the opportunity to measure, mix, and experiment with real-world materials. Planting activities are another great example. These types of activities highlight children as active agents in their own learning.  
---
Photograph: courtesy of the author
Copyright © 2022 by the National Association for the Education of Young Children. See permissions and reprints online at NAEYC.org/resources/permissions.