Message in a Backpack™ Encouraging Process Art at Home: Reaping the Benefits of Joy and Making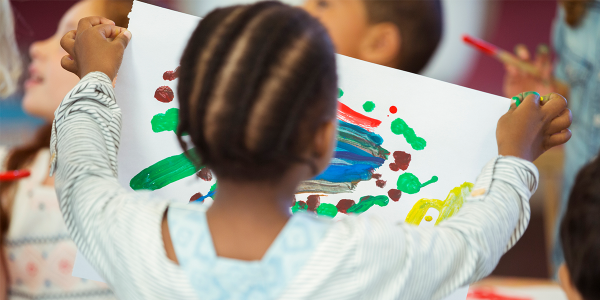 You are here
People often think about art as creating something beautiful—a replica Starry Night collage or a seasonal craft to serve as a gift. But when children engage in process art, they explore and experience materials without working toward a particular end product. In this case, going through the process of making art is more important than the results or outcomes.
There are many benefits to be gained from process art. It can be playful and joyful, and it nurtures having an open mind, trying new things, and building curiosity and resilience. It also requires minimal adult preparation.
You can encourage process art at home without being an artist yourself. And you don't need to go out and buy expensive art supplies. Instead, you can use materials from your home and from nature. Find a flat, roomy space where your child can work (a table, the floor, or even a grassy area can all be great working spaces), then set it with materials that will encourage open-ended exploration. Be sure to include
items that can serve as a base for your child's work (cardboard, placemats, clay, or playdough)
a variety of objects for your child to explore (paper plates, colored paper, beads, buttons, and natural materials such as sticks and leaves)
something that will help your child connect those objects to their base and to each other (masking tape, glue, pipe cleaners)
a variety of tools (scissors, various sized brushes, blunt-edged instruments to cut playdough or clay)
While your child creates, consider joining them. You can either work on your own art alongside them or ask to join in whatever they're making. While you don't need to talk the whole time, you can ask some key what, how, and why questions to help your child share what's on their mind as they make art. These could include
"What is your plan?"
"How will you make it happen?"
"Tell me more about why you chose this material?"
If your child is not ready to speak yet, you can put words to their actions by narrating what they are doing. ("I noticed that you stuck pipe cleaners into the playdough to make a birthday cake with candles. What a creative idea!")
Children often encounter challenges during process art. They may become frustrated because their work does not accurately reflect what they're thinking, or they might struggle with a technical issue, such as attaching a cardboard cylinder securely to a box. When this happens, wait: Give your child space to work through a problem and make mistakes along the way. If they ask for your help, acknowledge what they've done, break down the problem, then make a plan for some steps they can take to resolve it.
Stay open-minded about what your child is doing. Their creations might not be what you expect, but the real beauty lies in their journey of thought, exploration, and discovery.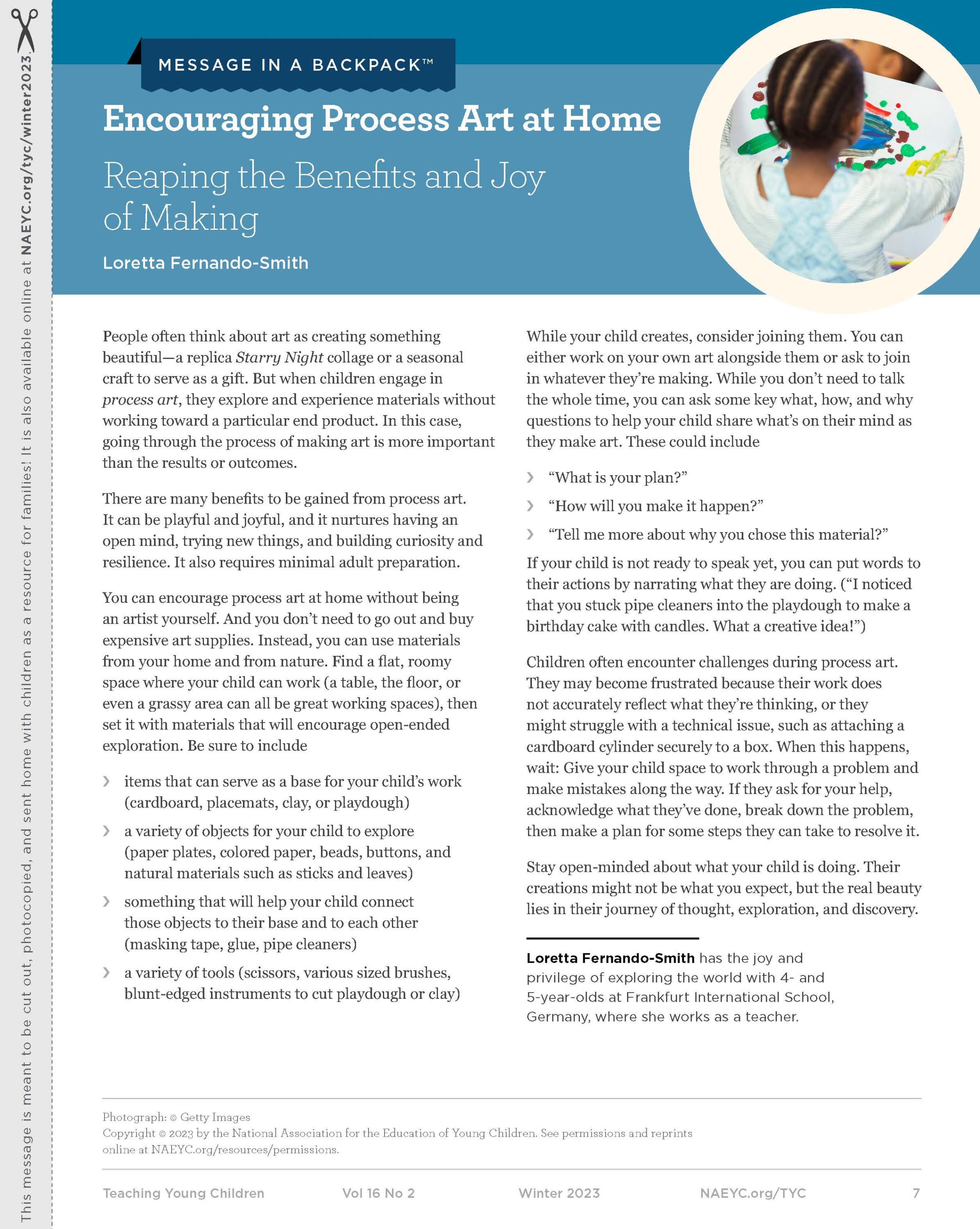 Download the PDF for this Message in a Backpack™ here!
---
Photograph: © Getty Images
Copyright © 2023 by the National Association for the Education of Young Children. See permissions and reprints online at NAEYC.org/resources/permissions.
Loretta Fernando-Smith
Loretta Fernando-Smith has the joy and privilege of exploring the world with 4- and 5-year-olds at Frankfurt International School, Germany, where she works as a teacher.