De Nuestra Presidenta. Preguntas que iluminan y expanden el aprendizaje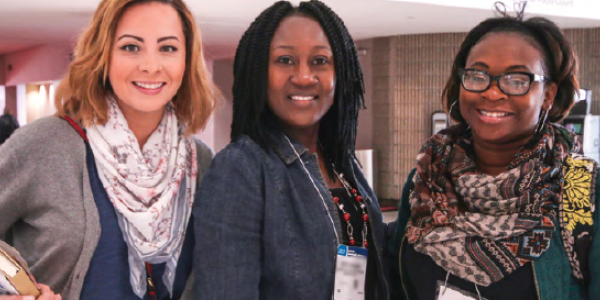 You are here
Si estás muy contento, aplaude así (clap, clap),
Si estás muy contento, aplaude así (clap, clap),
Si estás muy contento y quieres demostrarlo,
Si estás muy contento, aplaude así (clap, clap).
Así comencé mis comentarios como oradora de agencia para la Campaña Anual de United Way. Era el año 1996 y yo era la nueva directora del programa en el Centro de Educación Infantil Ellis Memorial en Boston (Massachusetts), recién promovida después de tres años de ser maestra en aulas preescolares. Dirigía canciones grupales en salas de conferencia en todas partes de Boston para ejecutivos de bancos grandes y socios de bufetes de abogados. Era mi manera de incorporar un poco del mundo de la primera infancia a lugares que, para mí, eran nuevos e intimidatorios. Si pudiera hallar una manera de sentirme más cómoda, podría compartir mejor la información sobre cómo los fondos de United Way apoyaban a los niños y familias de mi programa.
Creo en el concepto de aprender haciendo. Hasta ahora, he podido usar las mismas aptitudes para cautivar a niños de 4 años sentados en un círculo y atraer el interés de oficiales elegidos y legisladores. Mis perspectivas y experiencias como maestra de niños pequeños me ayudaron a prepararme para mis papeles actuales: defensora que trabaja en políticas estatales para Strategies for Children en Massachusetts, profesora adjunta que da clases de liderazgo y abogacía en Wheelock College y Quinsigamond Community College, y la presidenta de la Junta Directiva de NAEYC.
Tras los años, he gozado de mentores y colegas que me proveían oportunidades de observar, hacer preguntas, reflexionar y practicar mientras aprendía algo nuevo—a veces con éxito, a veces no, pero siempre aprendiendo. Me he beneficiado de ofrecerme como voluntaria y de trabajar para organizaciones que priorizan el desarrollo del liderazgo. NAEYC es una de estas organizaciones.
 Necesitamos pensar en lo que podría ser y no focalizar solamente en lo que ya ha sido. 
En junio de 2017, al principio de mi término de cuatro años, era la presidenta electa de la Junta Directiva. Tenía un año para integrar esta organización increíble, servir en la Junta y aprender todo lo que podía de Tammy Mann, la presidenta anterior de NAEYC. No podía haber pedido una guía y mentor mejor durante este año de observar, hacer preguntas, reflexionar y practicar. Gracias al liderazgo de Tammy, su sabiduría y su compromiso con la excelencia, me siento lista para continuar este trabajo emocionante junto con los demás miembros de la Junta Directiva.
Fui elegida por primera vez como miembro de la Junta Directiva de NAEYC en marzo de 2011 y serví hasta julio de 2014. Contratamos durante este periodo a una directora ejecutiva nueva y actualizamos la visión, la misión, los valores, las creencias y las prioridades estratégicas de NAEYC. Refinamos los reglamentos y completamos el Diálogo Nacional. Era un tiempo transformativo para la organización y un tiempo emocionante para integrar la Junta. Creo que lo mismo es cierto ahora. Agradezco a los líderes anteriores y la historia que crearon, los riesgos que corrieron y la dedicación y compromiso que contribuyeron a nuestro campo profesional.
Una de las mejores oportunidades para nuestro campo de la educación infantil es también uno de nuestros mayores desafíos: nuestra rica y larga historia de servir a niños y familias de tantas maneras diversas e importantes puede ser a veces un obstáculo a nuestra consideración de cómo seguir adelante. Necesitamos tanto honrar el pasado como presionarnos a pensar valientemente en el futuro. Necesitamos pensar en lo que podría ser y no focalizar solamente en lo que ya ha sido. Necesitamos creer en nosotros mismos y estar dispuestos a pensar distintamente en el futuro. ¡Si se puede!
Este es un momento crítico y emocionante para la educación infantil en nuestro país. Desde hace demasiado tiempo, los educadores de niños pequeños han sido ignorados y subestimados. Juntos cambiaremos esto. Nuestro trabajo colaborativo asegurará una fuerza laboral bien preparada, bien pagada, bien apoyada y bien respetada. Usted trabaja a favor de los niños todos los días. Hágalo ahora a favor de la profesión: ¡únase a la conversación! Mediante Power to the Profession (Revalorizar la Profesión), puede ayudar a definir la profesión de la primera infancia. Aprenda más sobre esta coalición—y agregue su voz—visitando NAEYC. org/our-work/ initiatives/profession.
Mi misión personal es una de empoderar a los educadores de la primera infancia y animar su participación en la abogacía, la formación de políticas y la investigación. Debemos ser decididos en cuanto a desarrollar oportunidades de liderazgo para educadores y administradores, preparar a educadores para que se dediquen a prácticas apropiadas para el desarrollo y fijar estándares altos, además de proveer los apoyos necesarios para ayudar a los educadores a lograr y mantener prácticas de reflexión y alta calidad. Me presenté como candidata a la presidencia de la Junta Directiva porque creo que NAEYC puede convertir esta visión en una realidad.
Asistí en 1995 a mi primer Congreso Anual de NAEYC en Washington, D.C. Era maestra preescolar y mi directora ejecutiva me imprimió tarjetas de presentación para el evento—un gesto pequeño, pero importante, que ayudó a hacerme sentir que pertenecía y tenía valor. Jamás había visto a tantos educadores en un solo lugar. Recuerdo que, en la presencia de educadores de todas partes del país, me sentía conmovida por esperanza, orgullo, pertenencia y empoderamiento. Aquel sentimiento se ha intensificado, y me siento honrada y llena de humildad al servir como presidenta de la Junta Directiva.
Gracias por todo lo que hace en apoyo a niños, familias y educadores.
Amy O'Leary
Amy O'Leary serves as President of the NAEYC Governing Board.