De nuestra presidenta. El comienzo de una conversación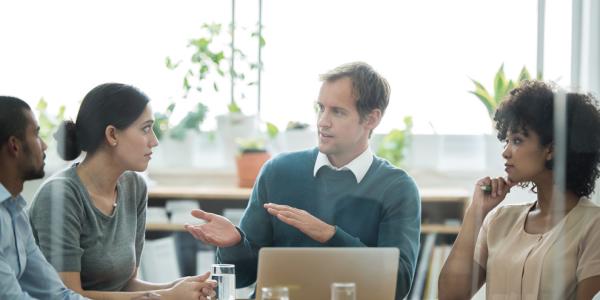 You are here
Durante mi niñez y juventud, mi mamá trabajaba como facilitadora y organizadora con grupos comunitarios de voluntarios, organizaciones que apoyaban a padres y madres, y coaliciones de adolescentes y adultos jóvenes. Ella creía en rotafolios, reglas básicas y preguntas. También creía que los niños son competentes y capaces, y que los adultos tenían que quitarse del camino y confiar en que las personas menores en el cuarto podían proveer respuestas. Lo sigue creyendo hoy. Como consecuencia, mis hermanos y yo crecíamos con rotafolios, reglas básicas y preguntas como los pilares de nuestra cultura familiar. Una de las preguntas favoritas de mi mamá era: "¿Qué te fue lo más significativo?". Le encanta esta pregunta porque ha generado tantas respuestas interesantes y poderosas.
Me pregunto cómo nuestros miembros y socios contestarían esta pregunta: "¿Qué ha sido lo más significante de su participación con NAEYC?". ¿Qué diría usted? Me imagino que habría una variedad de perspectivas y experiencias; estoy segura de que el momento y el contexto intervendrían también.
Mientras reflexiono sobre la última década, una cosa en que espero que todos podemos estar de acuerdo es que ha sido un tiempo transformativo para nuestra organización. Se han tomado grandes decisiones, se han cambiado estructuras y se han hecho muchas preguntas en el camino—algunas con respuestas fáciles y muchas más con complicadas. Nuestras creencias centrales en la Dirección Estratégica de NAEYC incluyen la excelencia y la innovación, la transparencia, la reflexión, la equidad, la oportunidad y las relaciones colaborativas. Estos conceptos de guía siguen siendo útiles mientras trabajamos para vivir nuestra declaración de visión—que "todos los niños pequeños se desarrollan y adquieren conocimientos en una sociedad dedicada a garantizarles que puedan alcanzar su máximo potencial".
En el espíritu de nuestras creencias centrales y la transformación continua en NAEYC, la Junta Directiva convocó en julio una cumbre de líderes que se llamaba "Liderar y trabajar hacia la equidad". Usted puede leer más acerca de la cumbre en "Hacia la equidad", escrito por Rhian Evans Allvin, la Directora Ejecutiva de NAEYC, en el presente número. Algunos facilitadores del National Equity Project trabajaron con nosotros para clarificar nuestros resultados y metas deseados. Recopilaron reacciones y comentarios de personas de diversas partes de la organización mientras creaban la agenda y planeaban tres días de conversación y aprendizaje.
Al comienzo, el National Equity Project ofreció "El arte de la conversación. Comportamientos que ayudan a llevar la conversación a un nivel más profundo":
Nos reconocemos uno al otro como iguales
Intentamos seguir curiosos uno por el otro
Aflojamos el ritmo de la vida a fin de tener tiempo para pensar, reflexionar y sentir
Reconocemos que necesitamos la ayuda de los demás para hacernos oyentes mejores
Recordamos que la conversación es la manera natural de que pensamos juntos los seres humanos
Esperamos que a veces se ponga complicada
Apreciaba muchísimo estas reglas básicas. Era un regalo la oportunidad de tener el tiempo, el espacio, la estructura y la facilitación considerada para guiar nuestra labor.
Al reflexionar en esta cumbre, veo que muchos de los conocimientos y observaciones clave se me han quedado. Un refrán que era central en nuestras discusiones es given the chance, people can solve their own problems (dada la oportunidad, la gente puede resolver sus propios problemas). Esta idea estaba conectada con un artículo en Resurgence Magazine que leímos juntos, "Leadership in the Age of Complexity: From Hero to Host" (El liderazgo en la edad de la complejidad. De héroe a anfitrión), de Margaret Wheatley y una coautora, Debbie Frieze. Como afirma tan claramente el artículo, "ha llegado el momento de dejar de esperar que alguien más nos salve". Nosotros mismos somos los a quienes hemos estado esperando.
Algo más que me impresionó era qué tan dispuestos eran los participantes a compartir sus experiencias personales y escuchar a otros, decir sus verdades y señalar las barreras y oportunidades perdidas que nos han refrenado. Colaboramos en uno de los ejercicios con otras personas en nuestras mesas para contestar la pregunta: "¿Qué son algunas cosas no discutibles que creemos –si les damos algo de atención –que nos adelantarían en ciertas cuestiones que nos importan?". Como aprendimos de un artículo de Roland S. Barth, "The Culture Builder" (El constructor de cultura),
Cosas no discutibles son temas que son suficientemente importantes como para ser tratados con frecuencia, pero que son tan cargadas de ansiedad y miedo que estas conversaciones ocurren solamente en el estacionamiento, los baños, el patio de recreo, el transporte compartido o durante la cena en casa.
Hicimos en cada una de nuestras mesas una lista de cosas no discutibles, acordamos en las tres más importantes y las apuntamos en papel de rotafolios que se hallaba por todo el salón. Había un charloteo susurrante mientras andábamos leyendo las palabras de otros grupos.
Las no discutibles nos rodearon durante el resto del día. Los participantes teníamos ganas de revisitar las listas, y el tercer día las exploramos, categorizamos y priorizamos más. Era poderoso ver dónde había acuerdo, ya que señalaba oportunidades de cambiar.
Esta reunión de tres días era el comienzo de una conversación que debe continuar e incluir a todos nuestros miembros. No puede ocurrir solamente en Washington, DC; tiene que ocurrir entre nuestra membrecía, los afiliados, los foros de interés, los comités y consejos asesores, el personal y los integrantes de la Junta Directiva. Necesitaremos reglas básicas, rotafolios y preguntas. Necesitamos hablar de las no discutibles y hacer un plan de acción y cambio.
Nosotros mismos somos los a quienes hemos estado esperando.
---
Nota: Los comportamientos de la conversación fueron adaptados de "The Way of the Teacher: Principles of Deep Engagement" de A. Arrien, en Schools with Spirit: Nurturing the Inner Lives of Children and Teachers, editado por L. Lantieri (Boston: Beacon Press, 2001, pp. 145–62). "The Culture Builder" de Roland S. Barth fue publicado en Educational Leadership (vol. 59, no. 8, pp. 6–11) en mayo de 2002.
Amy O'Leary
Amy O'Leary serves as President of the NAEYC Governing Board.