De nuestra presidenta. El cambio: Podemos hacerlo pasar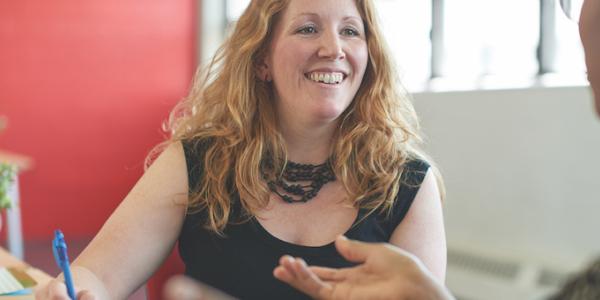 You are here
Fui hace poco al Museo de Bellas Artes en Boston para almorzar con una amiga y ver una exhibición. Era domingo por la tarde y había una fila larga para la compra de boletos de entrada. Pero había una fila mucho más corta para hacerse miembro. Después de leer la lista de beneficios—que incluía la entrada gratuita—y hacer un calculito rápido, me di cuenta de que un año de membrecía igualaba el precio de tres boletos de entrada, por lo que me cambié de fila.
Cuando me tocaba a mí en la ventanilla de membrecía, el cajero John me hizo varias preguntas. Una era, "¿Es usted una educadora K-12?". Le contesté que no y agregué: "Sabe, John, deberíamos incluir a los educadores pre-K en esa pregunta. De hecho, deberíamos incluir a todos los educadores que trabajan con niños desde el nacimiento". Con una sonrisa, le pregunté, "¿Con quién puedo hablar de esto?". John me devolvió la sonrisa y dijo que no estaba seguro. Le dije que ¡lo averiguaría yo!
Mientras me iba, ya estaba pensando en un plan de acción: a quién podría contactar, cuáles serían mis mensajes clave, cuáles investigaciones citaría, cuáles soluciones ofrecería y qué sería mi "demanda". Siempre animo a otras personas a que aboguen, y ahora necesitaba seguir mis propios consejos; yo era la que tenía que pasar a la acción.
Uno de los desafíos mayores de la abogacía es realmente acabar lo que se empieza. He hallado que es fácil enardecer a la gente por la idea le escribir una carta al editor, pedir una junta con el comisionado de educación y cuidado infantil, llamar a sus funcionarios elegidos o testificar en sesiones legislativas. Sin embargo, ¡es mucho más difícil realmente hacerlo! Existen muchas razones: encontrar el tiempo, tener otras prioridades, no saber dónde empezar o esperar que alguien más lo haga, por mencionar solo algunas.
Me pregunté qué de esta situación en particular provocaba mi interés. En muchos momentos y numerosos escenarios he oído que se refiere a la educación como K-12—en el gobierno estatal, fondos aumentados para la educación (mientras se bajaban los fondos para la educación infantil), otros descuentos y beneficios para educadores—y no me veía obligada a actuar. En aquellos casos es posible que me caía en una de mis propias trampas de abogacía: sentía que no tenia ni el tiempo ni la energía para enfrentar el desafío, pensaba en lo difícil que sería cambiar la situación o (de nuevo) esperaba que alguien más abordaría el asunto. ¿Qué era diferente ahora? Recordando un evento a que había asistido en la primavera, podía unir los puntos y contestar la pregunta.
El dilema del statu quo

En marzo, el Council of Chief State School Officers (Consejo de Funcionarios Principales de Escuelas Estatales) y la National Governors Association (Asociación Nacional de Gobernadores) eran los anfitriones de la Early Care and Education Workforce 2.0 Cross-State Convening (Convocatoria entre Estados para la Fuerza Laboral de Cuidado y Educación Infantil 2.0). Era una oportunidad para equipos de 10 estados de escuchar a expertos del campo profesional sobre cuestiones relacionadas con la fuerza laboral de educación y cuidado infantil. Compartí en esta reunión las lecciones aprendidas de Massachusetts. Los asistentes escucharon a Alison Lutton y Albert Wat también.
Alison, una directora anterior del sistema de NAEYC de acreditación de educación superior y ahora una consultora que apoya a líderes en el campo de educación infantil, comenzó su presentación con una filmina titulada "A New Urgency to Resolve Old Questions" (Una urgencia nueva en resolver preguntas viejas). Las preguntas viejas incluían definir nuestra profesión, nuestras competencias, nuestras credenciales y nuestros caminos. Luego repasó algo de historia y añadió contexto sobre desarrollar la profesión, planteó preguntas nuevas acerca del campo infantil y compartió lecciones aprendidas. La discusión de Alison se basó en la idea del poder del statu quo.
El poder del statu quo: aprecio el concepto y creo que capta parte de lo que tal vez nos refrene en mucho de nuestro trabajo. Cambiar es difícil. Pero hay un impulso actual por todo el país hacia reconocer la importancia de la educación infantil y aumentar las inversiones en la misma. Debemos aprovechar esta oportunidad.
La superación del statu quo

Albert Wat, director principal de políticas en la Alliance for Early Success (Alianza para el Éxito Infantil), recalcó en su presentación un concepto llamado "ventana Overton" que era consonante conmigo, ya que nos enseña cómo superar el poder del statu quo.
La ventana Overton, llamada así por el defensor del marcado libre Joseph Overton, se refiere a la gama de ideas políticas que la gente está dispuesta a aceptar en una sociedad determinada. La ventana se mueve según cambia la sociedad y la gente está más o menos dispuesta a considerar diferentes ideas (compare las encuestas de opinión sobre el matrimonio homosexual de 1995 y 2015 para ver lo que quiero decir). Si los defensores quieren crear cambios sociales, tienen que luchar para mover la ventana Overton y traer sus ideas a la cultura dominante.
Overton murió en un accidente de avión en 2003, antes de que pudiera ver la realización plena de sus ideas, pero su amigo y colega Joseph Lehman continuó el trabajo. Como escribe Derek Robinson en Politico, Lehman "formalizó y llamó [la ventana Overton] en una presentación destinada a educar a compañeros de guerra en laboratorios de ideas sobre el poder de la abogacía consistente. Toque fuerte la campana a favor de su idea, no importa la popularidad que le falte, y respáldela con una abundancia de investigación y evidencia".
En otras palabras, la ventana Overton se refiere al concepto que una idea grande e intrépida—que podría parecer impensable y radical al presentarse—puede con el tiempo llegar a ser popular y finalmente una política. En términos de la educación infantil, una idea así podría ser doblar el Community Development Block Grant (Subvención en Bloque para el Desarrollo Comunitario) en el presupuesto federal, definir y compensar el campo de cuidado y educación infantil como una profesión, crear un prekindergarten universal o permitir que los educadores que trabajan con nuestros estudiantes más pequeños reciban un descuento en la membrecía del Museo de Bellas Artes de Boston—y, aun mejor, ¡que reciban beneficios dondequiera que se los ofrezcan a los educadores K-12! Somos guerreros que batallamos a favor de los educadores de la primera infancia y ¡tenemos que tocar la campana!
Bueno, tardé dos semanas en empezar por fin mi proyecto de abogacía nuevo con el museo. Para la impresión de esta columna, he logrado algo de progreso, pero no he terminado. ¡Necesito la ayuda de usted con hacerme responsable! Si usted me ve, pregúnteme cómo va mi proyecto con el museo. Estoy siguiendo uno de los mantras de Revalorizar la Profesión y espero que usted haga lo mismo: "Ha llegado el momento para cambiar. Ayude con hacerlo pasar".
---
El artículo en Politico "How an Obscure, Conservative Theory Became the Trump Era's Go-to Nerd Phrase: The 'Overton Window' Has Become a Useful, and Misunderstood, Shorthand for the State of American Politics" de Derek Robertson está disponible en https://politi.co/30o0Ue8.
Amy O'Leary
Amy O'Leary serves as President of the NAEYC Governing Board.