De nuestra presidenta. De viaje al liderazgo y el empoderamiento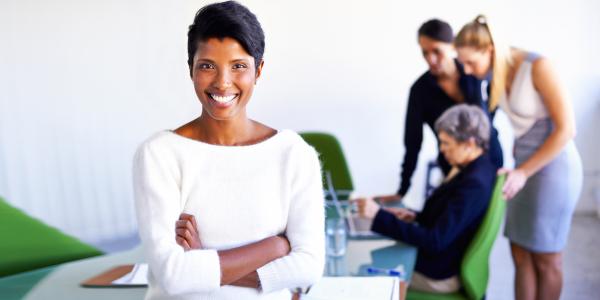 You are here
En mi trabajo como directora de la campaña Early Education for All (Educación Infantil para Todos) en Strategies for Children (Estrategias para Niños), he tenido oportunidades de hablar con diversos grupos de educadores en el campo de la primera infancia, algunos de los cuales recién empezaban y otros con muchos años de experiencia. Como presidenta de la Junta Directiva de NAEYC, he tenido aun más oportunidades de hablar con líderes de todas partes del país. Dos de las preguntas que casi siempre se hacen son: "¿Cómo ha ido desde maestra de preescolar a directora y de allí a cabildera?" y "¿Cómo empezó a participar en la política y la abogacía?"
Con frecuencia, contesto primero diciendo: "Creo en aprender por hacer. He podido usar las mismas habilidades para cautivar a niños de 5 años sentados en un círculo que para interactuar con legisladores en la cámara estatal". Quiero que los educadores crean que son líderes y pueden hacer cualquier cosa. Luego suelo mencionar los mentores en mi vida que ayudaron a crearme oportunidades y apoyaron mi crecimiento y desarrollo.
Mientras comparto mi historia, estoy pensando también en el Proyecto Liderazgo Empoderamiento Acción (LEAP, de Leadership Empowerment Action Project), que ayudó a sentar los cimientos en la abogacía y la política, tanto para mí como para educadores de niños pequeños por todo Massachusetts y el país.
Cómo llegué a ser defensora y líder de la primera infancia

En la década de 1990, algunos líderes iluminados y revolucionarios en el campo de la primera infancia diseñaron un curso de liderazgo para educadores y directores del campo. Bob French, Patty Hnatiuk, Nancy deProsse y Pat Xavier trabajaron juntos para abordar una necesidad crítica: el desarrollo de un cuadro de defensores y líderes para la educación infantil. Con el apodo MassLEAP, el Proyecto de Liderazgo Empoderamiento Acción de Massachusetts era un esfuerzo colaborativo, inspirado por una investigación realizada por la Fundación Schott sobre las necesidades de los proveedores de cuidado y educación infantil. Emergieron tras varios años un curso de tres créditos universitarios, reuniones en retiros, esfuerzos de abogacía, proyectos de acción y muchísimo desarrollo comunitario, todo impulsado por las demandas del campo.
Me inscribí en el curso de MassLEAP en Boston. Al mirar hacia atrás, puedo decir honestamente que ese curso cambió mi vida. Las conexiones que hice, el contenido que aprendí y las oportunidades que tuve para investigar un tema, participar en conversaciones sobre políticas, desarrollar soluciones y aprender de expertos del campo me ayudaron a hallar mi voz de defensora. Después del curso LEAP, me sentí inspirada a averiguar cómo podía continuar mi educación.
Me matriculé en 2001 en el programa de la maestría en administración pública de la Universidad Suffolk en Boston. Uno de mis objetivos era enseñar al nivel académico superior: ¡quería ser instructora del curso LEAP! Me gradué en mayo de 2006 y empecé a dar el curso MassLEAP en Wheelock College en el otoño.
Las clases LEAP fueron diseñadas para tener co-instructores. Era la manera perfecta de comenzar mi viaje como instructora. Aprendí muchísimo aquel semestre en Boston: de mi co-instructora, Debra Johnson Malden; de los estudiantes de la clase; y de dos de los creadores de LEAP, Patty Hnatiuk y Pat Xavier, que tuve la gran suerte de tener como mentores. Seguí enseñando LEAP tras los años, con Rosemary Hernández en Holyoke y Boston, y con Hilda Ramírez en Worcester.
La enseñanza de clases LEAP me abrió la puerta para servir como profesora auxiliar en instituciones públicas y privadas en Massachusetts—en Quinsigamond Community College en Worcester, en Cambridge College y en Wheelock College of Educacion and Human Development de la Universidad de Boston. Ha sido un privilegio instruir a estudiantes en cursos de grado y de posgrado sobre la abogacía, las políticas, el liderazgo y la comunicación. He sido testigo de increíbles trasformaciones personales y profesionales entre los educadores de la primera infancia mientras llegan a reconocer el poder que tienen como defensores y expertos en el campo.
Los estudiantes marcan la diferencia

Uno de los componentes clave de LEAP que enseño en todo curso es el proyecto de acción comunitaria. Los estudiantes escogen un tema y desarrollan un plan para hacer un cambio—crear algo nuevo, actualizar algo que ya existe o despertar conciencia acerca de una cuestión que les importa. Siempre me inspiran los proyectos y los desafíos que abordan los estudiantes durante un curso de 15 semanas. La meta no es completar el proyecto, sino aprender durante el proceso al hacer algo y aprender el contenido en el aula y en la lectura.
Con frecuencia, mientras proponen ideas, los estudiantes quieren saber de otros proyectos. Les hablo de la Early Educators Awards Gala (Gala de Premios para Educadores de la Primera Infancia). Creado por un profesional de LEAP, este evento celebra y honra a educadores de niños pequeños con premios nominados por colegas, y reconoce la calidad del programa mientras los educadores disfrutan una noche fuera de la casa con amigos y colegas. Y les hablo de la estudiante que trabajó en desarrollar un jardín de recreo para toda habilidad en su comunidad, proyecto que resultó de una experiencia personal: su hijo no pudo participar en un parque acuático.
Siempre invito a un legislador estatal a asistir a mi curso de abogacía, políticas y liderazgo. Una de las primeras tareas para los estudiantes es aprender quién los representa en el Congreso Estatal y cómo hacer una conexión con esta persona. Un año, una estudiante programó una reunión con café con el senador estatal de su distrito. En respuesta a mi invitación, el senador vino a nuestra clase la noche anterior y animé a la estudiante a hacer la conexión—a hablar con él sobre la reunión que había programado para el día siguiente. Después de la reunión, la estudiante me envió un e-mail para decirme de la gran ayuda que el senador había prestado en cuanto a su proyecto de acción—y que ¡le había ofrecido una práctica veraniega en su oficina!
Otra estudiante actuó cuando una subvención destinada a apoyar a educadores en el campo infantil estaba en peligro de ser consolidada con un flujo de fondos más grande. Se reunió con directores de programas en su comunidad, consiguió más de 100 firmas en una carta y contactó a su senador estatal en busca de ayuda. ¿El resultado? El flujo de fondos no cambió. La estudiante sentía que había marcado una diferencia. Había investigado, conseguido información exacta, comunicado con sus aliados y actuado. Se sentía empoderada.
Escoja su camino

LEAP fue creado hace más de ٢٠ años, pero la necesidad de tener este tipo de aprendizaje y experiencia directa es igual de importante hoy. Como miembro de NAEYC, usted puede recurrir a su asociación profesional para oportunidades de hacerse un agente a favor de cambios. Colabore con su afiliado para conectar con los legisladores locales y estatales. Participe en el Public Policy Forum (Foro de Políticas Públicas) de NAEYC para hablar con sus funcionarios elegidos en Washington. Asuma un papel activo en Power to the Profession (Revalorizar la Profesión) para conformar el campo de la educación infantil. Comparta su historia: piense en el tema que abordaría para mejorar nuestro campo. Recuerde que usted es inteligente, es poderosa y es una líder y defensora a favor de la educación y el éxito de los niños pequeños. Están contando con usted.
Amy O'Leary
Amy O'Leary serves as President of the NAEYC Governing Board.