Formar conexiones. Una victoria para niños, padres y cuidadores en Washington D.C.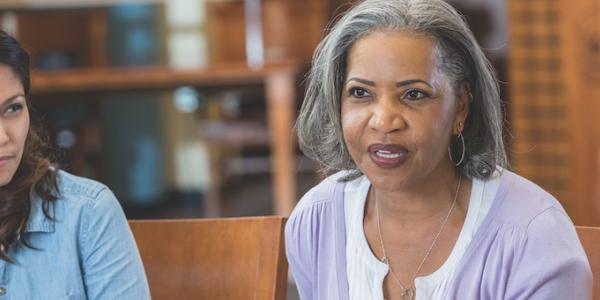 You are here
A más de dos años desde el comienzo de Power to the Profession (Revalorizar la Profesión), 2019 marca una transición crucial. Este año, la fuerza especial de Power to the Profession concluirá su trabajo y presentará al campo un marco unificador. En preparación de este lanzamiento, hemos iniciado con estados conversaciones preliminares sobre la implementación política.
En colaboración con la reautorización de la Child Care Development Block Grant (Subvención en Bloque para el Desarrollo del Cuidado Infantil), los líderes en Washington D.C. implementaron nuevas políticas destinadas a subir el nivel mínimo de calidad para niños pequeños. Sus políticas fueron impugnadas en el tribunal y el juez denegó el caso. Viene a continuación un artículo de opinión mío acerca del pleito que se publicó en el Washington Post el 15 de marzo de 2019.
— Rhian Evans Allvin
Un tribunal federal denegó recientemente un pleito que impugnaba un reglamento nuevo de Washington D.C. que requiere que los maestros principales de centros de desarrollo infantil en el Distrito de Columbia obtengan títulos de asociado y exige más credenciales para otros maestros y cuidadores.
Esto es un caso poco común de ganancia-ganancia-ganancia.
Es una ganancia para los niños de D.C., los cuales se beneficiarán de educadores bien preparados en el campo de la primera infancia. Es una ganancia para los padres, quienes tendrán más confianza en que sus hijos estén cuidados en un ambiente enfocado en su crecimiento y desarrollo positivo. Y es una ganancia para los educadores de niños pequeños, ya que extenderán su propia formación para aumentar su posibilidad de ingresos, sus oportunidades de trabajos futuros y su satisfacción laboral.
Los demandantes del pleito—respaldado por Institute for Justice, un despacho grande de abogados libertarios—expusieron que los reglamentos de D.C. eran onerosos para los cuidadores. Pero el Distrito ha tratado de aliviar esta carga mediante proveer fondos significantes para becas, ajustar la cronología para satisfacer los requisitos educativos y extender exenciones que reconocen la experiencia y/o la extrema necesidad.
Mientras que el viaje al cuidado de más calidad podría tardar un poco más, con la denegación de este pleito deberíamos alegrarnos por saber que llegaremos al destino.
Las edades desde el nacimiento hasta los 8 años son un periodo sin igual de desarrollo, concepto que décadas de neurociencia confirma. (Para un resumen de la investigación, véase "Transforming the Workforce for Children Birth Through Age 8: A Unifying Foundation", un informe de 2015 de National Academies of Sciences, Engineering, and Medicine). La empatía y el cariño son ingredientes esenciales del cuidado de niños pequeños, pero los primeros años de vida son también cuando los niños empiezan a comprender la inferencia causal, controlar la atención y los impulsos, conectar el lenguaje con las matemáticas, desarrollar la motricidad fina y la gruesa, y negociar relaciones con sus compañeros.
Estas habilidades y disposiciones, las cuales forman el fundamento de todo aprendizaje futuro, pueden desarrollarse y cultivarse eficazmente en ambientes cariñosos y basados en el juego—cuando los educadores hayan conseguido los conocimientos, aptitudes y competencias que necesitan.
Cuando los niños pequeños tienen estas oportunidades, son mejor preparados para el kindergarten, se gradúan de la secundaria superior según índices más altos y son más propensos a seguir a la educación postsecundaria, poseer valores materiales y evitar el sistema jurídico.
Estos primeros años de aprender son críticos para cerrar la brecha de logros. La educación infantil de calidad prepara a los niños para la escuela y ayuda a asegurar que no se queden atrás desde el principio.
Hay que reconocer al Consejo D.C. por su gasto de cientos de millones de dólares en ayudar a realizar el acceso a la educación infantil de alta calidad. Cuando el Consejo D.C. invierte el dinero de los tributarios, es imperativo que también fije las normas de calidad para garantizar que los fondos se gasten bien y que los niños reciban el máximo beneficio. Estos requisitos educativos ayudan a los padres a hallar un cuidado de calidad que sea el mejor para sus niños y su familia.
El sistema de cuidado infantil es como el viejo oeste: los padres están sujetos a opciones imperfectas basadas en la geografía, la disponibilidad y el costo que convierten la idea de elección parental en un mito. Los padres no deberían tener que escoger entre un cuidado infantil que pueden pagar y otro que ofrece una experiencia de calidad. El Distrito está resolviendo este problema estableciendo el nivel base del tipo de calidad que los padres pueden esperar por todo el espectro de cuidado infantil. Como mínimo, los padres sabrán que, sin importar el programa que escojan, los educadores tendrán una formación suficiente para cultivar el aprendizaje de sus niños.
Los maestros de estos centros de desarrollo infantil también se beneficiarán de la transformación de su profesión. Típicamente, estos puestos cruciales y responsables del desarrollo infantil pagan menos que los de restaurantes de comida rápida. Y estos puestos son ocupados de manera desproporcionada por mujeres de bajos ingresos y de comunidades de gente de color. Ya es hora de crearles oportunidades equitativas de avanzar en su profesión y de tratarla con el respeto que merece debido al trabajo complejo, valioso y exigente que desempeñan.
El aumento de requisitos para educadores de la primera infancia beneficia a todos. Los niños están más preparados para la escuela y para la vida. Los padres tienen mejor acceso al cuidado de calidad. Y los maestros y cuidadores mejoran su profesión y sus posibles ingresos. Es una ganancia-ganancia-ganancia para celebrar.
Rhian Evans Allvin
Rhian Evans Allvin is the chief executive officer of NAEYC. She is responsible for guiding the strategic direction of the organization as well as overseeing daily operations. Before joining NAEYC, Evans Allvin was a guiding force in Arizona's early childhood movement for more than 15 years, including serving as CEO of Arizona's First Things First.