Collaborating With Colleagues in Related Fields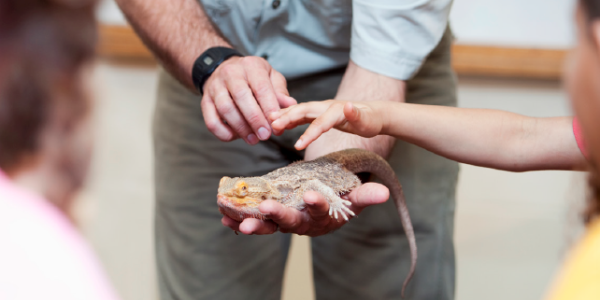 You are here
Commitment to developmentally appropriate practice means, at its core, knowing about child development (cognitive, social and emotional, and physical), thinking about children both as individuals and as part of a group, and considering each child's family, culture, and community. The articles in this cluster describe five very different ways that early childhood educators are connecting with the wider community and with experts in other fields to support young children's optimal learning and development—an early childhood college educator and a nursing educator develop a way for their students to join forces as they support families; university faculty collaborate with schools in partnerships that benefit all; a teacher reaches out to a wildlife expert to support children's emerging interest in a bird's nest they find on the playground. The articles also demonstrate how early childhood professionals at different places in their careers—student, teacher, higher education faculty—learn from collaborating with professionals in other fields, growing in their knowledge and gaining new perspectives. As much as there is for teachers and children to gain from community partnerships, in reading these articles, it is striking how much experts from other fields learn from early childhood educators in these collaborations. We have much knowledge and expertise to share with nurses, therapists, museum educators, and other professionals who work with young children, about child development, children's learning, and the importance of family and culture.
In "Bridging the Gap in Early Childhood Special Education Services: Collaboration Between Universities and Local Schools," Wendi L. Johnson and Mark Ruggles write about the benefits of partnerships between schools serving young children and faculty from academic programs at local colleges and universities. With funding for resources to support the special needs of young children in short supply, such collaborations offer a creative solutions for making supplemental services available. The authors offer a step-by- step guide for educators interested in starting similar collaborations.
"Rooted in Partnerships: Growing a More Responsive Early Childhood Mental Health System," by Mary Ann Hansen, Beth Heavilin, and Meg Walkley, follows an early childhood educator as she develops her skills in supporting the mental health of the children in her care through training offered by a multidisciplinary, community-based collaborative. Mary Jane Eisenhauer and Angela Schooley describe a collaboration they began between two university disciplines—nursing and early childhood education—in their article "Teachers, Nurses, and Families: Countdown to a Healthy Start." They bring together students from these two disciplines to work collaboratively on a family engagement and health initiative.
Learn about the benefits museums provide to young children, early childhood educators, and families, and how teachers can partner with museums in Sarah Erdman's thoughtful article, "Creating Meaningful Partnerships With Museums." Sarah offers tips for teachers as they integrate museum visits into the curriculum, and she suggests ways educators can begin productive, ongoing collaborations with local museums, big and small.
In "Teachers Partner With Experts to Build Strong Learning Environments," Erin E. Hamel, Jenny Leeper Miller, and Lindsay Ann Rogers describe how two of the authors developed a successful collaboration with wildlife expert Lindsay when the children in Jenny's class wondered if they could safely move a bird nest they found on their playground. The authors offer tips and ideas for teachers about reaching out to experts, preparing for classroom visits, and extending the collaboration.
— The Young Children Editorial Team
---
Photograph: iStock